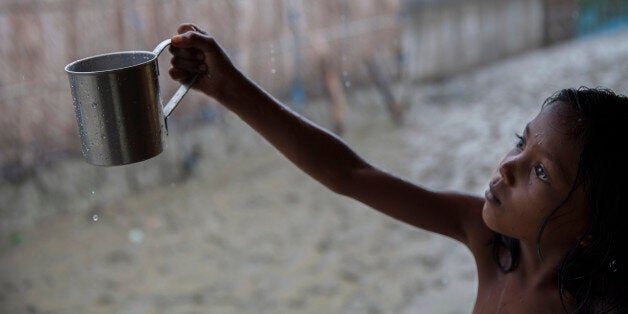 Late into the night last Friday, and for several hours on Saturday morning, the draft Paris climate agreement still very much hung in the balance. Negotiations during the previous two weeks were intense. To the end, the distance between different countries seemed vast and possibly unbridgeable. The countries most vulnerable to climate change lived in fear of a "big-emitter stitch-up" -- a toothless agreement that papered over gaps with empty platitudes, providing political cover for everyone to claim something had been done in Paris but without truly requiring any country to do more than the absolute minimum.
Such a result would have been a death sentence for the most climate-vulnerable countries, and they weren't about to take it lying down. Tony de Brum, the foreign minister of the tiny, low-lying Marshall Islands, had laid plans to prevent such a result. Throughout 2015, he convened a number of informal gatherings of ministers from traditional progressive allies such as Colombia, Gambia and the European Union to strategize for an ambitious result. As the conference progressed, he threw it open to others, labeling it the "high ambition coalition," and it gradually took in the United States, Brazil, Canada and others. These countries coalesced around demands for the agreement to include a warming limit of 1.5 degrees Celsius and the necessary mechanisms to get there. Marching arm in arm into the plenary hall on the final day, the message could not have been clearer: it was not only those in the streets of Paris, New York and elsewhere who were demanding a strong agreement, but a groundswell of responsible countries as well.
Ultimately, however, the fate of the Paris agreement lay in the hands of French Foreign Minister Laurent Fabius. As host of the conference, he had final control over the draft that would be put to countries for a vote. He would only get one shot. If any country insisted on trying to renegotiate the final draft, it would open the door to many, many more such requests. Collapse, at that point, would be an undeniable possibility -- after all, it had happened before. These were, by and large, the same negotiators who had seen everything fall apart in Copenhagen in 2009. One European negotiator was even wearing the same tie he had worn that day, part of a promise he had made to himself six years earlier. He was not the only one.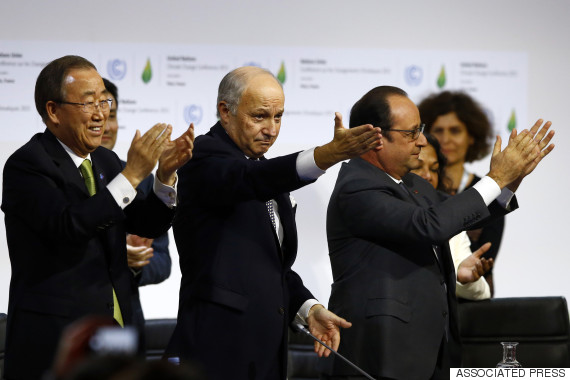 Leaders of the COP21 applaud after the conference adopted a global agreement that asks all countries to reduce or rein in their greenhouse gas emissions. (AP Photo/Francois Mori)
Late on Saturday morning, the final text was distributed. It was snatched eagerly from offering hands and reviewed assiduously. Within minutes, the Whatsapp messages started flying. A shiver of electricity ran through the plenary hall. The excited whispering had a theme: the text was good. The French had been brave. This was no stich-up; this was the real deal. Fabius had pushed everyone to the very edge of their comfort zone. Now, he had to land it. Most of Saturday was taken up by intense bilateral negotiations as the French worked to secure the support of all. It did not come off entirely smoothly, and a kerfuffle over a typo (or, perhaps, a "typo") threatened to derail everything at the last second, delaying formal adoption for more than an hour. In the end, however, the political will held. The necessary calls were made. The gavel fell. And it was done.
So now, what does it all mean? Let's revisit the main issues.
1. Should we aim to limit warming to 1.5 or 2 degrees Celsius? For the most climate-vulnerable countries, this was and remains, an existential question. Two degrees of warming all but guarantees their obliteration; the chant heard throughout the negotiations was "1.5 to stay alive!" Civil society mobilized strongly around the call -- and they, along with island leaders, were heeded. The final text states:
This Agreement ... aims to strengthen the global response to the threat of climate change ... including by holding the increase in the global average temperature to well below 2 C above pre-industrial levels and to pursue efforts to limit the temperature increase to 1.5 C above pre-industrial levels, recognizing that this would significantly reduce the risks and impacts of climate change.
To the end, some argued that the agreement should simply "recognize" that limiting warming to 1.5 C would be a good idea. But the final text goes much further than this, making it clear that the whole world will "pursue efforts" to keep warming to 1.5 degrees. This can and should and has been taken as a binding global undertaking. It can and must be done.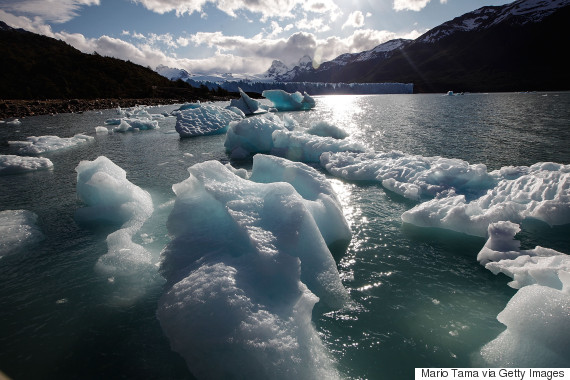 Ice broken off from Perito Moreno glacier floats in Los Glaciares National Park in Patagonia. (Photo by Mario Tama/Getty Images)
2. Will this agreement require anyone to actually do anything?
The question of whether the agreement legally binds countries to do something depends on whether it uses the term "all parties shall [do X]" or "all parties should [do X]." Only the first expression leads to a legally binding commitment. The good news is that the final agreement contains several "shalls": it requires all countries to communicate a new emissions reduction target every five years, to regularly submit information on whether they are achieving those targets and also to subject that information to an expert technical review.
However, the agreement does not legally require countries to achieve the numerical emission reduction targets they have set, which would have required the agreement to go before the U.S. Senate for ratification, where it would unquestionably have died, along with any hope for Chinese or Indian ratification. But it does legally bind them to "pursue domestic mitigation measures" with the aim of achieving the objectives they have set for themselves.
So submitting an emissions reduction plan (which all are required to do) and then doing nothing to put it into practice would be a legal breach of the new agreement. To give this some teeth, the agreement will establish a committee to promote compliance with country's obligations. The compliance committee's exact mandate and powers have been deliberately left broad for further definition in coming years, and the more ambitious countries will undoubtedly continue to push hard for these powers to be as strong as possible.
3. Where's the carbon budget? The agreement's long term goal is a "global peaking" of emissions "as soon as possible," and "rapid reductions thereafter in accordance with the best available science." It also commits countries to achieve a balance of greenhouse gas emissions and removals -- what some have called "net zero" emissions -- "in the second half of this century." While these targets are not as concrete as some would have liked, they are nevertheless the clear signal we need that governments all around the world are committed to ending the fossil fuel era. This will be deeply concerning to anyone who is thinking about investing in further fossil fuel extraction. That, in turn, should be a deeply comforting thought for everyone else.
What is truly incredible is that references to absolute GHG numbers were included in the decision with which the agreement was adopted. The reference in the agreement to the need for rapid reductions "in accordance with the best available science" is bolstered by the scientifically necessary carbon budget in the accompanying decision. If this practice continues with decisions going forward, it will be possible to maintain a de facto carbon budget, alongside the core obligation to peak emissions as soon as possible.
An art installation entitled "Ice Watch," made with parts of Greenland's ice cap, on display in Paris. (ERIC FEFERBERG/AFP/Getty Images)
4. Are we seriously not going to update our emissions targets again until 2025? The draft text contained a provision to convene a "facilitative dialogue" in 2018 or 2019 to take stock of collective efforts as a possible revision of national targets before 2025. That provision survived -- the dialogue will happen in 2018. The Paris decision furthermore "urges" certain parties, and "requests" others, to communicate new or updated targets before 2020. Countries will not be under a legal obligation to do so, but they will feel intense political pressure to do so -- as long as we apply it.
Because in the end, of course, it all comes back to us -- the public. Negotiators and politicians worked like mad to design and deliver an agreement that will put climate change at the forefront of global political consciousness in 2018 and again in 2020 and again in 2023 and again and again and again until we are safe.
Many commentators have said since Saturday that this agreement is not enough. No climate negotiator would disagree with that. But this agreement contains everything it reasonably could to pull our emissions curve downward as fast as humanly possible. Now it needs the one thing it couldn't provide -- a global movement of communities, activists, civil society and responsible businesses -- that roars with one voice that this agreement must be ratified and implemented, immediately and with absolute and uncompromising determination.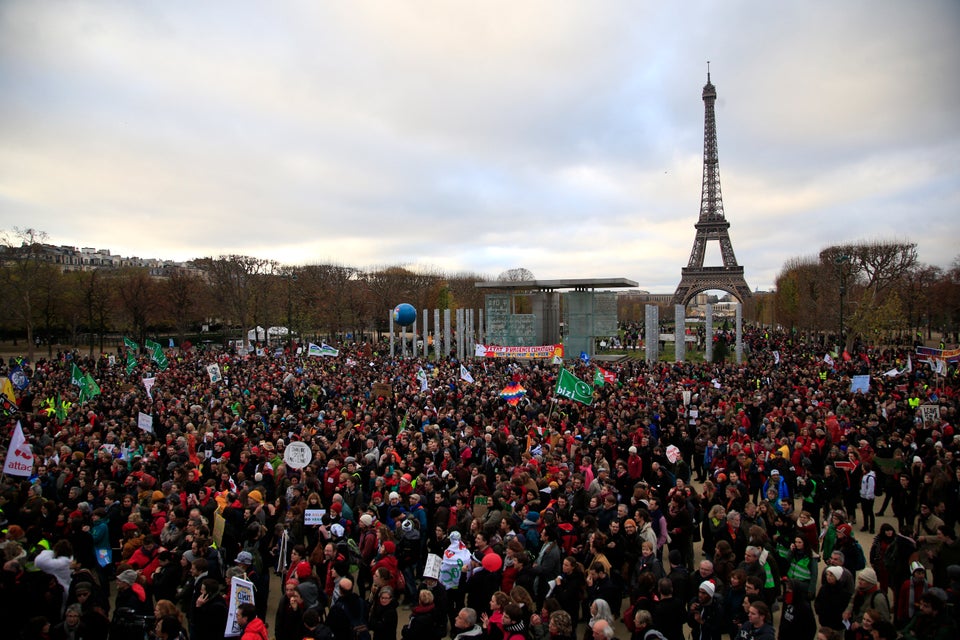 Climat
Popular in the Community