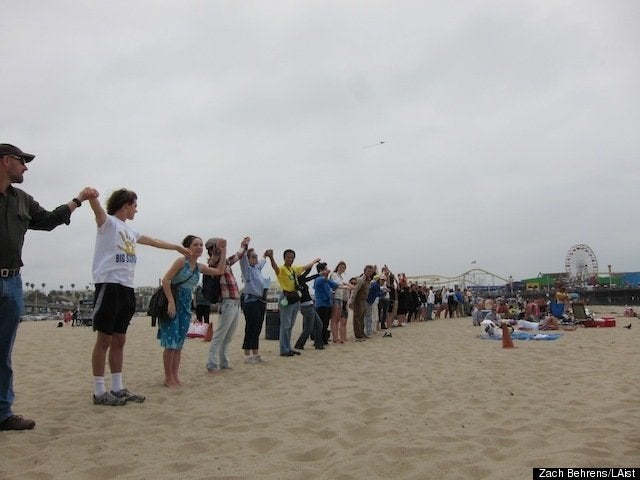 The G8/G20 meetings ended on Sunday with world leaders largely ignoring mounting international outrage about the impacts of fossil fuels and global climate change.
Despite BP's ongoing colossal oil gusher in the Gulf of Mexico, the G20 remains unwilling to take action to break the world's addiction to dirty energy. Rather than strengthen their commitments to reducing fossil fuel subsidies, they issued platitudes.
While this will delight the fossil fuel lobbyists working hard to maintain their free ride, it does not change the reality of climate change. The planet is continuing to warm dangerously, communities continue to be ravaged by its effects and yet world leaders still shirk their responsibility to safeguard the climate for current and future generations.
Watered down and weakened
2 million people worldwide signed a petition calling for leaders to Invest in the Future Now, by tackling climate change, fighting poverty, and shifting to a low carbon economy. We demanded action -- specifically, an end to fossil fuel subsidies, something they committed to do at last year's G20 meeting in Pittsburgh. But the fossil fuel lobby continues to demonstrate its power over global politics, and world leaders offered little visionary leadership. Siding with the richest industry in the world during a time of increasing desire for change merely shows where these leaders feel the real power is -- with the past and not the future.
While leaders stagnate, people stand
Yet there is still reason for hope. In the wake of G20 inaction, visionary leadership is being found at the local level. Increasingly, municipal and state leaders, institutions, individual citizens, and even progressive corporations who have long since been convinced of the need for action are getting to work to lower their carbon impact.
The poor outcome of the G8 and G20 meetings in Canada over the weekend shows there is still a lot of work left to do in order to secure international cooperation on halting dangerous climate change and ushering in a safer, more secure clean energy future. People around the world will not tolerate further inaction, as demonstrated by the outrage over BP's Deepwater disaster and other blatant symptoms of global fossil fuel addiction. And while many are taking matters into their own hands, we still need leaders to lead.
Related
Popular in the Community