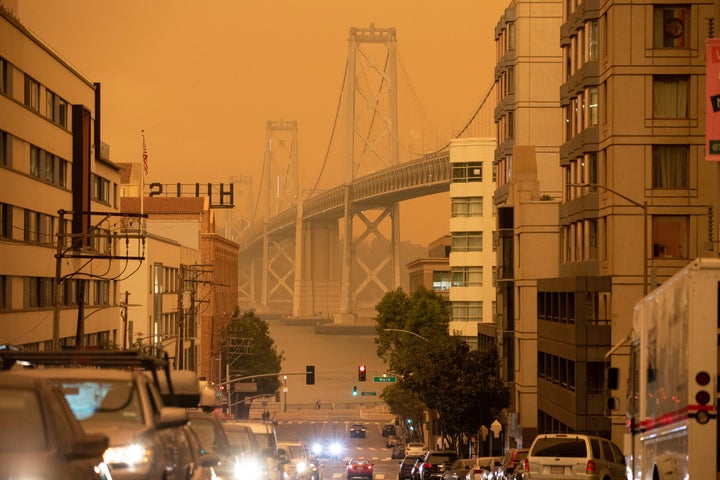 NASA announced Thursday that 2020 tied 2016 as the hottest year in recorded history ― the latest in a constant stream of sobering reminders about the global climate change threat.
The annual analysis found that Earth's global average temperature last year was 1.84 degrees Fahrenheit (1.02 degrees Celsius) warmer than the baseline average between 1951 and 1980. That slightly tops 2016, but NASA researchers said the margin is so small that the two years effectively tie each another.
A blistering 2020 ― marked by extreme heat in northern Siberia, devastating wildfires in the American West and Australia, and a hyperactive hurricane season in the Atlantic ― caps "the warmest decade in the historical record, without any question whatsoever," Gavin Schmidt, director of NASA's Goddard Institute for Space Studies, said during a video briefing Thursday.
A separate study by the National Oceanic and Atmospheric Administration, also released Thursday, ranks 2020 as the second hottest year on record behind 2016, with global temperatures over land and sea 1.76 degrees Fahrenheit (0.98 degree Celsius) above average. In its calculation, the NOAA noted that 2020 is the 44th consecutive year that the global temperature has topped the 20th-century average.
The trend paints a clear picture of the dramatic impacts human carbon emissions are having across the globe. The last seven years are the seven warmest in Earth's recorded history, the agencies determined.
"The planet is closing in on 1.5 degrees Celsius of warming" above pre-industrial levels, NOAA scientist Russell Vose said during Thursday's briefing. "It's certainly warmer now than at any time in the last 2,000 years at least, and probably much longer. And there's a pretty good chance that the rate of increase in the past 50 years is faster than at any time in the past two millennia."
The Paris climate accord set an aspirational goal of keeping global warming below the 1.5-degree target, beyond which scientists warn that climate impacts could become catastrophic and irreversible.
The two federal analyses come in the waning days of the Trump administration, which has largely ignored the threat of climate change as it has worked to increase domestic production of the fossil fuels that are driving the crisis. This week, two known climate change contrarians were reassigned after posting debunked climate denial talking points to a blog using the White House logo and without obtaining approval.
President-elect Joe Biden, who will be inaugurated Jan. 20, has vowed to reenter the U.S. into the Paris climate agreement his first day in office and has rounded out what environmentalists have celebrated as a "all-star" team to lead his administration's effort to combat climate change.