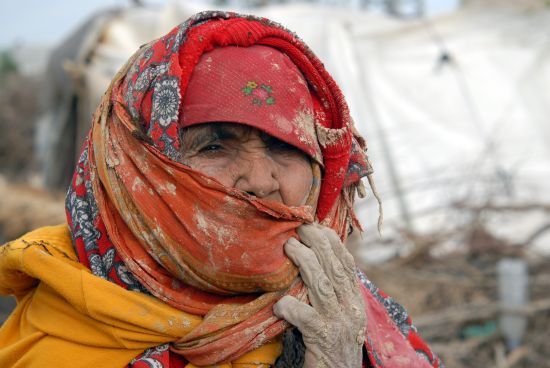 An elderly Palestinian woman stands in front of her home, destroyed by a powerful winter flood, in Mughraqa, a village in the middle of the Gaza Strip. 20 January 2010. Photo by UN Photo/Shareef Sarhan
During the climate negotiations in Paris and against the background of an ongoing refugee crisis in Europe, we call on the international community to pursue a protection framework for environmental migrants and people displaced because of climate stressors.
The current refugee crisis in Europe is about a civil conflict in Syria and not about climate change. However, it sends a signal about the kinds of human movements we will see in the future as climatic stressors, such as storms, droughts, heat waves and sea level rise increasingly impacts jobs, food security, and the stability of urban and rural areas.
People will move away from regions that climate change slowly renders uninhabitable, such as small island states in the Pacific affected by sea level rise and parts of South East Asia dealing with coastal erosion. They will move towards areas they hope will provide safe and sustainable livelihoods. Almost half of the world's population depends on agricultural production for their livelihoods and this sector is most severely impacted by a changing climate.
All countries and governments will be affected by people on the move whether those countries are areas of origin, transit, or destination. People will move either in anticipation of climate stressors or in response to them.
The international community needs a robust legal framework to guide efforts to assist people on the move because of climate stressors. At the current stage, people leaving their countries due to climate stressors are not considered refugees under the Geneva Convention, which specifies that a refugee is fleeing from a "well-founded fear of being persecuted for reasons of race, religion, nationality, membership of a particular social group or political opinion."
Climatic or environmental factors are not recognized as persecuting factors and only some countries grant temporary protection status and waive visa requirements for migrants whose home country faces a severe natural hazard.
People who move are often particularly vulnerable and need a scope of assistance -- from legal protection to access to labor markets, valid identification, and integration opportunities. The current situation in Europe shows us that we are not yet prepared for such large movements of people within or across borders. While the challenges of the current refugee situation are immense, governments and the international community are guided by national and regional policies that follow the clear normative and legislative framework of the Geneva Convention.
Such policies and frameworks are currently not in place for environmental migrants.
Now just days before a historic climate agreement must be forged between leaders of the world in Paris, countries are considering ways to address migration, displacement, and planned relocation--be it a framework, a facility, or other protective approach.
Recently, over 100 governments have endorsed the Protection Agenda of the Nansen Initiative on Disasters, Climate Change, and Cross-Border Displacement. This agenda, supported by United Nations University as an Advisory Group member, helps point the way for filling legal gaps and providing evidence-based policy and operational support for vulnerable affected people.
In the post-2015 world, all current signals point to a need to invest in research and policy analysis to develop a reference point which will not only help to protect vulnerable people, but will also serve long-term sustainable development.
Dr. Koko Warner researches the impacts of climate change in communities across the world and has conducted research on climate change and migration in 40 countries around the world. The International Council of Science recently named her one of the top 20 women making waves in the climate change debate. She is a lead author for the Intergovernmental Panel on Climate Change´s Fifth Assessment Report, Working Group 2 on Adaptation.
Support HuffPost
The Stakes Have Never Been Higher
Popular in the Community