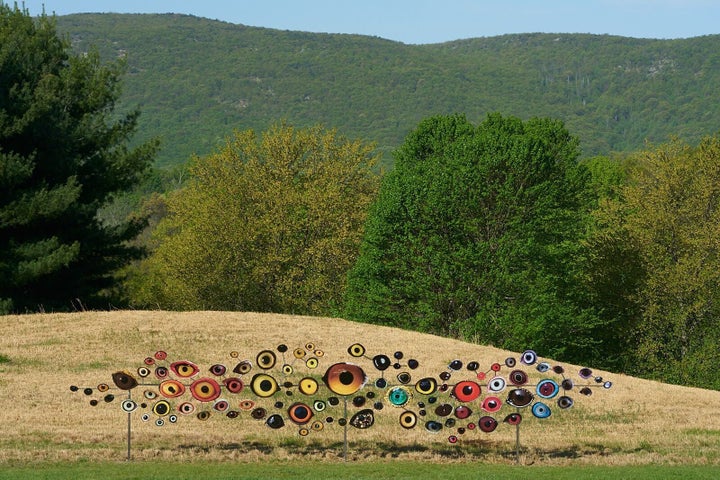 NEW WINDSOR, N.Y. ― When the guilt and dread set in, I realized I'd found the good stuff.
The eyes hit me first. An array of 100 crimson, gold and azure bird eyes ― all representing species identified as threatened or endangered by climate change in a 2014 Audubon Society study ― deliver their judgment on humankind.
About a quarter-mile away came what looked like towers of skulls, but were really stalagmites of bone-white tambourines rising from an island on a pond. The title of that piece, "The peo-ple cried mer-cy in the storm," with hyphens drawing out the words, struck me as eerie. It was taken from a 1928 hymn by religious songwriter Judge Jackson written two years after the Great Miami Hurricane, which killed hundreds of black migrant workers.
The two installations, haunting attempts to grapple with a manmade cataclysm that looks increasingly inevitable, were the highlights of "Indicators: Artists on Climate Change," the newest series at the Storm King Art Center, a 500-acre sculpture park in New York's Hudson Valley. The exhibition, which opened May 19, offers meditations on a warming planet from more than a dozen artists.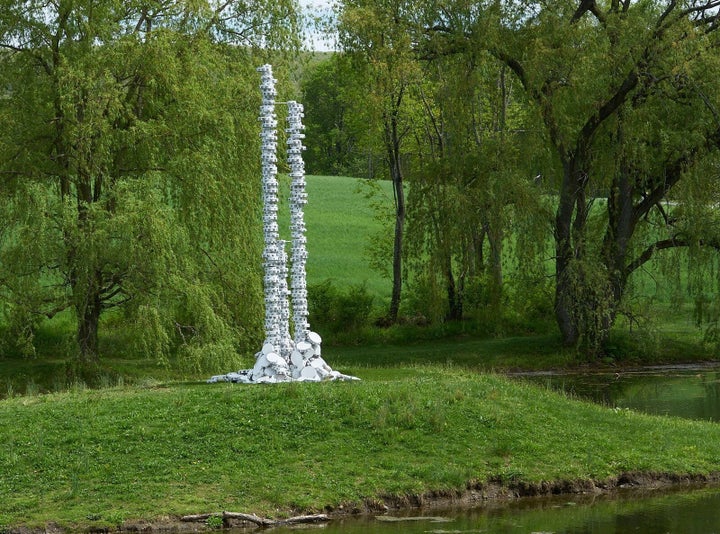 Unfortunately, much of the exhibit's work comes closer to the level of contemplation achieved by downloading a mindfulness app.
There's a "living sculpture" of 15 flower beds equipped with four sets of solar panels that power an irrigation system. It's a nice garden with a clever approach to maintenance. But as a commentary on climate change, it feels about 15 years late and a bit sloppy. Its flora is billed as native to New York but includes flowers that originated in Asia and Europe. Solar panels are as tritely synonymous with climate change as polar bears. Maybe a greenhouse could have encased the garden, slowly simulating the effect of rising temperatures in the region.
Down the hill is a piece comprising more than a dozen banners, staked in a circle, with embarrassingly cheesy wordplay and cheap alliteration: "Salute the Superstorms," "Grieve the Grid," "Find a Mole Model," "Fete the Fungus," "See the Sea Levels."
If that isn't enough of a flashback to a freshman-year writing class, a short walk brings you to a highway traffic sign, the kind that cautions drivers about roadwork ahead. Flashing in the lights: "Neanderthals 'R' Us," "Humankindness," "Warning: Hurricane Human," "We Are The Asteroid."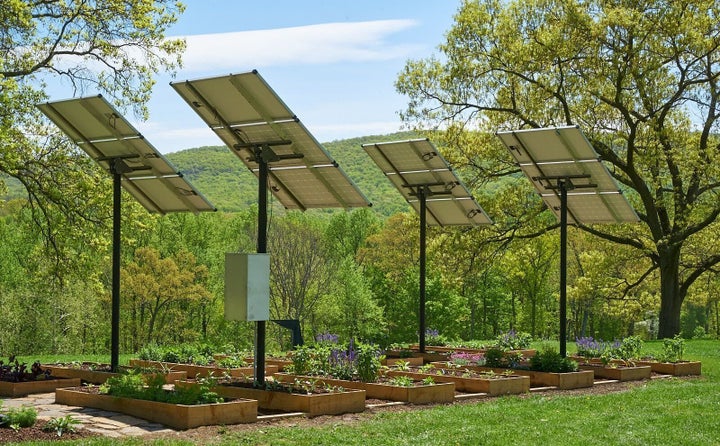 These pieces felt like amateurish epiphanies ― shallow, #Resistance-type recognitions of a problem that was a global crisis long before President Donald Trump pulled out of the Paris Agreement or Environmental Protection Agency chief Scott Pruitt began advancing pro-polluter policies. That was particularly frustrating because I was looking for something more.
After years of reporting on climate change, reading the increasingly dire warnings from scientists and talking to policymakers whose solutions remain blindly divorced from that reality, I've found myself in the past year seeking the kind of spiritual perspective that comes from creative reflection on this thing that's happening to us.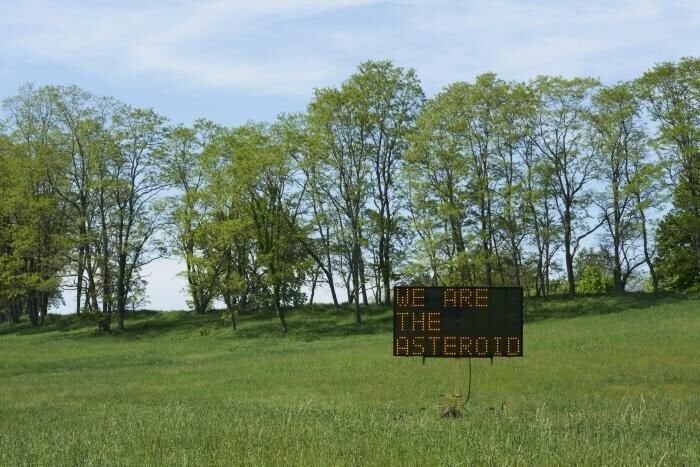 It started last year when I read Kim Stanley Robinson's New York 2140, a dystopian novel depicting life after climate catastrophe ― a reminder that life can flourish even in the Venice-like canals that might overtake the Lower Manhattan neighborhood where part of my family once lived. Earlier this month, I finished Claire Vaye Watkins' Gold Fame Citrus, which lyrically envisions the rise of new plant and animal species, alien in their adaptations to a changed world. Now I'm reading Omar El-Akkad's American War, a bleak depiction of an ecologically devastated nation in the throes of civil war.
The art world has produced some visual gut punches in the dozen or so years since Bill McKibben, the renowned environmentalist and 350.org founder, implored artists to make more work focused on climate change. Isaac Cordal's street art installation of tiny men in suits debating global warming while neck deep in water should be remembered as a masterpiece of political commentary. It's easy to imagine the day when Lorenzo Quinn's "Support," two hands reaching out of a Venice canal to hold up a building, will seem clairvoyant.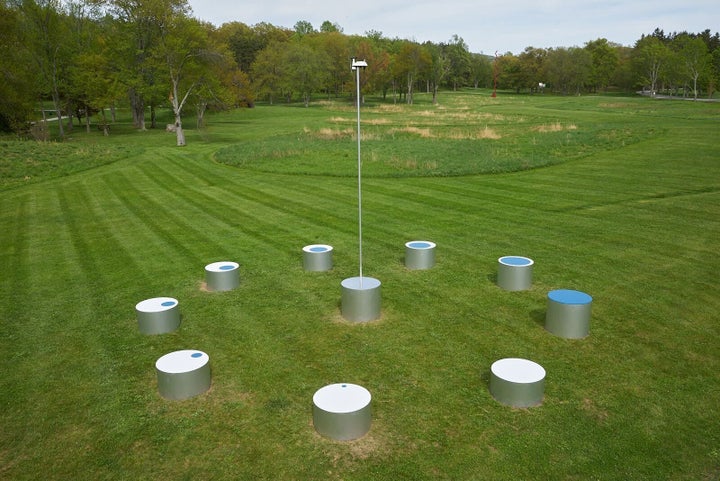 Back at Storm King, a few more scientifically literate pieces help to redeem the exhibit. Hara Woltz, a New York-based artist and conservation ecologist currently doing fieldwork in the Solomon Islands, built a functioning weather station that collects climate data and is encircled by cylinders arranged at slightly different heights to represent predictions about sea level rise and Arctic sea ice melt.
Mark Dion's life-size replica of a disordered scientific lab in a wooden cabin, dubbed "Field Station for the Melancholy Marine Biologist," was originally shown at a gallery in New Orleans. Here it has been recast with ecological specimens from the surrounding area.
A time of radical change requires art that asks radical questions: "What does it mean to say goodbye? Whom do we grieve? How do we live with ourselves?" Yet it feels like we're still hung up on "Why is this happening?"
The exhibit is open until Nov. 11.
Before You Go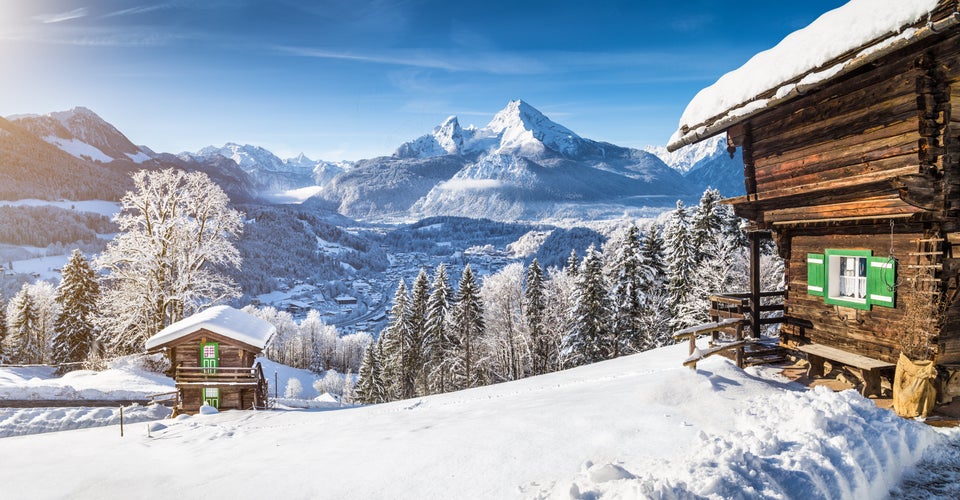 4 Surprising Places At Risk From Climate Change