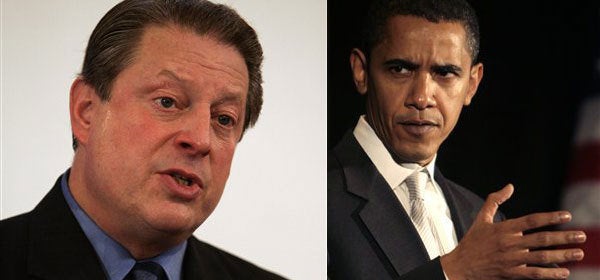 With Contributing Reporting By Jeff Muskus and Ryan Grim
After a tense debate, in which the margin of success or failure never moved beyond a handful of votes, the House of Representatives passed the most sweeping climate change policy ever considered by Congress early Friday evening.
The outcome had remained up in the air up until the actual vote, with the White House and the president himself engaging in a heavy lobbying campaign aimed at restoring Democratic Party unity that seemed to be fracturing.
Hoping to stem what seemed increasingly like a Democratic victory, House Minority Leader John Boehner (R-Ohio) deployed an infrequently used parliamentary procedure to delay the bill's consideration - reading before the House a 300-page amendment that had been offered to the 1,200-page bill Friday morning.
After an hour of reading the text derisively, Boehner finally surrendered the floor. A raucous Democratic caucus quickly asked for vote to be taken, after which it was revealed that the White House and Democratic leadership's efforts had paid off. The House passed the American Clean Energy and Security Act of 2009 by a vote of 219 to 212. Forty-four Democrats voted against the measure and only eight Republicans yes.
The climate change bill would reset drastically the way the U.S. government approaches the issue of regulating pollution. Instituting a cap and trade system, the bill aims to cut America's production of greenhouse gases by 17 percent by 2020, and 83 percent by 2050. The legislation also includes provisions to create alternative energy sources and cleaner technologies, as well as more efficient building standards.
In an effort to recruit the support of lawmakers sitting on the fence, its authors, prominent progressive Reps. Henry Waxman (D-Calif) and Ed Markey (D-Mass), reduced goals for carbon emission reductions and threw in favors for the coal and agricultural industries.
The latter moves were, in part, responsible for the 11th-hour concerns over the bill's passage. Progressive lawmakers balked at supporting legislation that they deemed to be watered down or insufficiently effective. Rep. Dennis Kucinich, in particular, proved to be particularly recalcitrant, pledging not to support the bill even if his amendments were accepted.
Concerned over the bill's passage, the president made a direct plea to lawmakers in a public statement on Thursday. The next day, the White House went into full lobbying mode, deploying key cabinet officials to whip votes. Former Vice President Al Gore, was tapped to make phone calls to undecided lawmakers. It paid off: One by one, their targets came into the fold, from Rep. Rush Holt (D-N.J.) to long-standing holdout Lloyd Doggett (D-Texas)
After the vote, Democratic lawmakers filtering out of the chamber were quick to heap praise on Speaker Nancy Pelosi (D-Cali) for the work she did in shepherding the bill through the House.
"People do what they need to do," Rep. Rosa DeLauro (D-Conn) said of progressive lawmakers who had withheld support. "The speaker was always focused. Mr. Waxman, Mr. Markey, Mr. [Charlie] Rangel (D-N.Y.), everybody clearly focused on what had to be done. We needed to move. You never get a piece of legislation where everyone is happy with everything in the bill."
Added Rep. Barney Frank (D-Mass): "Obviously Henry [Waxman] did an enormously good job and [Rep.] Rick Boucher (D-V.A.) was very instructive. But this was very much a personal thing for the Speaker, who's very widely respected in this caucus."
As for the other side of the aisle, the Massachusetts Democrat was not as praiseworthy in his analysis.
"I think that John Boehner is floundering to find a useful role as a leader," he said, citing the Minority Leader's inability to get more Republicans to join his use of procedural votes to hold up the bill.
Going forward, Majority Leader Steny Hoyer (D-M.D.) said he was not overly concerned about how the Senate would approach climate change legislation. Nor was DeLauro.
"The Senate's going to do what they're going to do," she said. "We'll work that part of the process when we get to it. We won today."
Passage of the Waxman-Markey bill by the House is the first stage in what promises to remain a difficult legislative process. The Senate is now scheduled to consider the matter, though it has yet to produce actual legislation. Once the Senate passes a bill, it must be merged with the House's version in conference committee. Finalized, the legislation will then be reconsidered by both bodies of Congress before ultimately making it to the president's desk.
As a vote on a controversial climate change bill approached on Friday afternoon, Democrats on the Hill were turning their attention to progressive Democrats rather than attempting to recruit more Republican support for the measure.
The late-stage whip count on the American Clean Energy and Security Act of 2009 has produced a particular political irony. A measure crafted by two progressive Democrats in the House of Representatives -- Reps. Henry Waxman (D-Calif.) and Ed Markey (D-Mass.) -- over the course many years could hinge on the willingness of members of their own party to compromise.
At the heart of the issue is a belief among some progressives that the bill's standard for carbon emission reductions have been set too low, and that the measure itself is too easy on both the coal industry and farmers. Already, according to Hill aides, Rep. Dennis Kucinich (D-Ohio) has said that he will not support the bill regardless of whether his own amendments are approved. High-ranking officials involved with whipping votes tell the Huffington Post that there are at least three or four other liberals who are withholding their support. Reps. Peter DeFazio (D-Ore.) and Lloyd Doggett (D-T.X.) were two names put forward by multiple sources, the latter issuing a floor statement on Friday saying that without significant improvements he couldn't support the bill. Rep. Rush Holt (D-N.J.) whose vote remains up in the air, is said to be leaning towards backing the measure, according a Democratic source.
(UPDATE: Holt's office says he will support the measure, though isn't happy with the money for research and development of new energy sources. They also send over video of the congressman speaking on the House floor. Meanwhile, Doggett -- whose opposition was, on Friday, irritating both Democratic leadership and the White House -- announced late in the day to announce his support.)
For a bill that could be decided by one or two votes, holdouts could make all the difference.
"The irony here is that this bill, which people like Waxman and others have been working on for years, could be derailed, not by the right wing," said one high-ranking Democrat, "but by members of their own party. This could be the classic case of cutting off your nose to spite your face."
Reflecting the tenseness of the legislative debate, the White House and Democratic leadership have ratcheted up their efforts to ensure party unity. Among those making calls to lawmakers on the fence include Al Gore and President Barack Obama. According to a senior Hill aide, who asked to remain anonymous, Chief of Staff Rahm Emanuel and Labor Secretary Hilda Solis -- both recent recruits from the House -- have been calling former colleagues as well.
The key argument being conveyed is that this bill is the last big bite at the environmental policy apple.
"If it goes down, climate change is stymied," said one Democratic aide.
In addition, progressives are being asked to support the measure now while keeping open the option of opposing it later. The Senate, after all, has to pass a climate change bill of its own, after which the two chambers will merge their products in committee and send it back for a final vote. House progressives, in short, will get another chance to make their principled stand.
"Rather than kill it now, we have got to keep the process moving," said the Democrat.
The tricky part is finding a legislative balance that all members of the Democratic Party in the House can support. Lawmakers, to this point, have added a host of sweeteners designed to bring lawmakers to the table. These include amendments to add renewables and efficiency provisions, which while representing progressive values, are more important for their regional significance (For example, representatives from Arizona and New Mexico are backing a provision to harness wind and solar energy).
But there has been some backlash as a result of these efforts, underscoring the tricky dynamics of trying to unite a diverse caucus around a politically touchy and divisive issue. On Thursday, for instance, Markey waded into a room of progressive to make one last group appeal for the bill that bears his name. In the process, he surprised the crowd by standing up in support of coal, the fossil fuel that scientists say is doing the most to alter the world's climate in devastating ways. Progressives are concerned that Waxman-Markey doesn't do enough to curb emissions from coal plants and that some provision might, in fact, enable more plants to come online.
"Clean coal," they argue, is an oxymoron and it doesn't exist.
"It's not an oxymoron. It's not like jumbo shrimp or Salt Lake City night life," Markey told the gathered progressives, according to an aide to another member in the room. The Massachusetts Democrat was followed by Rep. Rick Boucher, a Democrat from southwest Virginia, who also made the case for including provisions favorable to coal companies.
Indeed, the pressure on progressives to swallow coal has been particularly intense and partially responsible for their skepticism.
Nevertheless, the majority of environmental activists -- even those outside government -- say the time for legislation is now or never. Carl Pope, head of the environmental giant Sierra Club, has also been twisting the arms of undecided liberals, arguing that by holding out support for the bill they're strengthening the hand of moderate and conservative Democrats who want to push the bill right.
"If Waxman-Markey can't get the votes of reliable liberals, they are then forced to go to the right to get a majority," Pope told the Huffington Post. The bill that has emerged isn't as strong as it could be, he said, because of the "impact of the failure of liberals to commit on the bill."
And while admitting that the final package had flaws, Pope said that the Sierra Club is still unequivocally supporting passage. "I'm pleased with what Waxman is up to. I'm not overall pleased with the way... Congress as a whole is reacting to energy and climate. There are far too many members who are treating it as a regional issue instead of a national issue. I'd have hoped that after two wars in the gulf over global oil, with the climate crisis, with the economic crisis, that members of Congress would say we need to create a new energy economy, we need to create it now... we can't continue to treat energy policy as a regional issue. And far too many members are."
Popular in the Community