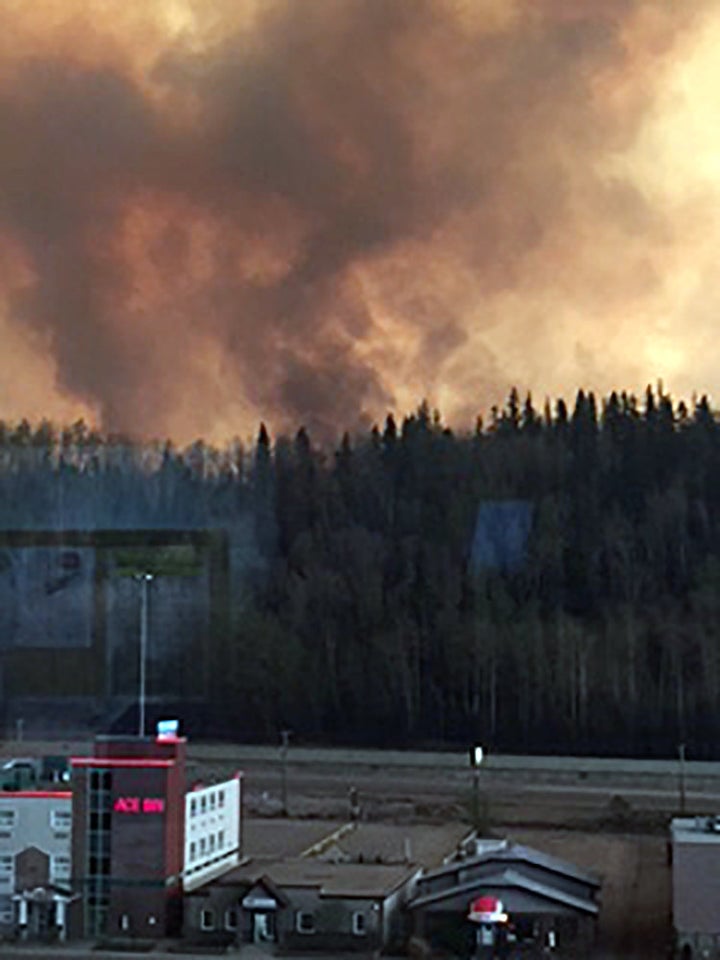 Devastating wildfires tore through the town of Fort McMurray in Alberta, Canada, on Tuesday, razing entire neighborhoods and displacing nearly 80,000 people. Unusually hot, dry weather contributed to the blaze, which experts say may be linked to temperature increases associated with climate change.
"The conditions that made these wildfires possible — namely, the unusually warm and dry winter the region has experienced — almost certainly had a climate change component," director of Pennsylvania State University's Earth System Science Center, told The Huffington Post on Wednesday.
The past few months have been some of the hottest in history. Temperatures in Alberta reached records heights in May, topping 90 degrees on Tuesday -- 40 degrees above average for early spring. While unusual, those sorts of record temperatures are consistent with the steady warming of Canada's western provinces.
"Historical data show that this region has warmed appreciably over the past half century," Mann said. "Alberta lies right within the bullseye of this pattern of anomalous warmth."
Hotter-than-usual temperatures, combined with with high winds and low snow melt, have significantly increased wildfire risk in the region. "The forest area burned in Alberta has more than doubled" over the last 50 years, Mann said.
Over 300 wildfires have rocked Alberta since March, a full month before fire season usually begins, according to the province's Ministry of Agriculture and Forestry. Over 7,000 wildfires burned through 4 million hectares of land across the country last year, according to the Canadian Interagency Forest Fire Centre.
The conditions are also due in part to El Nino, which typically causes dry weather in Canada, experts say. But rising global temperatures have made an already dry winter even drier, according to Kevin Trenberth, a distinguished senior scientist at the National Center for Atmospheric Research.
"Things dry out a bit quicker, the vegetation gets tinder dry, setting the stage for wildfires," Trenberth told HuffPost. "In general in the west of North America the fire season has become many weeks longer that it was prior to the 1970s as a result."
In addition to getting longer, fire season is also becoming more intense.
"[Wildfires] have certainly come more ferociously in the years gone by," Darby Allen, a fire chief in Alberta, told the Canadian Broadcasting Corporation on Monday. "We've had four significant fires in the last five days or so, and that is pretty intense."
Wildfires burned over 10 million acres in the U.S. last year, setting a national record. This year's fire season may be even longer and hotter in some parts of the country than it has been in the past, experts say.
Popular in the Community