"What gives you hope? This is a question I'm often asked these days. And what I've come to realize is that being hopeful, in the face of so much bad news about climate change, is not something that just happens -- at least not to me. It's not a passive process, but an active one. Hope isn't something I have, it's something I have to go out and find."
These were the opening lines of a speech I delivered at the Momentum for Change awards ceremony in Doha last Tuesday, which celebrated innovative work on the ground to address climate change. But now that this year's climate conference is over, driven nearly to the brink of collapse by a process awash with OPEC influence, they bear repeating.
To be clear, we are still barreling down the highway to a dangerously warming world. Nothing happened in Doha which could even remotely be thought of as hitting the brakes, and the U.S. was roundly criticised for blocking key agreements despite President Obama's election night hint of a new-found sense of urgency.. But in the wee hours of the final night's negotiations, as prospects for an outcome were looking grim, I asked a number of seasoned delegates whether they found any reason to be optimistic about the future as a result of their time in Doha.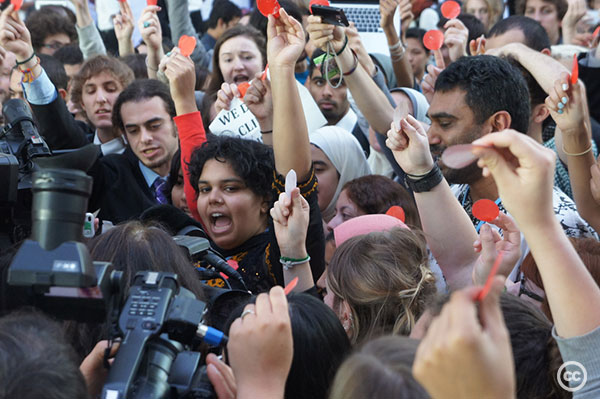 Youth delegate from the Philippines. Creative Commons: Adopt-a-Negotiator, 2012
Here are the five answers I heard most often:
First off, a bit of light relief. When I put my question to Alden Meyer of the Union of Concerned Scientists, he quipped "yes -- the prospect of not seeing "Lord" Monckton here anymore." The "potty peer" as he's known at home in the UK had been traipsing around the convention center looking like an extra from Lawrence of Arabia. But he was expelled and permanently banned from all future United Nations climate conferences for impersonating Myanmar and taking the floor. Watching him get booed out of the room by negotiators and observers alike, I was reminded that here, no one questions the scientific consensus that climate change is happening, that humans are causing it, and that it is extremely dangerous.
Nearly everyone I spoke to mentioned the active participation of youth delegations, and in particular the newly formed Arab Youth Climate Movement (AYCM), as a real source of inspiration. My collaboration with the tcktcktck Adopt-a-Negotiator team was certainly a high point for me. In the meantime, 350.org's announcement of a global PowerShift event is exactly the sort of thing we'll need (a hundred times over) to get youth fired up back home.
Within the negotiations themselves, one American observer cited a small but significant shift in the U.S. position on the question of what's fair. Up until now, the U.S. has been unwilling even to consider the issue of equity - whether those who are most responsible for creating the problem should take on the lion's share of fixing it. The U.S. now acknowledges that having this conversation is necessary to achieving a global agreement. It remains to be seen of course whether they will take a constructive stance once those conversations actually occur, but it's a start. U.S. statement (PDF) on Page 2, final paragraph.
Another interesting development was the birth of a new negotiating alliance from Latin America and the Caribbean. Chile, Colombia, Costa Rica, Peru, Panama and Guatemala believe that countries need to act on the basis of their capabilities, and not wait until others act first. According to Monica Araya, a Costa Rican negotiator closely involved with this initiative, "keeping warming below two degrees requires a shift from the politics of blame to the politics of responsibility -- while respecting national circumstances, of course."
And then there's what UN Climate Chief Christiana Figueres referred to as the "Doha Miracle." If you take a quick glance into any of the rooms where serious negotiations are taking place, you can't help but notice that the vast majority of the people at the table are men. In the final agenda item of the conference (because until now, gender issues have been relegated to the "any other business" bit of the agenda where all the other afterthoughts are accumulated), ministers adopted an agreement on gender balance. As Farhana Yamin, one of the many women who are dedicated to making progress on this issue observed, "governments agreed to put more women on their delegations, to put more women into key negotiating roles, and to put women's needs in climate change policy on an equal footing with those of men." Gotelind Alber, another women's leader commented that while she would have preferred an emphasis on gender equality rather than gender balance, she considered it an important step forward, as it will have its own standalone place on the agenda, and new opportunities to address gender-sensitive climate policy.
As I was leaving Doha Saturday, bleary-eyed and rather worse for wear, the Doha Climate Gateway was adopted -- including a new lease on life for the Kyoto Protocol. But it is weak, and the politics are fragile. The international climate negotiations essentially provide a once in a year opportunity to see where we stand, collectively, in the global fight against climate change, and frankly, we're in the ICU on life support.
So my final optimistic thought is for all of the progress being made on the ground in so many countries at the national, state and local level. Let's hope that it generates enough political will to get the job done properly next year.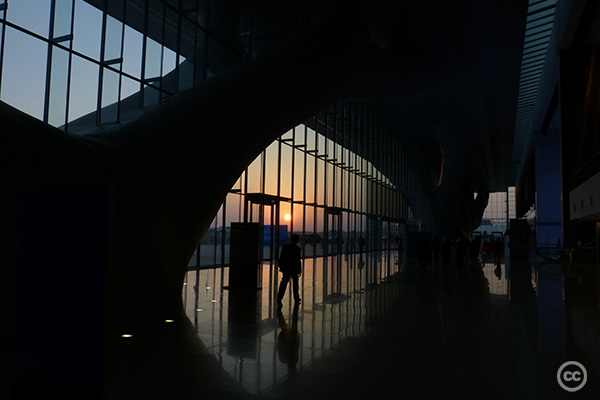 Doha Conference Center at dawn. Creative Commons: Kelly Rigg, 2012
Related
Popular in the Community