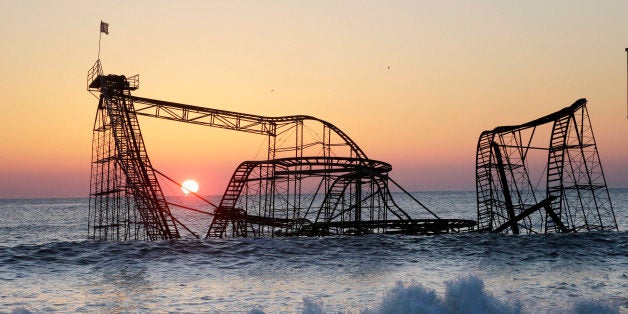 The United States federal government spends more than $3 million every hour putting out fires and responding to extreme weather events. That figure will continue to grow as the prevalence of natural disasters increases because of climate change. Spending in response to these occurrences has gotten so out of control that the nonpartisan Government Accountability Office now includes climate change in its annual High Risk Report, noting that a failure to take action presents a significant financial risk to our economy.
New York City got a taste of climate change in 2013 when Hurricane Sandy swept through the region and caused $60 billion in damage in its wake. More than 8.5 million New Yorkers went without power, and 650,000 homes were damaged or destroyed. The storm closed the New York Stock Exchange for two days and shuttered our nation's largest public transit system.
The city is now undertaking a massive effort to enhance resiliency in the face of future superstorms and rising sea levels. Tens of billions of dollars are to be spent protecting the shoreline and enhancing infrastructure, and for good reason. According to research supported by the National Aeronautics and Space Administration, over the coming decades New York City will experience increasing temperatures, heavier precipitation events, and a steady rise in the sea level.
NASA projection models show sea levels in New York City rising from 11 inches to 21 inches by the year 2050. And if we continue to do nothing about the serious issue of climate change, the Northeast region may face the worst-case scenario of up to six feet by 2100.
Given the risks and the abundance of scientific evidence, you might expect lawmakers in Washington to join together in common cause to fight climate change, but that expectation fails to recognize the anti-science mentality held by many on the far right.
In fact, congressional Republicans have worked time and again to restrict even the study of climate change. Last year the House passed a bill that would ban the Department of Defense from researching climate change and its national security implications. Another bill would have required the National Oceanic and Atmospheric Administration to stop climate research. And just last week a Republican senator questioned NASA Administrator Charles Bolden on the core mission of his agency, to which the administrator replied that we can't explore space "if the Kennedy Space Center goes underwater."
What is oddest about opposition to action to address climate change is the implications for another priority of the Republican party: deficit reduction. The bury-your-head-in-the-sand approach won't make extreme weather events driven by a changing climate go away, but it will ensure that our response is uncoordinated, less proactive, and far more expensive.
Our effect on the climate is significant and shows no signs of scaling back without serious action. In 2014 there were eight natural disasters in the United States that exceeded $1 billion dollars in damages. Storms like Sandy hurt individuals and families who can't get to work or face the personal cost of rebuilding and repairs, they hurt small businesses that see a smaller client base or are forced to close, and they hurt state and local governments that must redirect public services like police, EMS, and fire departments to disaster areas.
The changes that are needed are clear as day. We must invest in resiliency and sustainability projects to protect us from rising sea levels, strengthen our infrastructure, and reduce vulnerability for our citizens. We need to invest in cleaner energy production and reduce our overall energy consumption. I stand with my colleagues in the Safe Climate Caucus, ready to act on each of these tenets. I am hopeful that more of my colleagues on the other side of the aisle will consider doing so as well.
Calling all HuffPost superfans!
Sign up for membership to become a founding member and help shape HuffPost's next chapter