Now, new research suggests rising temperatures lead to a surge in diagnoses of type-2 diabetes.
The study, published Monday in the BMJ Open Diabetes Research & Care, compared annual average temperatures across the United States from 1996 to 2009 with reported new cases of type-2 diabetes. The disease, which typically develops later in life, prevents the body from absorbing glucose needed to produce energy. In particularly hot years, the number of new diagnoses spiked.
"When it gets warmer, there is higher incidence of diabetes," Lisanne Blauw, the study's co-author and a PhD candidate at the Netherlands-based Einthoven Laboratory, told The Huffington Post by phone on Tuesday. "It's important to realize global warming has further effects on our health, not only on the climate."
Blauw and six other researchers from the Leiden University Medical Center and Delft University of Technology ― both in the Netherlands ― used data from 14 years of surveys by the Centers for Disease Control and Prevention. They capped the dataset at 2009, the year the CDC began including emails and mobile phones in its survey. The statistical models accounted for the passage of time and adjusted for age and seasonal temperatures changes. The study excluded Illinois, Guam and the U.S. Virgin Islands, because data from those places was incomplete or unavailable, Blauw said.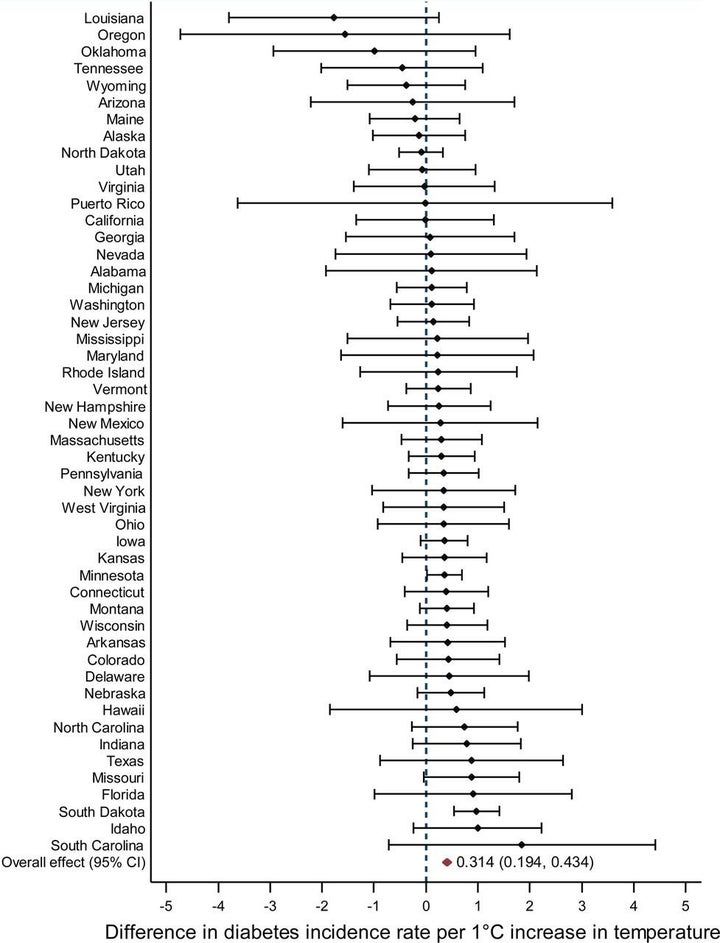 The idea for the study came in 2015, when a separate team of Dutch researchers found a connection between temperature, insulin production and brown adipose tissue, the fat cells that burn energy and produce heat. (White fat cells, by contrast, store calories.) The research concluded that type-2 diabetics placed in temperatures around 50 degrees Fahrenheit produced more insulin.
"On the basis of that study, we thought maybe it'd be interesting to see the association between outer temperature and instances of diabetes," Blauw said, but warned that her research could not make conclusions about brown fat. "The question that automatically comes up with this study is: Why is there an association? Why is there a relation between temperature and diabetes?"
She has some hypotheses. Temperature changes could alter the cellular activity of brown fat, people could exercise less in hotter years or diets could change change. It could be all of the above.
Next, Blauw said she plans to apply her findings to study smaller populations, such as the Netherlands or the United Kingdom, and new ways to activate brown fat, including through medications.
Last year was the hottest year on record, according to analyses by NASA and the National Oceanic and Atmospheric Administration. Carbon dioxide in the atmosphere, one of the primary causes of global warming, increased at its fastest pace on record last year, too. Humanity is on pace this century to produce enough greenhouse gases, which trap heat and warm the planet, to send global temperatures soaring past the 3.6 degrees Fahrenheit above pre-industrial levels that scientists say marks the point of no return, after which violent weather, surging sea levels, drought and environmental destruction become irreversible.
The Paris Agreement, the historic climate deal signed by 195 countries last year, aims to gradually slash emissions over the next several decades in hopes of avoiding the imminent nightmare scenario. But the accord could be in jeopardy as President Donald Trump moves to shred U.S. policies for cutting emissions, increase fossil fuel use and defund programs that help poorer countries, which depend on coal and oil to lift their people out of poverty and to develop zero-emissions energy infrastructure.
"Well," Blauw said, reiterating her findings, "more diabetes cases will likely happen when the temperature of the year is higher."
Before You Go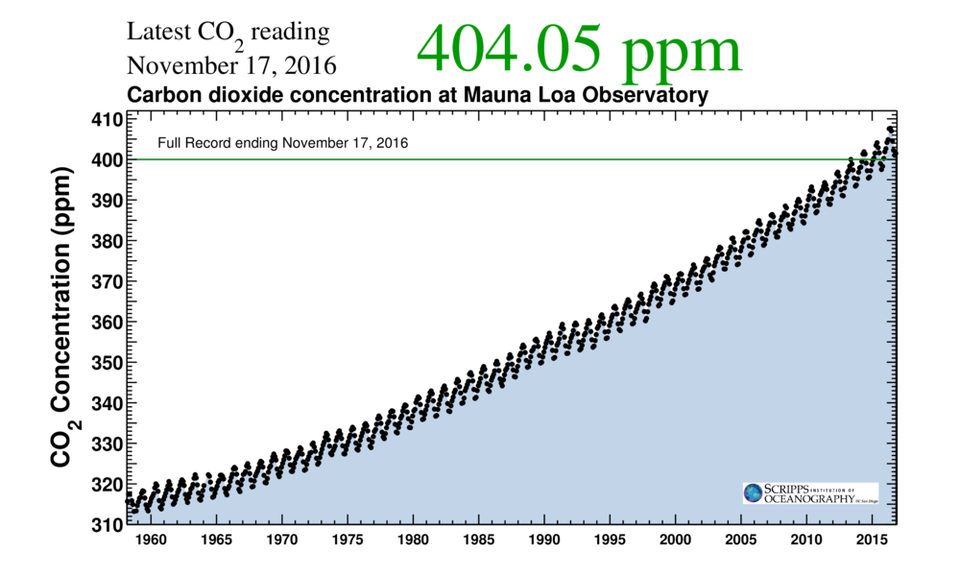 Climate Visuals For The Climate Change Denier In Your Life