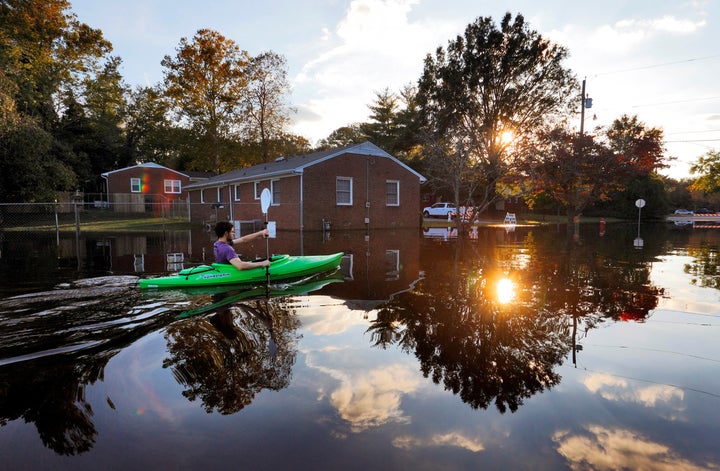 By the end of the century, a new study warns, "extreme rainfall events" will become both more intense and more common. And current U.S. infrastructure is no match for all those future floods.
The study, published this week in the journal Nature Climate Change, found that in some areas of the United States, the number of extreme rainfall events could increase by more than 400 percent by the year 2100. Thanks to climate change, those storms could also grow in intensity — by as much as 70 percent ― said the study, conducted by scientists at the National Center for Atmospheric Research.
The result of all this? The study's lead author, Andreas Prein, called it a "horror scenario" where repeated extreme flooding would unleash great damage on American communities. Think of the storms that devastated areas of Louisiana, Texas, West Virginia and North Carolina this year.
Climate change is warming up the Earth's atmosphere, which allows it to capture and hold more water. A moister atmosphere leads to rainier conditions. And there's little doubt that these climate trends will continue.
"I think this is something we can be pretty certain of," Prein told HuffPost. "This is well understood from a basic physical understanding."
The extreme rainfall predicted in the study would hit hardest along the Gulf Coast, Southwest and Atlantic Coast regions of the country, all of which already have moister-than-average atmospheres thanks to their proximity to oceans, Prein said.
The study used a complex climate model developed by Prein and his co-authors to simulate how previous storms between the years 2000 and 2013 might have changed had they occurred in a climate that was 5 degrees Celsius (9 degrees Fahrenheit) warmer — roughly the expected temperature increase by 2100 should greenhouse gas emissions continue unabated.
While the model sees a wetter future for some parts of the country, it predicts drier conditions in other areas by the end of the century. In Minnesota, Iowa and Nebraska, for example, the study predicts that moderate rainfall events will decrease significantly, making parts of the Midwest more prone to drought. At the same time, extreme rainfall events could also increase in those areas, leading to flooding.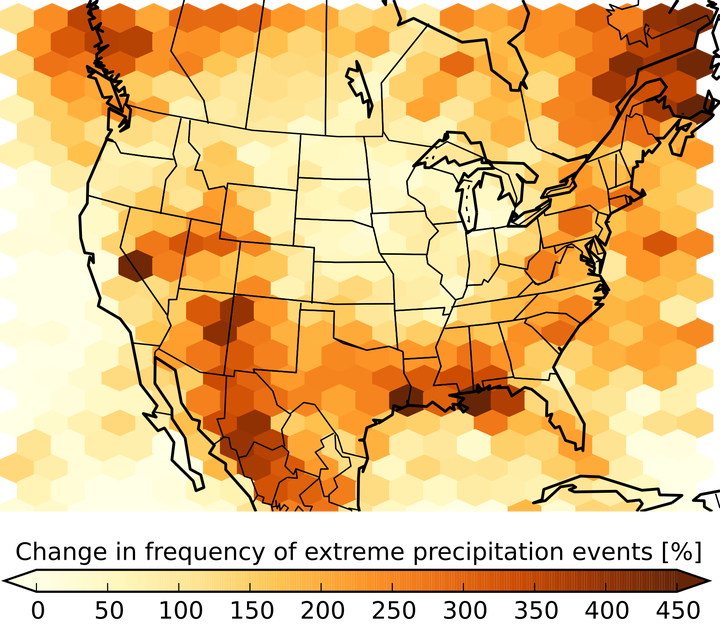 A separate study, published in October in the journal Science Advances, concluded that climate change is increasing the risk of megadroughts — droughts that last more than 35 years — in the U.S.
The idea that climate change can lead to both wet and dry extremes is not as contradictory as it might sound. That's because a warmer atmosphere also evaporates moisture from soil and plants at a higher rate, said Cornell earth and atmospheric sciences professor Toby Ault, the lead author of the megadrought study. The rainfall from sudden, extreme downpours can't completely offset that moisture loss since soil has only a limited capacity to absorb water during such storms, as the U.S. Geological Survey notes.
"In a changing climate, we expect extremes to get, well, more extreme," Ault told HuffPost.
To alleviate these dire forecasts, action must be taken to reduce emissions of greenhouse gases like carbon dioxide, Ault and Prein agreed. More robust infrastructure that is suited to a stormier future would also be wise.
The former approach, Prein argued, could ultimately prove less expensive and more effective. But the clock is ticking — many scientists warn that extreme weather events are already becoming more common.
"If we cannot avoid this, it will mean we will be living in a world much more prone to something like flash fooding," Prein said. "We'd have to invest tremendous amounts of infrastructure and resources to build up our resilience, which is much more expensive than to act now and try to avoid going along this path."
Joseph Erbentraut covers promising innovations and challenges in the areas of food and water. In addition, Erbentraut explores the evolving ways Americans are identifying and defining themselves. Follow Erbentraut on Twitter at @robojojo. Tips? Email joseph.erbentraut@huffingtonpost.com.
Calling all HuffPost superfans!
Sign up for membership to become a founding member and help shape HuffPost's next chapter
BEFORE YOU GO
PHOTO GALLERY
Donald Trump's Environment Guy Doesn't Believe In Climate Change