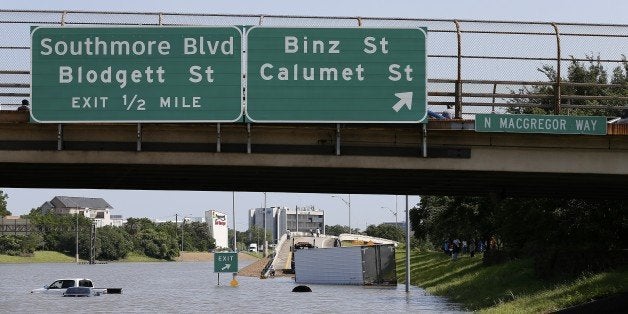 As floodwaters ravage Texas and Oklahoma, a new analysis finds that heavy downpours have increased dramatically since 1950. And scientists project that precipitation patterns will become increasingly erratic as the climate changes.
The Northeast had a 31 percent increase in heavy downpours between the 1950 to 1959 period and the 2005 to 2014 period. The Midwest had a 16 percent increase between those periods, according to a report from climate news and data website Climate Central.
Individual states have seen even more dramatic changes in rainfall. Rhode Island had a 104 percent increase, while Maine had a 61 percent increase. The report also notes that rainfall is highly localized; levels can vary widely by metropolitan area, even within a state. McAllen, Texas, for example, saw a 700 percent increase, while the increase for the state as a whole was much more modest.
The analysis considers heavy downpours to be events that fall within the top 1 percent of daily precipitation totals for the 65 years of data they collected.
Climate Central also created an interactive map showing the changing precipitation patterns over time.
Extreme rainfall events are projected to get even worse as the climate warms, the report says.
"Climate scientists predict that the recent trends toward more heavy downpours will continue throughout this century," it concludes. "Climate models predict that if carbon emissions continue to increase as they have in recent decades, the types of downpours that used to happen once every 20 years could occur every 4 to 15 years by 2100."
Calling all HuffPost superfans!
Sign up for membership to become a founding member and help shape HuffPost's next chapter