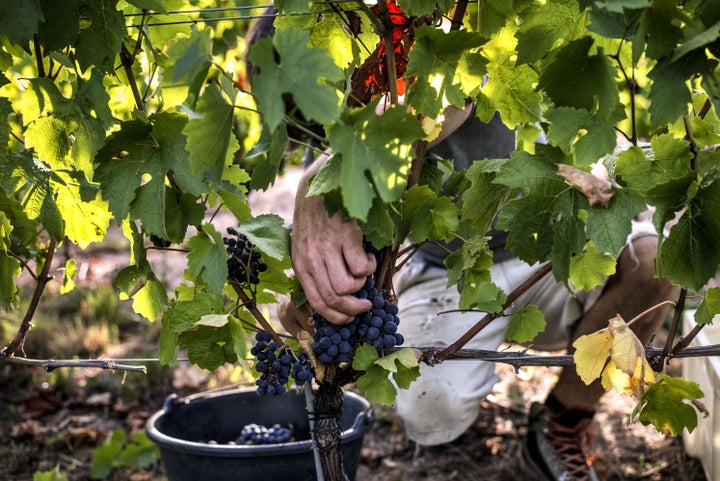 Global warming has its markers, such as melting ice caps and rising sea levels. Its impact on the world's vineyards is another, lesser known issue. And so it's fitting that the COP21 conference on climate change is currently being held in Paris, and that Tuesday's topic of discussion was agriculture.
"The vine is indeed a perennial plant that allows scientists to make comparisons from one year to another," says Herve Quenol, a researcher at the French National Centre for Scientific Research and a scientist with the International Organization of Vine and Wine. "Also, this plant has well-defined stages of growth that are directly related to temperature, whether it's budding, flowering, the formation of clusters or, of course, the harvest. The consequences on these stages have been widely visible for several years."
Quenol is one of two scientists that HuffPost France spoke to in an attempt to disentangle fact from fiction regarding the effects of climate change on the vine. The other was Jean-Marc Touzard, research director at INRA, Europe's top agricultural research institute, and co-founder of the Laccave project, a long-term research project looking at how vineyards can adapt to global warming. The Laccave project's findings will be presented in the spring of 2016. In the meantime, here are some answers.
"In reality, the entire production chain has been affected"
The 196 participants at the COP21 summit are trying to agree on provisions to limit global warming to 2 degrees Celsius by 2100. Such a limit would be ideal for winemakers. "With such a contained increase, northern vineyards will get the best quality production, even if those further south will encounter some difficulties," Quenol says.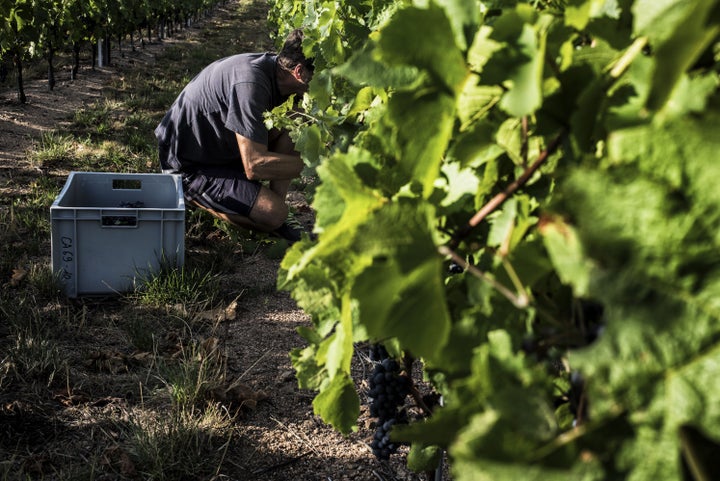 "Our studies show that below this threshold, we have solutions that already exist in most French vineyards, and the consequences can be mitigated," Touzard confirms. He says that in some soils, internal variability in exposure to the sun or microclimates can create temperature differences of between 1 to 2 degrees. "As long as the temperature variability caused by climate change is not greater than this internal variability, vineyards will be able to adapt," he concludes.
The concerns over vineyards arose in 2013 when an American climatologist published a study in the Proceedings of the National Academy of Science journal, predicting the death of the French vineyard. Bordeaux wines could disappear under the effect of rising temperatures, he wrote.
But the study was "hasty," Quenol says. "According to this model, there should be no pinot noir in Burgundy by now. But we're still bottling very good ones," the specialist says with a smile.
He conceded that in the future, the world map of wine will look different than it does today. "For example, we're already planting in new areas of northern Europe," Quenol says.
Scientists can easily measure increases in wine alcohol content over the past several decades. "We've seen a much more rapid acceleration over the past 50 years than in the previous 30," Quenol says. The increase is particularly noticeable in the Mediterranean, where it is not uncommon to see wine with close to 15 percent alcohol.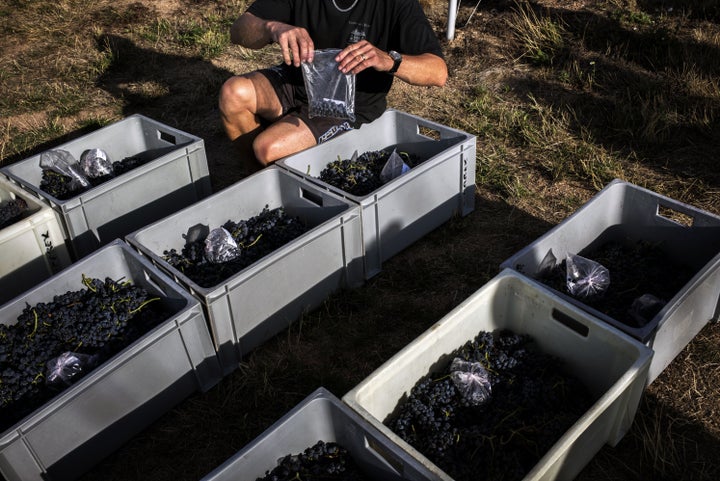 "Since the early 1980s, the Languedoc wine has gained almost one percentage point every decade. It has gone from an average of 11 to over 13," Hernan Ojeda, director of an experimental INRA unit said in 2012.
Will there be a wine that approaches 14 to 15 percent? "In some areas, it seems inevitable, although winemaking techniques exist to mitigate these effects," Quenol says, noting that wines with similar levels of alcohol content are already produced in Australia, South Africa and Argentina.
It's impossible to pinpoint a date, but the trend has been scientifically proven. Annual harvesting has gotten earlier and earlier. Since the '60s, it has moved up by an average of three weeks, according to data collected by INRA.
And to ensure that the grapes don't oxidize, more and more vintners are harvesting at night. "In reality, the entire production chain has been affected. The growth stages are earlier. This is true for budding and flowering, but also for the harvest," Quenol says.
The northern and southern vineyards of France have not been affected in the same way by global warming. Depending on their color, certain wines have not been affected at all. "The whites need cooler conditions, especially to develop their flavors," Quenol says, implying that white wine growers may face more difficulties.
Touzard points out that in Alsace, more farmers than in previous years have had to resort to technical acidification to add freshness to their nectar. "For red wine, this can shift the balance, but to a lesser extent," he adds.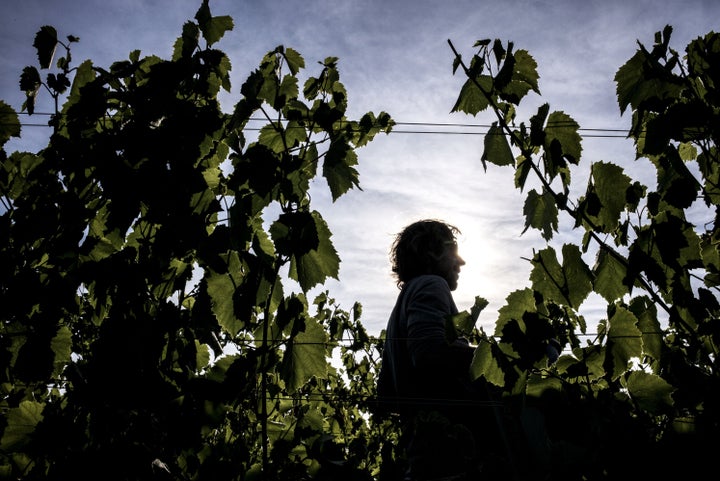 Of course, everything will depend on the severity of the temperature increase. But if we keep temperatures in the goal range set by the protagonists of the COP21, the volume of wine production in France shouldn't decrease.
"Our projections predict higher volumes of Burgundy and Champagne for a while longer," Touzard explains. "Carbon dioxide boosts photosynthesis, which should cause yields to continue as is or even increase."
To cope with the predicted higher temperatures, growers and scientists have already started work on adapting their vineyards. They could do so by changing their cultivated varieties, depending on their heat adaptability. "In Bordeaux, we've started to see difficulties in growing merlot that do not yet exist for cabernet," Touzard notes. And even within each variety, there are some plants that are more resistant than others. "In Alsace, there's a focus on the riesling that produces more acidity," he says.
Part of the adaption might also mean importing grape varieties that are currently grown in warmer countries. "In Bordeaux, some tests have been done with Portuguese grape varieties, while in the Languedoc, we've started to test Italian varietals," Quenol says.
Finally, we can expect to see original creations. "At INRA, we're working on crossing wild grapes with existing varieties to create disease-resistant plants, ones with less sugar, or ones that grow more slowly," Touzard says.
What we know for sure is that the wine we'll drink in 2050 won't be the same as what we drink today. "But the wine of today does not resemble that of 1950, and in 50 years, a Bordeaux won't taste like a Burgundy," Quenol notes. Even from one year to the next, certain vintages taste different.
An experiment was conducted in the Bordeaux region with wines that are believed to be the product of climate change -- they were grown on drier plots or harvested later than usual. They have flavors of cooked fruit rather than fresh fruit, and are richer in alcohol. "On the first tasting, testers were seduced by the most explosive aspect of these wines," Touzard says. "But after a few days, they returned to traditional wines that were lighter, with less alcohol." From which the researcher concludes: "Producers must do their utmost to maintain current varieties or to ensure that the effects of climate change are mitigated."
This story originally appeared on HuffPost France. It has been translated into English and edited for clarity.
Related
Popular in the Community