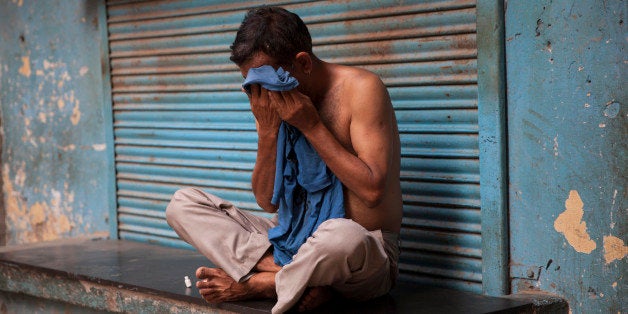 The loss of natural habitats and biodiversity often take center stage in reports about climate change, but a major new study highlights the direct effects that heat waves, droughts and flooding will have on human health over the next century.
The study, published Monday in British medical journal The Lancet, provides new insight into widespread health risks related to climate change.
"The implications of climate change for a global population of 9 billion people threatens to undermine the last half century of gains in development and global health," the study warns, noting that "human populations are likely to be growing, aging, and migrating towards greater vulnerability to climate risks."
By 2100, exposure of people to extreme rainfall will more than quadruple from the 1990s, and the exposure of people to drought will triple, The New York Times said of the study's findings.
The study predicts climate change will result in "adverse changes in air pollution, the spread of disease vectors, food insecurity and under-nutrition, displacement, and mental ill health" by 2100.
Because the global population of people older than 65 will continue to increase, about 3 billion more older people will experience heat waves in 2100 than did in 1990. Elderly people are especially vulnerable to health consequences in extreme temperatures, so hot weather events will claim more lives than they do now, the study says.
Increases in climate-related flooding and famine are likely to disproportionately affect females in developing countries, according to the study.
"In some cultures women may be forbidden from leaving home unaccompanied, are less likely to have learnt how to swim," the authors offer as an example for why more women than men die during floods in some nations. "Additionally, women's and girls' nutrition tends to suffer more during periods of climate-related food scarcity than that of their male counterparts, as well as starting from a lower baseline, because they are often last in household food hierarchies."

REAL LIFE. REAL NEWS. REAL VOICES.
Help us tell more of the stories that matter from voices that too often remain unheard.
BEFORE YOU GO
PHOTO GALLERY
Climate Change: 10 Beautiful Places Under Threat