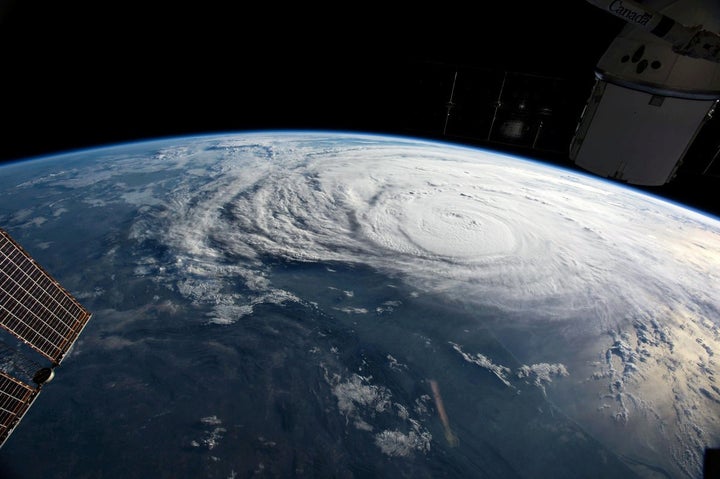 Hurricane Harvey, the historic behemoth that killed dozens and drenched Texas in rain, was made far worse by climate change, scientists said in two separate studies released Wednesday.
The research, published in the journals Geophysical Research Letters and Environmental Research Letters and presented at the fall meeting of the American Geophysical Union, found Harvey's unprecedented rainfall was at least 15 percent heavier due to global warming. The occurrence of such a strong storm was also about three times more likely to happen, the authors concluded.
Those statistics represent a lower boundary, but in one study, researchers' best estimate said Harvey's rainfall was nearly 38 percent worse than a comparable storm from the 1950s.
"Climate change made this event more likely and heavier," Karin van der Wiel, a researcher at the Royal Netherlands Meteorological Institute and a co-author of one of the papers, told The Washington Post.
But only recently, in an effort to counter misinformation, have researchers moved to so quickly link an unprecedented event to climate change, including an effort by a group of scientists known as World Weather Attribution, of which Van der Weil is a part.
Harvey was no exception. The storm brought unprecedented rain, up to 50 inches in some places, to the Texas coast in August after landing as a Category 4 hurricane. Over several days, the storm flooded large parts of Houston, displaced tens of thousands and killed more than 80 people.
Researchers said they were struck by the intensity of rain after using climate models to compare data from Harvey to conditions that would have created a similar storm a century ago, before greenhouse emissions caused the planet to warm.
"The amount of precipitation increase is worse than I expected," Michael Wehner, a senior scientist at the Lawrence Berkeley National Laboratory and an author of the other paper, told The New York Times.
Despite the intensity of the weather event, some moved to quickly distance the hurricane from global warming. Among those were President Donald Trump, who said America "had bigger storms" than Harvey or Hurricane Irma in the past when asked about their links to climate change. An even more bizarre claim was made by conservative pundit Ann Coulter, who said she'd blame Houston's lesbian mayor for Harvey before climate change.
Scientists didn't investigate whether the actual formation of the storm was due to climate change but said the dramatic results of their research confirmed that storms such as Harvey can likely be made worse by human activity.
Van der Weil said that even if the world is able to limit global warming to the levels established by the landmark Paris climate agreement, the probability of witnessing another storm like Harvey would increase by a factor of three.
"If we miss those targets, the increase in frequency and intensity could be much higher," she said in a statement.
Related