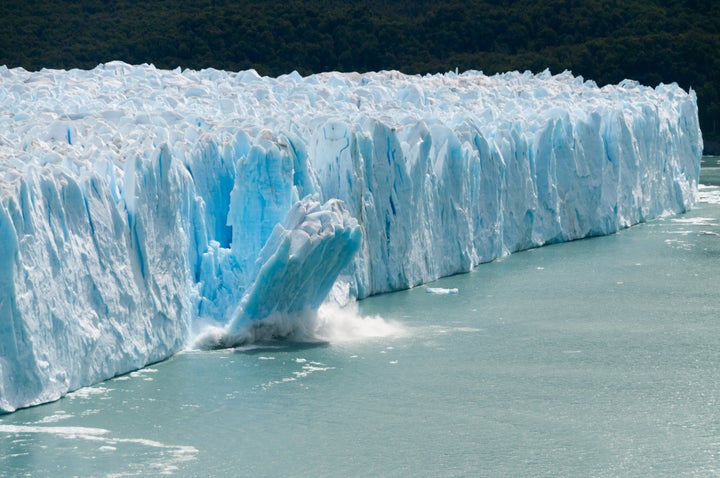 WASHINGTON ― The Republican response to an alarming new United Nations report on looming catastrophes caused by global warming suggests that little, if anything, will be done by the U.S. in the near future to address the threat of rising oceans, worsening droughts and raging wildfires.
The sobering report from the leading U.N. panel of researchers studying human-caused climate change calls on the world to take swift and drastic action to curb greenhouse gas emissions before the effects of climate change become irreversible.
On Capitol Hill, a parade of GOP lawmakers interviewed by HuffPost on Wednesday dismissed its policy recommendations as wildly impractical, using ridicule to do so.
"They might as well be calling on me to sprout wings and fly to Canada for the summer," Sen. Roger Wicker (R-Miss.), a climate change skeptic, said of the actions urged by the report.
"It's totally unrealistic," Sen. John Kennedy (R-La.) said. "They must have parachuted in from another planet.
Issued by the Intergovernmental Panel on Climate Change, the report found that the world is rapidly running out of time to scale back carbon emissions to keep planetary warming within 1.5 degrees Celsius (2.7 degrees Fahrenheit) above pre-industrial levels. If the flow of greenhouse gases continues to stream into the atmosphere at the current rate, the IPCC determined, the global mean temperature will likely rise to the 1.5-degree mark sometime between 2030 and 2052.
"That's the problem with the U.N., that they come up with these policy ideas that are just 'La La Land"
The report's authors projected that staying at or below 1.5 degrees Celsius will require slashing the world's greenhouse gas emissions by 45 percent from 2010 levels by 2030 ― and reaching net zero carbon emissions by 2050 ― targets that many GOP lawmakers brushed off as infeasible.
"There's not enough money in the world to pay for that," Kennedy said. "That's the problem with the U.N., that they come up with these policy ideas that are just 'La La Land.'"
The colorful senator from Louisiana, a state regularly inundated by flooding from extreme weather events like hurricanes, scoffed at the scientists' recommendations to curb emissions as "fantasy" and "magical thinking."
Other GOP senators who represent U.S. coastal states that are most at risk to the harmful effects of climate change similarly panned the report.
"How is that new? They've said the same thing before," Sen. Marco Rubio (R-Fla.) said, adding that his responsibility was to "balance those interests raised in that report with (his state's) broader economic and security interests.
Sen. Tim Scott (R-S.C.) said he couldn't comment on the report because he had not read it. He wouldn't commit himself to doing so.
"It hasn't been on my finance agenda or banking agenda," Scott said, referring to the Senate committees he serves on and the issues on which he focuses his attention.
The IPCC recommended several steps needed to reverse carbon dioxide emissions, including replacing the use of fossil fuels with renewable energy such as wind and solar, as well as growing more forests, which naturally recycles CO2. It also said that employing new technologies to suck carbon dioxide out of the atmosphere will be necessary to achieve the emissions target.
"We should be doing everything we can," said Natalie Mahowald, a climate scientist at Cornell University and lead author of the report's first chapter. "That's the main thing about getting to (the emmissions goal) is just how aggressively we have to act in every different sector of our society."
Only one GOP senator approached by HuffPost signaled an openness to delving into the report: Sen. Bob Corker (R-Tenn.). As chairman of the Senate Foreign Relations Committee, he said he was looking at the "possibility" of holding a hearing on the matter.
Of course, he would need to schedule it quickly. Corker's retiring at the end of the year.
The Senate GOP majority, likely to remain in effect after November's elections, is dominated by lawmakers skeptical of human-caused climate change, such as Jim Inhofe (R-Okla.). He once threw a snowball on the Senate floor in an attempt to prove that global warming is nothing more than a hoax.
Coming from a top oil-producing state, Inhofe has long railed against the IPCC as a biased, left-wing organization. On Wednesday, he claimed that the panel, recognized by others as the world's leading authority on climate change, had been "totally discredited" and dismissed its latest findings.
"I dispute anything the IPCC does because they've been historically wrong," Inhofe told reporters.
Under President Donald Trump, the U.S. has rapidly moved to eliminate policies aimed at reducing the nation's carbon footprint ― even as other top emitters of carbon dioxide like China have taken steps to curb emissions.
Trump last year announced he would withdraw the U.S. from the 2015 landmark Paris climate accord, arguing it unfairly hurt American businesses and workers.
Asked about the IPCC report on Tuesday, Trump expressed skepticism about its source and suggested he had other data that disputed it.
"I want to look at who drew it. You know, which group drew it. I can give you reports that are fabulous and I can give you reports that aren't so good," Trump, who once called climate change a Chinese hoax, told reporters at the White House.
Popular in the Community