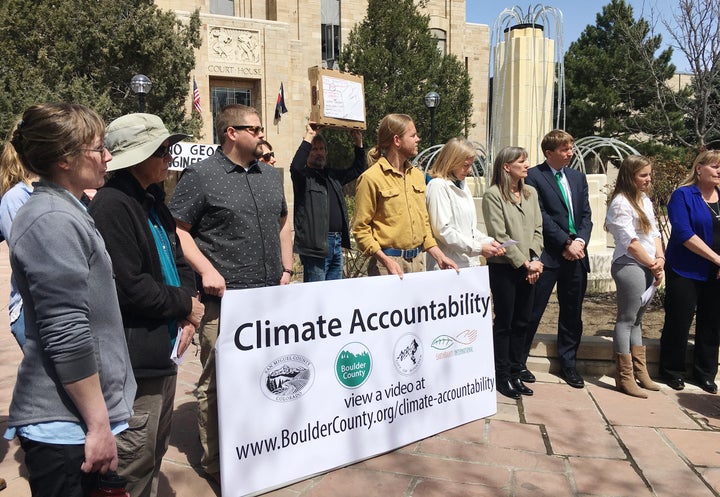 BOULDER, Colo. ― On Tuesday, just off a pedestrian mall that would normally be home to busking contortionists and firebreathers, local officials ushered in a new era of climate change litigation.
Representatives of two Colorado counties and the city of Boulder announced a lawsuit against two oil companies at a rally before nearly 100 citizens. The counties ― Boulder and San Miguel ― said heavy floods, fires and heat waves were becoming too expensive for local governments to pay for themselves, and that those who caused the damage should be responsible for the costs.
While similar suits have been filed from California and New York, the Colorado suit is the first from the interior of the country, a distinction not lost on the speakers.
"It's important we have non-coastal voices to tell the full story about the impacts of climate change," said Elise Jones, a Boulder County commissioner. "Where you might think of sea level rise, we think of wildfires, droughts, intense rain events."
The Colorado lawsuit targets Canadian firm Suncor ― whose U.S. operations are based in Denver ― and Exxon Mobil, charging the companies with leaving the burden of their environmental impacts on local governments and having misled consumers on the effects of their fossil fuel products. A study released last week by Resilient Analytics, a Colorado firm that studies climate change adaptation, said it would cost Boulder more than $100 million to fully adjust to future climate changes ― everything from improving infrastructure to installing air conditioning in buildings that currently lack it.
The point of the lawsuit, supporters say, is not to shut down the oil industry, but to make it share the costs of adaptation.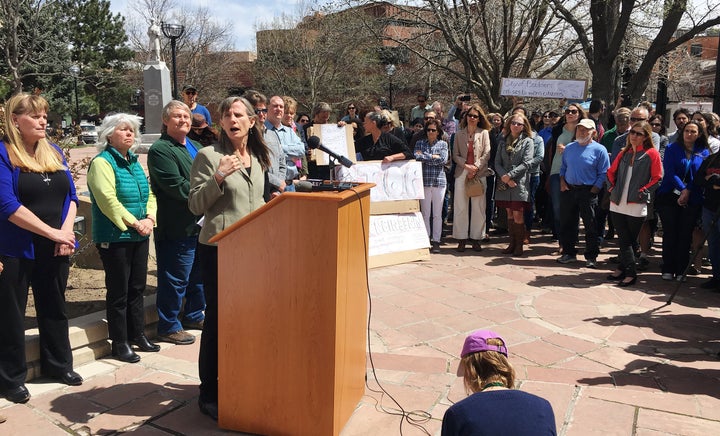 Boulder County is still paying for the floods it experienced in 2013, in which a year's worth of rain was dumped on the area in five days. Three people died and 262 homes were destroyed. San Miguel County, which includes the ski haven of Telluride, cited the risk of warmer winters and decreased snowpack to the state's $5 billion ski industry. The suit also charges that the companies engaged in "deceptive trade practices" under Colorado law by making false claims about the contribution of fossil fuels to climate change.
In a statement, Exxon said that "reducing greenhouse gas emissions is a global issue" and "these lawsuits ― filed by trial attorneys against an industry that provides products we all rely upon to power the economy and enable our domestic life ― simply do not do that."
But climate change lawsuits ― including high-profile suits young people have filed against the federal and state governments and oil companies for violating their right to a safe climate ― are not stopping. The Boulder complaint could signal the next phase in those litigation efforts by forcing courts to reckon with a myriad of climate impacts caused by oil companies.
Marco Simons, general counsel with Earthrights International and a lawyer involved in the Colorado case, said to "absolutely expect to see more cases from more communities."
Hypothetically, cities and states all over the country could cite climate impacts on everything from agriculture to infrastructure; a 2014 government report detailed how climate change affects every region of the country.
Former Miami Beach Mayor Philip Levine, who is leading in the polls in Florida's Democratic gubernatorial primary, said in February that the state should "examine the potential to go after fossil fuel companies to help pay for the resiliency efforts that our state will have to take because of climate change."
Most of the climate suits have been filed in state courts, which means that judges will assess local impacts. While the Colorado suit does show the potential for new damages to be cited, the decision of new cities and states to file their own complaints should not affect the success of claims elsewhere in the country, Michael Burger, the executive director of Columbia University's Sabin Center for Climate Change Law, said in an email.
The potential downside, he cautioned, was "the possibility of every city in every state bringing a suit ... something defendants point to to argue this is an issue necessarily left to the other, political branches of government."
""It's important we have non-coastal voices to tell the full story about the impacts of climate change."
Of course, politics also play a role in whether governments decide to spend the time and resources to bring a lawsuit. A climate change lawsuit is an easier sell to potential plaintiffs in California and New York than in the heartland, even in a purple state like Colorado. The two counties in the latest suit are among the most liberal in the state. Colorado has traditionally taken a more conciliatory approach toward the oil and gas industry, and Democratic Gov. John Hickenlooper has not weighed in on the lawsuits.
Advances in science have made the cases possible, as scientists can now more accurately ascribe the impact of climate change to specific weather events. Lindene Patton, an attorney with Earth & Water Law and the co-author of a new paper about the role of attribution science in climate litigation, said while this area of law is complex, it boils down to "narrowing the consequential analysis" to show that emissions made a natural event worse.
"With any event," she said, "the more simplistic it is, the easier the model." For climate litigation, that means it's easier to show that climate change has worsened events like heat waves, droughts and heavy rainstorms.
Patton said the cases could also lay the path for future litigation over all manner of climate adaptation, including cases that target cities or contractors themselves for not adequately preparing for future weather events.
"Where I think attribution science is going to provide the most important role in a court of law is not with emissions liability, but responsibility for addressing adaptation," she said. "If the science is this good and you're a professional, can you ignore it?"
Popular in the Community