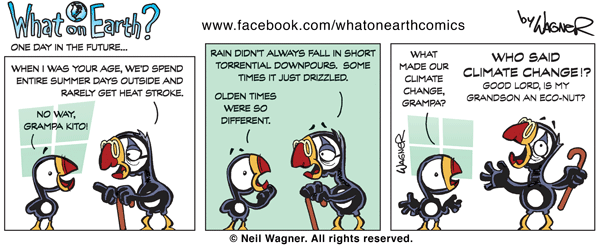 Parents have always taken pride in telling kids how hard things were in the "good old days." That meme is the ultimate weapon when kids have the audacity to think they have it tough. Bill Cosby famously described how his father "walked to school at 4 o'clock every morning... with no shoes on... uphill... both ways... in 5 feet of snow -- and he was THANKFUL!"
But the "things used to be tougher" gambit may be losing some of its power. Thanks, in part, to climate change, snow, wind, sleet, rain, heat, et al., are now becoming stronger and less predictable. "What on Earth?" has already discussed the intense, bizarre nature of weather these days.
Since today's kids face windier wind, dryer droughts, heavier rain, and more blustery blizzards, what can parents lord over them? I humbly suggest the following: if it weren't for the carbon-intensive efforts of previous generations, children would now have nothing to complain about!
It's the gift of gripe, kids. You're welcome.
_____________________________________________________

Like "What on Earth?" on Facebook
REAL LIFE. REAL NEWS. REAL VOICES.
Help us tell more of the stories that matter from voices that too often remain unheard.