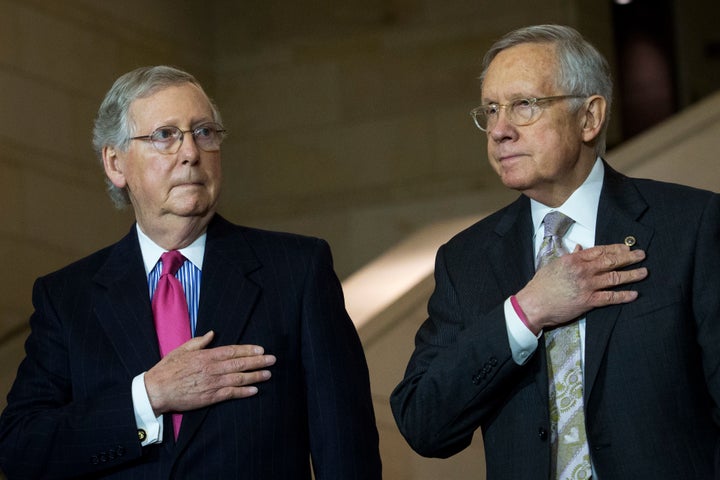 In it, 73 percent of Democrats said they consider global climate change to be a "major threat" to the nation's well-being, compared to only 22 percent of Republicans and 49 percent of Independents.
Pew noted that the biggest divide it has ever measured in response to a question on how American voters rank the threat of climate change was in this poll, which surveyed 1,500 Americans about terrorism earlier this month.
The survey asked about six other potential threats to the U.S., including the self-described Islamic State, Iran's nuclear program, North Korea's nuclear program and China's emergence as a world power. 
The wide gap likely derives from the fact that many Republicans say there isn't solid evidence of rising global temperatures. An earlier Pew study found that 56 percent of Republicans do not believe the planet is warming, although 97 percent of climate scientists believe climate-warming trends are caused by human activity.
The partisan divide has also been evident on Capitol Hill. As President Barack Obama worked with nearly 200 other nations in recent weeks to seal an ambitious agreement to slash greenhouse gas emissions, Republicans in Congress pursued avenues to undermine it. Many hoped to include a measure in a year-end funding bill that would block the administration's signature climate change policy -- regulations curbing carbon dioxide emissions from existing and new power plants. It's not expected to make it into a final deal on the omnibus spending bill as Democrats and the White House considered such a provision a nonstarter.
However, Republicans and Democrats are much more aligned when it comes to their views on the threat of the Islamic State, also known as ISIS.
Ninety-three percent of Republicans and 79 percent of both Democrats and Independents consider ISIS a "major threat" to the country. More Republicans and Democrats named ISIS a top threat than any other issue.
PHOTO GALLERY
Here's What The 10 Leading GOP Candidates Think Of Climate Change
Calling all HuffPost superfans!
Sign up for membership to become a founding member and help shape HuffPost's next chapter