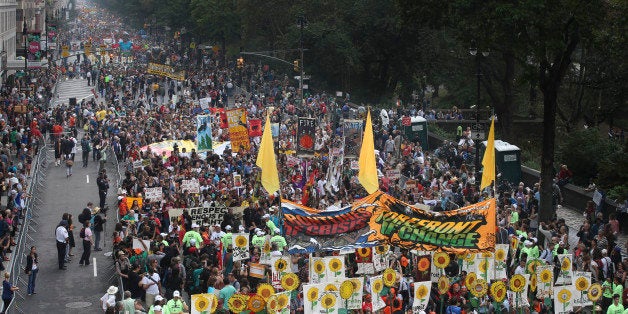 This week in New York City, the UN Climate Summit will bring heads of state, business community leaders and activists together to push for action to protect our planet from climate change.
While the need for a response is urgent and felt every day in communities across the country, our leaders in Washington have failed to find a way past partisan gridlock and get something done. That is why I will be hosting a special program on what our states and local communities can do, absent leadership from Washington. Because one thing is clear: We can't afford to wait.
Here in New York, we are already seeing how climate change contributes to increasingly violent and extreme weather that has cost us dearly, in both damage and in lives.
Earlier this month, my office issued a report that demonstrated the toll that extreme rainstorms and floods are taking on communities all over the State. The report illustrates how our climate is changing and how climate change poses a clear and present danger to every New Yorker, every American and every citizen of every country on the globe.
A few examples of what a changing climate means for New Yorkers:
In 2009, severe thunderstorms dropped nearly six inches of rain in less than two hours in Cattaraugus, Chautauqua, and Erie counties, causing extensive flash flooding. Cattaraugus Creek rose from six to nearly 13 feet in less than hour, damaging over 400 structures and leaving many families homeless.
In 2011, Hurricane Irene dropped over 11 inches of rain in 24 hours on the Hudson Valley, eastern Adirondacks, Catskills and Champlain Valley, causing catastrophic flooding. Over 1 million people lost power, more than 33,000 had to evacuate, and 10 were killed. Damage estimates totaled1.3 billion.
One week later, Tropical Storm Lee dumped up to a foot of rain on the Southern Tier, then moved north into areas already reeling from Irene's devastation.
Last month, a stalled weather front dumped more than 13.5 inches of rain in a few hours on Long Island, flooding over 1,000 homes and businesses, opening massive sinkholes, and forcing hundreds to evacuate. That's almost as much rain as Long Island typically gets in an entire summer. Cleanup costs could exceed30 million.
What is disturbing about these devastating storms is not just their historic nature; it's the fact that this kind of extreme weather is becoming all too common.
Historical weather data analyzed in my report revealed a disturbing increase in the intensity and frequency of storms across New York. In fact, the amounts of rain falling in 24-hour periods rose so dramatically between 1978 and 2007 that so-called 100-year storms now happen, on average, every 60 years.
The report also found that, based on the United States National Climate Assessment, if greenhouse gas emissions follow current trends, the frequency of extreme rainstorms that typically produce 4 to 6.5 inches of rain a day in New York is projected to increase on the order of 300 to 400 percent by century's end.
The bottom line is clear: Climate change is a reality, and it is having a real impact.
Unfortunately, despite the urgency of the situation, gridlock in Washington has forced state governments to step up to get greenhouse gases reduced and make our infrastructure more resilient.
That is why my Environmental Protection Bureau has worked aggressively and creatively to curb greenhouse emissions, protect critical infrastructure from a changing climate, and ensure clean air and water for every New York community.
It is why we proposed legislation to require electric and gas utilities to incorporate storm hardening into their planning.
The time has come to join together to demand immediate action if we are to overcome the challenges of climate change, and ensure a safer, healthier, more sustainable state, nation and world for the present and the future.
Related