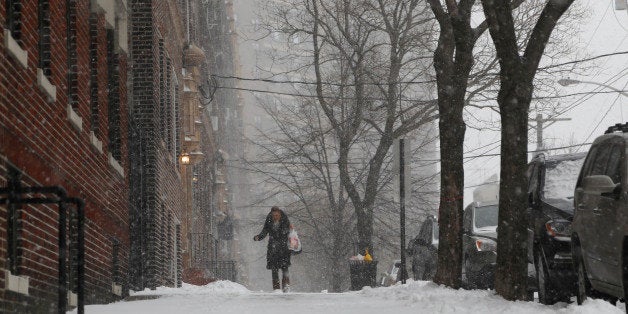 Some forecasters have projected a record snowstorm for the Northeast in the coming hours, which isn't exactly the sort of thing that makes people think about global warming.
But in declaring a state of emergency on Monday, New York Gov. Andrew Cuomo (D) noted that this type of monster storm is "part of the changing climate."
"I've only been governor four years. I believe I've gone through more emergency disasters in four years than any governor in history has gone through," said Cuomo. "There is a pattern of extreme weather that we have never seen before."
Cuomo cited Superstorm Sandy in 2012, which hit New York and New Jersey particularly hard, as well as the 7 feet of snow that fell on Buffalo this past November. "It's something we have to adjust to, it's something that's very costly, and it's also something that's very dangerous," said the governor.
Climate change deniers are gonna deny, but there is increasing evidence that ties atmospheric warming trends to heavier snowfall events.
"We can't make too big a deal of every single storm and say it is caused by climate change," climate scientist Don Wuebbles of the University of Illinois in Urbana told National Geographic on Monday. "But what we are seeing today is completely typical of what you would expect to see in a warming climate."
Kevin Trenberth, a senior scientist in the climate analysis section at the National Center for Atmospheric Research, said that in winter, temperatures are generally colder on land than over the oceans. Climate change is raising ocean temperatures, however, and current sea surface temperatures are more the 2 degrees Fahrenheit higher than normal over much of the area off the East Coast of the United States, he explained to The Huffington Post. Trenberth also said that water vapor in the atmosphere is about 10 percent higher than normal, and about half of this change can be attributed to climate change.
Massive storms, like the one hitting the Northeast, happen when the cold land air collides with the warmer, moister off-shore air. The current storm, said Trenberth, "is in just the right position to tap into the high moisture over the ocean and develop as it experiences the sharp contrast between the continent and the relatively warm ocean."
That fits with trends identified in last year's National Climate Assessment from the U.S. Global Change Research Program. The report found that from 1958 to 2012, there was a 71 percent increase in "very heavy" storms in the Northeast.
The heavy storm trend is likely to continue, given the projected atmospheric warming. "In mid-winter, it is expected with climate change that snowfalls will increase as long as the temperatures are cold enough, because they are warmer than they would have been and the atmosphere can hold 4 percent more moisture for every 1 [degree Fahrenheit] increase in temperature," said Trenberth. "So as long as it does not warm above freezing, the result is a greater dump of snow."

Other studies have found evidence that global warming is driving shifts in the jet stream. Those changes may slow storms down, giving them more time to drop rain or snow in one place.
"A storm that might have moved across the Northeast in 24 hours may now take 48 hours," David Easterling, chief of the Global Climate Applications Division of the National Oceanic and Atmospheric Administration's National Climatic Data Center, told The Huffington Post.
Indeed, the current storm, named Juno, appears to be slow-moving. "It has a chance to dump a lot of snow as it moves across the region," said Easterling.
As the climate warms, he said, "you may see more of these bigger storms in the future."
Related
Before You Go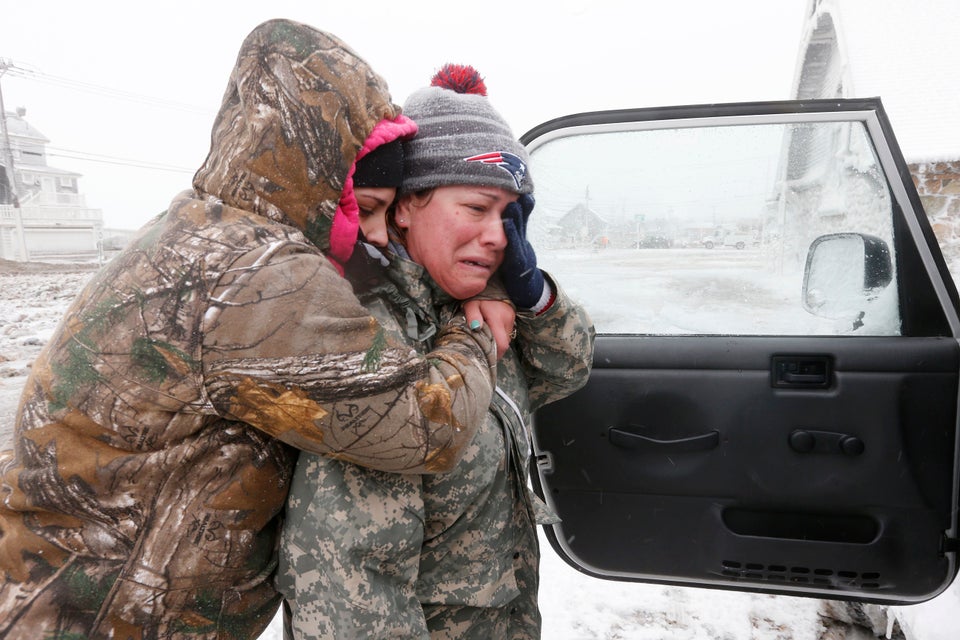 January 2015 East Coast Snow