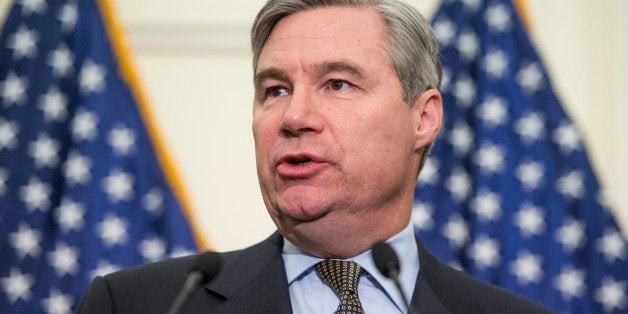 WASHINGTON -- The 30 senators set to occupy the Senate floor Monday for an all-night talkathon on climate change have raised substantially less from the oil and gas industry in recent years than those who are not participating.
The action by the 30 senators is intended to raise attention on climate change, which has fallen off the legislative map in recent years and was barely mentioned during the 2012 presidential campaign.
"The cost of Congress' inaction on climate change is too high for our communities, our kids and grandkids, and our economy," Sen. Sheldon Whitehouse (D-R.I.), a leader of the action, said in a statement. "On Monday we'll be sending a clear message: it's time for Congress to wake up and get serious about addressing this issue."
According to data collected from the Center for Responsive Politics, each of the 30 participating senators raised an average of $56,269 from oil and gas industry executives, employees and political action committees since 2006. The 70 senators not taking part raised an average of $289,544 over the same period.
One reason for the stark difference in campaign cash from the oil and gas industry is that it primarily funds Republican politicians. Since 1996, the industry has spent more than 75 percent of its campaign donations to Republicans.
None of the 45 Republican senators are taking part in Monday's climate action. Since 2006, each of these GOP senators has raised an average of $386,077 from oil and gas interests -- far more than the average of Democratic senators. The all-night session includes two independent senators who caucus with Democrats.
There is also a substantial gap between senators taking part in the climate action and the Democratic senators who are not.
Since 2006, the 25 nonparticipating Democratic senators raised an average of $115,784, twice as much as the average of the 30 participating senators. Many of the nonparticipating Democratic senators hail from states where oil and gas is produced.
Below is a list of the 30 senators participating in the climate action:
Majority Leader Harry Reid (D-Nev.)
Sen. Dick Durbin (D-Ill.)
Sen. Charles Schumer (D-N.Y.)
Sen. Patty Murray (D-Wash.)
Sen. Brian Schatz (D-Hawaii)
Sen. Sheldon Whitehouse (D-R.I.)
Sen. Barbara Boxer (D-Calif.)
Sen. Dianne Feinstein (D-Calif.)
Sen. Ron Wyden (D-Ore.)
Sen. Bill Nelson (D-Fla.)
Sen. Maria Cantwell (D-Wash.)
Sen. Benjamin L. Cardin (D-Md.)
Sen. Bernard Sanders (I-Vt.)
Sen. Amy Klobuchar (D-Minn.)
Sen. Mark Udall (D-Colo.)
Sen. Tom Udall (D-N.M.)
Sen. Jeanne Shaheen (D-N.H.)
Sen. Jeff Merkley (D-Ore.)
Sen. Kirsten Gillibrand (D-N.Y.)
Sen. Al Franken (D-Minn.)
Sen. Richard Blumenthal (D-Conn.)
Sen. Chris Murphy (D-Conn.)
Sen. Martin Heinrich (D-N.M.)
Sen. Angus King (I-Maine)
Sen. Tim Kaine (D-Va.)
Sen. Elizabeth Warren (D-Mass.)
Sen. Edward J. Markey (D-Mass.)
Sen. Cory Booker (D-N.J.)
Sen. Chris Coons (D-Del.)
Sen. Jack Reed (D-R.I.)
Popular in the Community