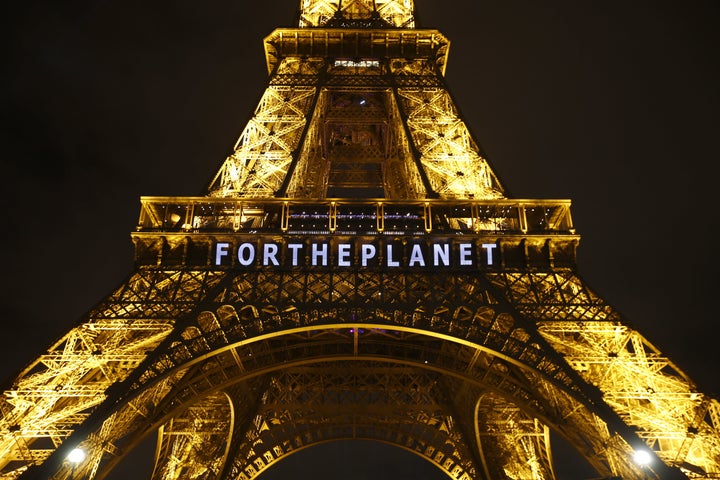 After two weeks of tense talks, word-wrangling and marathon overnight meetings, diplomats in Paris agreed to a global climate change accord on Saturday evening -- a day after the summit's scheduled conclusion.
Leaders and experts cheered the historic agreement that emerged from the 21st Conference of the Parties, or COP21, calling it ambitious and realistic, and a crucial step in protecting the Earth for future generations.
"The decisive deal for the planet is here," French President François Hollande told delegates Saturday morning, shortly before releasing the final draft. Outside, thousands of protesters had begun filling Paris streets in an appeal for a strong climate pact.
Some advocates, however, lamented that the deal falls short. They pointed to a lack of a specific timescale for phasing out fossil fuels, for example, as well as weak language on monitoring and verifying countries' greenhouse gas emission reductions.
"This agreement won't save the planet, not even close," Bill McKibben, co-founder of 350.org, a climate advocacy group, told The Huffington Post in an email. "But it's possible that it saves the chance of saving the planet -- if movements push even harder from here on out."
For the first time, rich and poor countries across the world have agreed to take steps to limit and adapt to climate change -- from reducing their emissions of carbon dioxide and other greenhouse gases to helping one another adapt to rising seas, devastating droughts, food shortages and other impacts of global warming.
As the Paris text states, climate change "represents an urgent and potentially irreversible threat to human societies and the planet," and "requires the widest possible cooperation by all countries."
The final agreement, which spans 31 pages, sets a cap on global warming at "well below" 2 degrees Celsius (3.6 degrees Fahrenheit) above pre-industrial levels. Any greater rise, scientists have warned, could trigger catastrophic climate change. The text also adds an aspirational commitment to aim for even greater reductions, enough to limit warming to 1.5 degrees Celsius (2.7 degrees Fahrenheit) and thereby help protect low-lying nations most threatened by sea level rise.
"The scientific evidence coming in, particularly since the release of the last IPCC report, really does point in the direction that 2 degrees Celsius of warming presents more risks than had been widely appreciated," said Guido Schmidt-Traub, executive director of the U.N. Sustainable Development Solutions Network, referencing the most recent findings from the U.N. Intergovernmental Panel on Climate Change, whose assessments form the scientific backbone for climate negotiations.
But perhaps the greater debate these past weeks in Paris is just how to achieve either goal. The current set of emissions-reduction pledges submitted by participating countries would only limit global warming to roughly 2.7 degrees Celsius (4.9 degrees Fahrenheit), leaving a substantial gap -- regardless of which warming limit is considered. And the Paris text doesn't hide that fact, stating that "much greater emission reduction efforts will be required."
"We're at a moment in time where the issue of climate change has registered so centrally in the consciousness of people around the world."
Michael Mann, director of Penn State University's Earth System Science Center, emphasized that COP21 is just "the beginning of a process." The global commitments "get us roughly half way" to where the world needs to be, Mann told HuffPost in an email. "The most important thing to come out of the conference is an agreement to improve on these commitments substantially in the years ahead."
Robert Stavins, director of the Harvard Environmental Economics Program, agreed. He highlighted the accord's call for countries to review their annual emissions and ramp up their pledges accordingly every five years, beginning in 2023. Also key, he noted, is the fact that nearly 190 countries, representing 96 percent of global emissions, have submitted Intended Nationally Determined Contributions -- a significant improvement compared to the Kyoto Protocol's coverage of 14 percent of global emissions. That climate accord only obliged developed countries to pitch in. What's more, major carbon contributors such as the U.S. and China refused to sign on.
The shift from previous summits may be at least partially attributed to mounting scientific evidence and global awareness concerning the pace of and problems posed by climate change. And this change in tone is not just evident in the actions of the public and politicians, suggested Schmidt-Traub, but also of major corporations. Monsanto, for example, is among companies pledging to go carbon neutral within the next decade. "That's making a huge difference," he said.
"We're at a moment in time where the issue of climate change has registered so centrally in the consciousness of people around the world," added Rachel Cleetus, the lead economist and climate policy manager for the Union of Concerned Scientists' Climate and Energy Program. "These climate impacts we are seeing are exacting a toll on people everywhere. We're seeing the western U.S. in a multiyear drought. We're seeing sea level rise cause worsening flooding."
While every country may be confronted by climate change consequences, some developing nations represent the most vulnerable to and least able to cope with the impacts. These countries are also generally the least prepared to invest in renewable energy to help fend off further warming. Compared to fossil fuels, clean energy products remain more capital intensive -- a particular challenge for poor nations that face high interest rates. (A loan to India, for example, is far more risky than one to Germany.)
To help, rich countries have been called to provide $100 billion a year to support poor countries in their transitions to clean energy and their measures to adapt to climate change. By 2025, according to the agreement, these nations will revisit that figure, with the option of ratcheting up their financing.
The accord also includes a mechanism to address the losses and damages caused by climate change, although the parties agreed that this "does not involve or provide a basis for any liability of compensation." Such liability would have been a deal-breaker for the U.S. and other large emitters, according to Stavins, who suggested that the new climate accord "hit everything" he had been watching for ahead of the meetings.
"This is a broad foundation for meaningful progress," he said. "Anyone who suggests this is a success or a failure is only speaking based on ideology, not reality. Only 10 to 20 years from now, when we look at the implementation of all this, will we really know."
Support HuffPost
The Stakes Have Never Been Higher
Popular in the Community