The planet has entered the warmest period "in the history of modern civilization," with global average air temperatures having increased by 1.8 degrees Fahrenheit over the last 115 years, according to the findings.
"It is extremely likely that human activities, especially emissions of greenhouse gases, are the dominant cause of the observed warming since the mid-20th century," the report states. "In addition to warming, many other aspects of global climate are changing, primarily in response to human activities. Thousands of studies conducted by researchers around the world have documented changes in surface, atmospheric, and oceanic temperatures; melting glaciers; diminishing snow cover; shrinking sea ice; rising sea levels; ocean acidification; and increasing atmospheric water vapor."
In a series of posts to Twitter, Katharine Hayhoe, a co-author and director of the Climate Science Center at Texas Tech University, said the report confirms what scientists have known for decades.
"Much of what we've learned in recent years suggests changes could be more extensive, more rapid, and more damaging than we thought," she wrote.
The report is the first volume of the 4th National Climate Assessment, a congressionally mandated update conducted every four years. Its release comes just days before a United Nations climate change conference convenes in Bonn, Germany, where the Trump administration is slated to push fossil fuels — namely coal and natural gas — and nuclear energy as the best approaches to reducing emissions and tackling climate change, as The New York Times reported.
In the federal report, scientists now working for Trump — who has called climate change "bullshit" and a Chinese hoax — paint a bleak picture of what to expect if humans fail to rein in carbon emissions.
By 2050, the annual average temperature in the U.S. is forecast to rise by about 2.5 degrees Fahrenheit. The number of large forest fires is predicted to increase. Global sea levels — which have risen 7 to 9 inches since 1900 — could rise "by at least several inches in the next 15 years and by 1–4 feet by 2100.
"The magnitude of climate change beyond the next few decades will depend primarily on the amount of greenhouse gases (especially carbon dioxide) emitted globally," the report says.
The findings are in stark contrast to the messages coming from Trump and his team. In June, Trump announced plans to pull the U.S. out of the historic Paris Agreement on climate change — the international accord in which nearly 200 countries committed to slashing carbon emissions. He has worked to roll back numerous environmental protections, including President Barack Obama's Clean Power Plan, a policy limiting greenhouse gas emissions from power plants. And he has swooped in to try to save America's struggling coal industry and vowed to increase oil and gas production, opening now-protected areas of the Arctic and Atlantic oceans to drilling.
Denial about what is happening to the planet permeates his administration.
The significance — and irony — of the report was not lost Friday, as environmentalists, scientists and former government officials made it clear it's time for Trump to face reality.
"The Climate Science Special Report is a direct rebuke to an administration which has clearly been captured by the narrow profit interests of the fossil fuel industry and other corporate polluters," Liz Perera, climate policy director of the Sierra Club, said in a statement. "It's time for Donald Trump, Scott Pruitt, and the other deniers in this Administration to take science, and their responsibilities, seriously and radically shift course."
The White House neither sought to prevent the report's release nor tried to alter its conclusions, The Washington Post reported, citing several administration officials and federal scientists. However, it did attempt to downplay its significance.
"The climate has changed and is always changing," White House spokesman Raj Shah told the Post in a statement. "As the Climate Science Special Report states, the magnitude of future climate change depends significantly on 'remaining uncertainty in the sensitivity of Earth's climate to [greenhouse gas] emissions.'"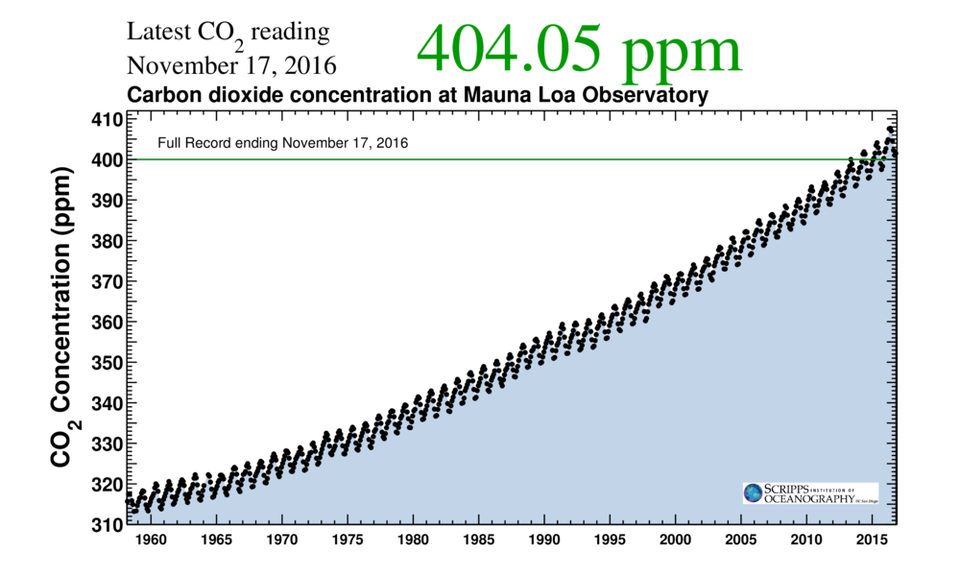 Climate Visuals For The Climate Change Denier In Your Life
Popular in the Community