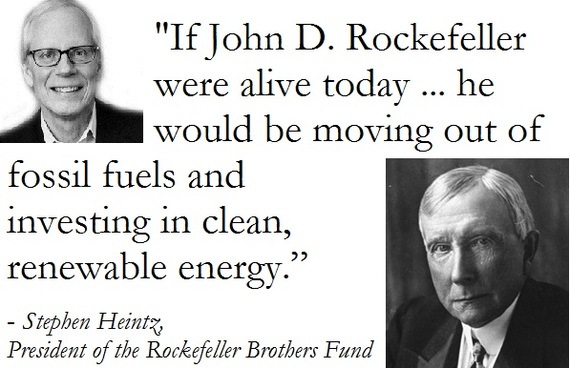 Climate change represents the most disruptive philanthropic and business opportunity since the Industrial Revolution.
In the years to come, the growing clean energy sector will require massive further investment. Changes in consumption patterns will lead to significant product and service innovation. Mitigation will change commerce and transportation. And the changing climate will cause more destruction, accelerating investment in resilience.
But these developments are less important than the systemic transformation that has already begun.
"Historians may one day refer to our meeting today as the beginning of a new period of economic thinking where we internalize externality costs into our behavior as governments, as business, as cities, and as citizens."

-- Klaus Schwab, founder and executive chairman of the World Economic Forum (Speaking at the UN, as reported in the Guardian )
A few decades ago the concept that return on investment and positive social change could co-exist in the same project was far-fetched. And it took the far-sighted vision of philanthropists to encourage it.
Last week, philanthropy was once again at the vanguard. A coalition of 730 philanthropists and foundations announced that they have vowed to divest $50 billion from fossil fuel assets and switch to clean energy alternatives. The movement, called Global Divest-Invest, was started by students and community activists.
"John D. Rockefeller, the founder of Standard Oil, moved America out of whale oil and into petroleum. We are quite convinced that if he were alive today, as an astute businessman looking out to the future, he would be moving out of fossil fuels and investing in clean, renewable energy."

- Stephen Heintz, president of the Rockefeller Brothers Fund
From the perspective of business, things are also changing fast.
Forty companies, among them Kellogg, L'Oréal and Nestlé, signed a declaration on Tuesday pledging to help cut tropical deforestation in half by 2020 and stop it entirely by 2030. They included several of the largest companies handling palm oil, the production of which has resulted in rampant destruction of old-growth forests, especially in Indonesia....The corporate promises are the culmination of a trend that has been building for years, with virtually every major company now feeling obliged to make commitments about environmental sustainability, and to report regularly on progress. [Emphasis mine.] The companies have found that pursuing such goals can often help them cut costs, particularly for energy.
As UN Secretary General Ban Ki Moon pointed out in his report on the climate summit, there was a novel sense of cooperation among a broad array of powerful players, including 100 heads of state and 800 leaders from business, finance and civil society.
A new coalition of governments, business, finance, multilateral development banks and civil society leaders announced their intent to mobilize over $200 billion for financing low-carbon and climate-resilient development.
Fortune reported on progress made building unity on the thorny problem of a carbon tax.
World Bank Group President Jim Yong Kim also praised the unexpected partnerships that have come out of the summit, saying it helped inspire a coalition of 73 nations and more than 1,000 companies that on Monday came out in support a price on carbon.
Of course, the leaders of China and India -- two key carbon emitting nations -- did not attend the summit. In addition, many observers have pointed out that though businesses, philanthropies and governments have promised these investments and changes, they have not yet delivered them.
However, the threat of climate catastrophe seems to have played a role in inspiring a new way to pursue social and environmental change.
The New York Times took note of this in its editorial over the weekend:
[There] ... was a palpable conviction that tackling climate change could be an opportunity and not a burden, that the way to approach the task of harnessing greenhouse gas emissions was not to ask how much it would cost but how much nations stood to gain by investing in new technologies and energy efficiency.
Many organizations, including innovators like B Corporation, have been working for years to disrupt -- and re-balance -- systems that pivot only on the primacy of profit. My guess is that they will work many more years until new systems fully emerge. There will be hiccups and failures and times of seeming defeat. The growing gap between the rich and poor will have to be addressed.
But survival has always been one of humanity's most potent motivators.
So I'm feeling bullish. I predict that before I die (I'm 55), these three things will come to pass:
Companies who only operate for the sake of profit will dwindle in number.
Those who seek only short-term gain will run a significant risk of going terminal over the medium and long term.
And sustainability will become a successful -- and widespread -- business strategy.
In the end, profiteers will not only be pariahs in the eyes of a climate-impacted public, they will be seen as bad bets for investment. Smart money, patient money, entrepreneurial money will find much more promise working with the new, more collaborative system.
Shared value -- where returns are measured in lives enhanced as well as dollars earned -- will become, slowly and steadily, the norm. And the planet -- along with its inhabitants -- will be all the better off for it.
The world is on the brink of a revolution in how we solve society's toughest problems. The force capable of driving this revolution is 'social impact investing', which harnesses entrepreneurship, innovation and capital to power social improvement.