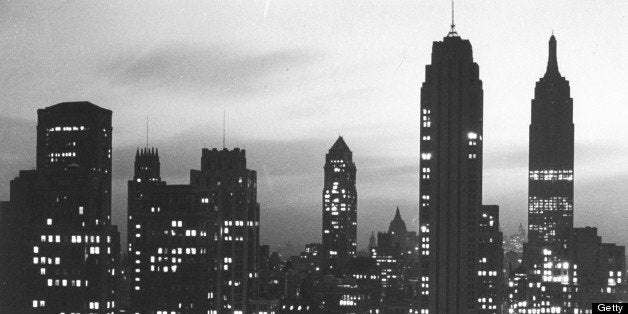 Mayor's Office Report Further Demonstrates how Climate Change Will Disproportionately Affect New York's Poor
Last month, the Mayor's Office released its report on adapting to climate change in New York City, "A Stronger, More Resilient New York." The plan contains strategies for everything from improving stormwater management to strengthening energy infrastructure. One of the most fascinating aspects of the report is how it details the extent to which low-income New Yorkers will disproportionately be affected by the changes we are triggering in the climate -- as the report acknowledges, low income New Yorkers disproportionately face climate change-related threats to their food supply, to the safety of their homes, and, in an odd twist, to their ability to afford housing.
First, let's talk about food. Suppose that you live in a neighborhood in Brooklyn where you get most of your food either from the bodega or from the local green grocer. As it turns out, a huge portion of the fish, produce, dried goods and a whole range of other food you buy comes from the distribution center at Hunts Point in the Bronx. This vast network of transportation hubs, warehouses, wholesale markets and distributors is a rarely-mentioned but critical aspect of life in New York City, as it encompasses the largest wholesale produce market in the world and, as the Mayor's report points out, "supplies a disproportionate share of the food wholesaling needs of low-income neighborhoods." Unfortunately, this area is at serious risk of flooding. Huge sections of the Hunts Point area are already considered a 100-year flood plain by FEMA's preliminary working map for 2013, and a much greater section is considered a 100-year flood plain for 2050 (the concept of flood plains can be a little bit tricky; for more information, check out the "Climate Analysis" section of the report on page 20). As the new report notes, "Sandy spared Hunts Point the worst of its impacts largely because it hit New York at low tide in the Long Island Sound. However, complacency in the wake of Sandy would be a mistake, as the food supply system may not escape significant impacts in the next extreme weather event."
So let's say there's another hurricane, and the bodega starts to run low. That's unfortunate, but you think, well, I guess I'll just get some takeout or something. More bad news: that option might not be on the table (so to speak) if you live in a poor neighborhood. The report continues: "While most of New York's food retail square footage will not be at risk of surge, the buildings that are at risk are concentrated in low-income communities. Indeed, the top four at-risk community districts -- which are projected to have more than 75 percent of their food retail area in a floodplain by the 2050s -- are all areas with high levels of low income populations."
While the report notes these risks, the steps recommended to alleviate risks to the food supply -- such as mandating backup generators for retailers -- are largely out of the city government's purview, although the Office of Emergency Management has committed to advancing germane legislation in the New York State Legislature. The most tangible deliverable mentioned in the report is a vulnerability study, to be launched before the end of 2014. The report also mentions the construction of a flood protection system at Hunts Point, but has yet to identify a source of funding for this project. Even if a source could be identified for the estimated $150-175 million cost, it is equally unclear how responsibility for this plan would be designated or structured, as the entity that is nominally responsible -- the New York Office of Long Term Planning and Sustainability -- is going through a period of organizational reshuffling, which will affect its scope, according to a source close to the office.
And that's just food. We haven't gotten to the direct risks to homes from hurricanes and storm surges. If you live in low-income housing, it's already likely that your home is at direct risk -- 70 percent of New York City's low-income housing is located in "Zone A," the region made infamous last year during Hurricane Sandy for being most at-risk for flooding.
Correspondingly, there are insurance risks associated with this area. FEMA is currently updating its Flood Insurance Rate Maps (for the first time, the report notes, since 1983) and its new analysis projects a sharp increase, spurred by climate change, in the properties that by law will have to be covered by the National Flood Insurance Program (as reported by James West and Kate Sheppard). This will doubtless send shockwaves through the real estate market in New York City as time goes by and more and more coastal properties are integrated into the insurance program.
Flood and insurance risks are very much on the mind of Kerri Culhane, Associate Director of the Two Bridges Neighborhood Council, which owns and sponsors affordable housing on the waterfront in the Two Bridges neighborhood of Lower Manhattan. "We're asking the same questions you are," said Culhane. "Our insurance rates spiked after Sandy. We're concerned that, over time, only the very wealthy will be able to subsidize climate-related flood risk in our neighborhood. We've long contended that gentrification and climate change are the two biggest threats to the diversity of our neighborhood."
Culhane's worries could be borne out, according to the report. The section on insurance states: "Implementation of the Biggert-Waters flood insurance reform legislation will adversely affect many property owners, especially low-income populations, and is likely to have broader impacts on home ownership affordability and neighborhood stability." The report does allocate funds for improving resilience in New York's public housing projects -- $700 to $750 million -- but does not break down how much of this will go to repairs from Sandy, how much will go to improved resiliency measures, or whether this program will contain the same kind of insurance-oriented incentives for public housing that are being proposed for other kinds of buildings. No scope of work or budget for these kinds of insurance-oriented measures has yet been submitted by NYCHA, the organization that would in theory be responsible for implementing any such measures.
Without real action to level the insurance playing field, we may see a kind of "climate gentrification" whereby the liability costs for insuring risk are passed on to New York's poorest population through increased rent over time. In other words, your home will be at greater risk, AND, every month, you'll be paying more for the privilege of living there.
In some ways, it's a new story: climate change represents an unprecedented challenge in the history of the human race. In other ways, it demonstrates a truth that is depressingly old: the poor are always the ones to get hit worst in times of crisis, in New York City as much as anywhere else. Maybe the only optimistic part of the story is that, all over the city, there are plenty of organizations already doing the good work.