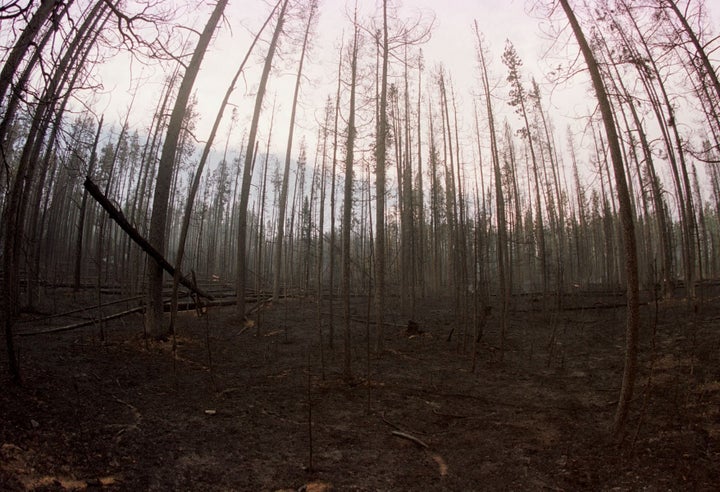 A study released this week predicts a grim future for the ecosystem in and around Yellowstone National Park.
The study, by researchers at the University of California, Merced, concluded that rising temperatures associated with climate change could result in many more severe forest fires in the coming decades. Professor Anthony Westerling and his team found that by 2050, forest fires "would likely cause a major shift in the Greater Yellowstone Ecosystem" and "affect the region's wildlife, hydrology, carbon storage and aesthetics."
The study, published in the Proceedings of the National Academy of Sciences, predicts that by 2050, years with no major fires will be extremely rare. Towards the end of the century, the average wildfire size is expected to exceed the largest from the current record year of 1988. In that year, fires affected over 1,200 square miles of Yellowstone forest, an area about the size of Rhode Island.
This new study comes at a time when nearly half of all Americans believe "the seriousness of global warming is exaggerated," according to a Gallup Poll earlier this year. But what do the results of this study mean for those who do believe in the seriousness of climate change?
According to Westerling, if these predictions come true, the visual landscape of Yellowstone will also be dramatically affected. Forests would become smaller and less dense as they are replaced by shrubs and grasslands. Westerling said he and his colleagues were surprised by the results of the study. According to U.S. News & World Report, his group "expected fire to increase with increased temperatures," but they "did not expect it to increase so much or so quickly."
The study, which used data from 1972 to 1999, compared wildfire statistics with climate data in the northern Rocky Mountains. Westerling warned, however, that the results of the study were based on models of the current ecosystem. He explained to Science Daily that these models "will not work once the increase in fires creates a fundamental change in the ecosystem. As the landscape changes, the relationships between climate and fire would change as well."
Photos of last month's wildfire in Arizona can be seen here.
Calling all HuffPost superfans!
Sign up for membership to become a founding member and help shape HuffPost's next chapter