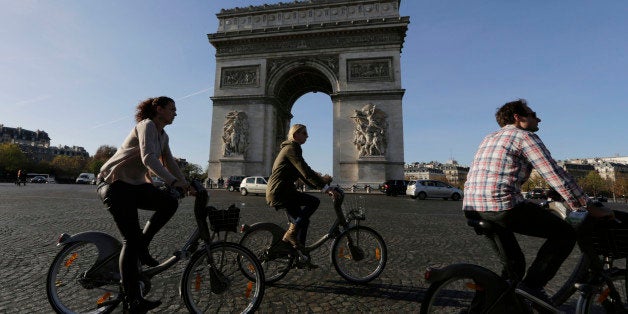 We are used to thinking of climate change as a global issue. Of a planet in peril, planeloads of negotiators meeting to reach international agreements, streets full of protestors and the enduring need to protect our precious common resources. Despite its familiarity this modern day fairy tale of calamity and heroes, like all good stories, still captures our imagination. Yet there are other climate change tales to be told.
Over two decades ago when global responses to climate change first began, a quiet and often unnoticed movement began in cities in North America and Europe to tell the story of climate change as an urban issue. After two decades of action, cities now find themselves in the climate change limelight.
Cities, as this story goes, are both central to the problem of climate change - being the places where over two-thirds of carbon emissions are produced - and to its solution - offering the means and capacities through which to develop more resilient infrastructure, address vulnerability, and develop low carbon economies. To address climate change, we need to stop thinking about the problem only as a global one and think as well of climate change as a fundamentally urban issue.
This realisation of climate as an urban issue has begun to change cities. If two decades ago responses adopted in cities were mainly led by municipal governments and focused on energy conservation and their own bottom line, the agenda has expanded rapidly to reach into the strategic areas of urban development - infrastructure, economy, urban planning, quality of life and regeneration. Networks of cities concerned with these agendas have expanded both geographically and in membership such that the EU Covenant of Mayors has more than 6,600 participants while several hundred cities are now gathering under the newly launched Compact of Mayors which seeks to bring together cities under one umbrella to commit to consistent and transparent climate change action. Global organisations including the World Bank, International Energy Agency and UN-Habitat , along with many non-governmental organisations, philanthropic trusts and private sector organisations are now engaging in the urban climate response through providing support, tools and finance. Cities it seems have real potential to move our climate responses forward.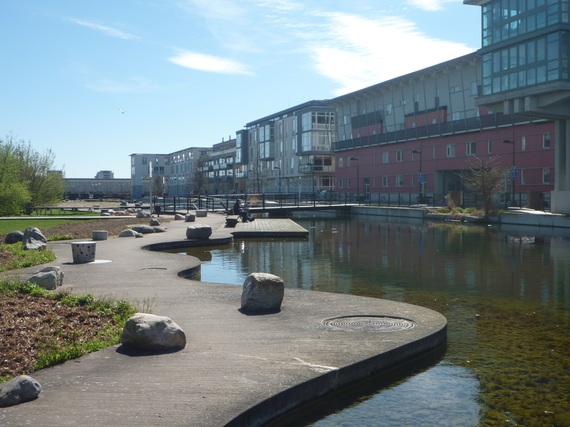 Ecofys suggests that initiatives undertaken by cities might contribute around 1 GTCO2e reductions whilst the commitments of national government amount to between 5-7 GTCO2e. The Carbon Disclosure Project has also started to assess the actions of cities. In 2015, for example, the CDP cities report demonstrated that a third of the 300 plus cities reporting to CDP gained more than 75% of the energy from non-fossil fuel sources. That this urban movement has grown from just a handful of cities taking action in the early 1990s to a mainstream issue for major urban centres and organisations globally and where real action is now taking place is a remarkable achievement.
With this momentum behind them, cities will be taking centre stage at the COP21 in Paris. As the story of how climate change is changing cities unfolds, two potentially contradictory narratives are emerging.
On the one hand, the successful mobilisation of cities and the recognition of their potential is leading to efforts to mainstream and standardise their work. The appointment of former New York City mayor Michael R. Bloomberg as Special Envoy for Cities and Climate Change by the UN Secretary-General Ban Ki-moon in 2014 and the subsequent launch of the Compact of Mayors at COP20 in Lima, under the auspices of C40, ICLEI United Cities and Local Governments as well as UN-Habitat demonstrate an explicit attempt to co-ordinate the urban agenda.
A standardised GHG emissions reporting tool has also been developed and at COP21 a new Guiding Principles for Climate Change Action Planning will be launched by UN-Habitat and partners to provide cities with a benchmark of good practice to guide the development of urban strategies and actions. These initiatives provide support and momentum for cities action. The risk however is that in seeking to standardise and mainstream climate action the emergent, energetic and experimental qualities of urban responses - which makes the story of urban responses to climate change so compelling - will be lost.
A second narrative instead places the experimental qualities of urban responses to climate change at centre stage. New initiatives abound. Urban experiments in the form of sharing economies, social innovations, urban living laboratories and novel technologies are to be found everywhere.
In this tale of climate changed cities, counting emissions reductions or standardising emissions reporting is to miss the point of the story. Rather, it is a story which shows how climate change can become part of our everyday worlds, provide new ways of looking at ordinary things, and create new alliances, investments, connections and ways of working that can improve urban life in a million small ways. The challenge is of course whether this adds up to anything in climate change terms. But the risk is that in seeking to count such things we will end up forgetting why we are doing them in the first place.
Nurturing and enabling a politics of experimentation, where urban futures are open and contested, and where questions of social and environmental justice sit alongside the quest to achieve emissions reductions and a low carbon economic transition, must be part of the ambitions of those meeting in Paris.
The tale of climate changed cities is not yet finished. We should all hope to take part in writing the next chapter.
This post is part of a "What's Working: Low-Carbon Economy" series produced by The Huffington Post, in conjunction with the U.N.'s 21st Conference of the Parties (COP21) in Paris (Nov. 30-Dec. 11), aka the climate-change conference. The series will put a spotlight on solutions to shifting away from fossil fuels to renewables, and how we can best minimize our output of greenhouse-gas emissions. It is part of HuffPost's What's Working editorial initiative. To view the entire series, visit here.
Calling all HuffPost superfans!
Sign up for membership to become a founding member and help shape HuffPost's next chapter