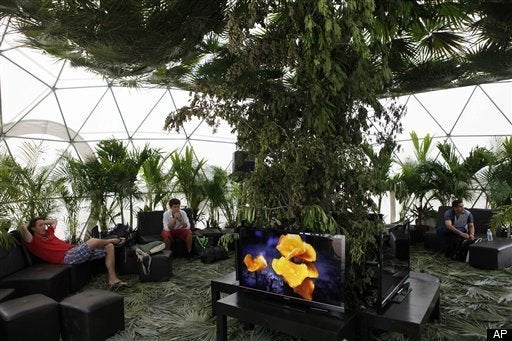 Anticipation of a lackluster outcome from the climate summit gave way to near euphoria at the closing plenary here in Cancún in the small hours of Saturday morning. It marked a dramatic end to a grueling two weeks of touch talks.
The massive convention hall was filled with self-congratulatory cheers accompanied by numerous standing ovations as conference president, Patricia Espinosa -- who is Mexico's minister for foreign affairs -- heralded the result as "a new era in international cooperation on climate change."
But were these 194-nation talks more a triumph of expectation management than a victory for the future well-being of our planet?
If the reaction from the green groups is anything to go by, then this key barometer of success appears to offer cautious approval. It was left to Bolivia, the only country that refused to support the 41-page agreement, to condemn it as acquiescence to "genocide and ecocide."
Although not usually associated with conciliation, this turns out to be a rare occasion when environmental activists are publicly approving what amounts as a compromise.
During the two weeks of intense negotiations laced with divisive political wrangling, a calamitous conclusion often appeared inevitable. Almost right up to the end, the specter of irredeemable deadlock seemed almost certain.
But the UN climate secretariat was desperate for success after the dismal breakdown of last year's gathering in Copenhagen, where a significant achievement had been so eagerly anticipated yet so cruelly dashed. Mexican President Philip Calderón, who was in Cancún during much of proceedings, was also determined on achieving a successful result.
Fearing a terminal collapse in the 16-year process, the green movement frantically needed victory as well; which is why the likes of Greenpeace -- who don't normally do compromise -- have been so quick to give the Cancún Agreement positive acclaim.
"Governments have chosen hope over fear and put the building blocks back in place for a global deal to combat climate change," uncharacteristically retorted the world's most notorious environmental activist organization.
Although less enthusiastic, Friends of the Earth described the document to emerge from these talks as "a weak and ineffective agreement, but at least a small and fragile lifeline for continued negotiations."
And the more sober conservation body, WWF, went on record to state: "After two weeks of negotiations, governments made measurable progress in several important areas, but a lot more work and some big political challenges remain."
A key date source for much of the environmental NGO world, the Washington DC-based World Resources Institute -- which boasts Al Gore among its high powered board of directors -- has warmly welcomed the outcome from Cancún.
Climate Program Director Jennifer Morgan, a veteran of these negotiations, stated: "By consensus, countries agreed to a 'balanced package' that includes targets and actions, increased transparency, the creation of a climate fund, and other important mechanisms to support developing countries. Delegations also recognized the urgency of keeping global average temperature below two degrees Celsius."
Having been attending these negotiations myself since Kyoto, I had become quite jaded by the rollercoaster of ups and downs that I've witnessed over the years. And yet I was deeply moved by the dramatic finale as Patricia Espinosa, described as a goddess by India's gregarious environment minister, was given a standing ovation as she formally presented the text to the negotiations with tears in her eyes.
It was a real joy to hear another woman, the newly elected U.N. climate chief, Christiana Figueres, who was sitting next to Ms. Espinosa throughout the proceedings, pronounce: "The beacon of hope has been reignited and faith in the multilateral climate change process to deliver results has been restored."
Even the often acerbic and rarely ebullient, Todd Stern, who must also be credited for the positive result to emerge from these talks, said: "What we have now is a text, while not perfect, is certainly a basis for moving forward,"
And in contrast to Copenhagen, where there was such vitriol with the U.S., China's chief representative, Xie Zhenhua echoed the sentiment, stating: "Parties have demonstrated political will to bring the meeting to a success."
But as the initial elation subsides, we will face the realization that there is still a long way to go before an effective legally-binding agreement to supplant the Kyoto Protocol can be attained. Cancun has pushed off some core issues until next year's summit in Durban, South Africa.
Debate over the future of the Kyoto Protocol, which commits industrialized countries to reduce greenhouse gas emission, will linger. The U.S. famously failed to ratify the treaty; Japan and Russia have balked at a second commitment period; and developing countries have said that allowing the agreement to expire is a deal-breaker.
The biggest hole in the Cancún Agreement is its failure to permanently resolve the Kyoto conflict. It is shocking that it has taken 13 years to arrive at this inconclusive point. Last-minute CPR has kept the patient alive for now, but Durban must now carry the burden of ensuring that the patient can be taken off life support.
It will be the arduous responsibility of President Jacob Zuma of South Africa, who attended part of this summit, to find resolution to the significant differences which remain, principally between rich and poor nations.
In passing the baton from Latin America to Africa, the heroine of these talks, Ms. Espinosa said: "We should not see this Cancún conference as an end. We should see it rather as a beginning."
It's going to be a long road ahead, with many twists, turns and steep uphill climbs. But the resounding determination expressed by the nations of the world in Cancún to find a real and lasting solution to this pressing challenge has restored my optimism.
With no more pressing problem facing humankind, a concerted international plan to combat climate change must be agreed. Time is running out.
Personally, Cancún took on a whole new meaning for me. I've been one of many voices talking for years about the essential need to ensure that our grandchildren inherit a viable and healthy planet. Last August, I became a proud grandfather.
Climate change must be abated. An enduring agreement must be reached. We owe it to my new granddaughter, Yael, and all the grandchildren of the world.