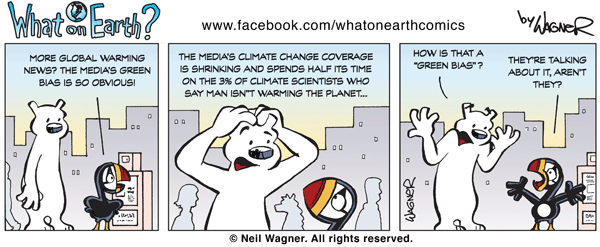 "ClimateGate II: How Will Al Gore and His Global Warming-Loving Media Respond?"
"Irene and Climate Change: Liberal Media Won't Let a Good Crisis Go to Waste"
- NewsBusters headlines
"The slanted coverage of the debate over global warming is on display almost every day."
- Cliff Kincaid, CampusReportOnline.net
Contrary to popular perception, perception is not reality. Many pundits have earned their climate change denier merit badges with consistent proclamations that global warming is a liberal media hoax. The media, however have not been true to their prescribed rolls. They have not been particularly liberal, nor have they been dedicated pitchmen for climate alarmism.
If devoting less time to climate change coverage and giving undue credence to dissenting opinion constitutes "green bias," then I think the critics have made a very strong case.
_____________________________________________________
Folllow "What on Earth?" Climate Change Conspiracy week on Facebook
Calling all HuffPost superfans!
Sign up for membership to become a founding member and help shape HuffPost's next chapter