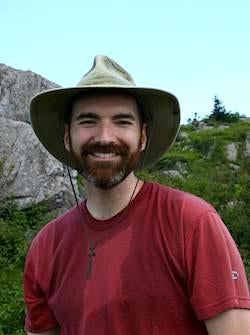 Who says a climate-denying cult entrances all evangelical Christians? Brian Webb's faith has propelled him into pro-science action. He's a mover and a shaker, an organizational hombre, a managerial mahatma with a Bible.
Webb directs Climate Caretakers, a network founded in August 2015 to mobilize the faithful, and he's leading a 70-to-80-member team to the nation's capital on April 29th under the Caretaker banner. They'll join thousands in the People's Climate March, then co-sponsor "Acting in Faith: Evangelical Climate Advocacy Days," along with Micah Challenge, Young Evangelicals for Climate Action, and the Christian Reformed Church. Trainers are scheduled to coach would-be activists a day after the event and, on May 1st, they'll fan out to Congressional offices.
The lean, bearded, mild-mannered 39-year-old father of three is the sustainability coordinator for Houghton College, a small Wesleyan liberal arts school in rural Upstate New York, about 65 miles southeast of Buffalo. He lends his spare hours to Climate Caretakers, which reports to Care of Creation, headquartered in Madison, Wisconsin. He and other representatives were in Paris at the UN COP-21 talks and cheered its landmark international accord. The network e-mails prayer updates, news bulletins, and action steps.
Full disclosure: Webb reeled in me to write some of the prayer updates.
Think of Climate Caretakers as the opposite of Calvin Beisner's Cornwall Alliance for the Stewardship of Creation, which rallies deniers.
Like many environmentalists, Webb censured President Trump's recent executive orders curtailing Obama-era efforts to stem the climate tide – with a twist: "They are an affront on God's creation and on all of humanity … They are destructive to our very society and threaten our core Christian values of stewardship, compassion, justice, and humility. Unlike foolishness, which simply lacks forethought, these actions reflected a calculated political strategy to prioritize short-term economic gain for a wealthy few at the expense of those living in poverty, and of God's creation."
Few green advocates invoke such religious language. Many are unaware of potential evangelical allies and some bristle at Western spirituality. They're convinced it smiles on environmental catastrophe.
It's time for horizon tweaking. A slew of evangelicals have walked Webb's path, which he described in an e-mail: "I grew up in the Bible Belt of Georgia as an avid Republican who was rather opposed to environmental issues." He gradually saw "creation care" (evangelicalism's preferred term over environmentalism) as a biblical mandate: "I started to pursue this calling vocationally out of a realization that the Church needs to act on these issues."
Like-minded believers have strolled beneath the radar for years. The Evangelical Environmental Network tirelessly knocks on Congressional doors, launches petition drives, and hosts seminars and conference calls; Care of Creation, directed by Ed Brown, was founded in 2005 to color the church green; the Lausanne Creation Care Network has spurred conferences on several continents; Eden Vigil, headed-up by Lowell Bliss, promulgates environmental missions: far-flung ministers meet ecological needs like medical missionaries aide physical healing.
Harmonizing science and religion
Creation Care is one prong in a broader pro-science effort. Literalistic fundamentalists, like Ken Ham, grab the headlines with I-can't-believe-he-said-that quotes while evangelical seminary faculties – such as Gordon-Conwell, Fuller, Westminster, and Trinity – have long argued for an old Earth. They're following precedent. In 1873, the world-wide Evangelical Alliance featured a polite floor debate on the merits of Darwin's theories. All were civil. Theologian BB Warfield (1851-1921), a firm advocate of biblical inerrancy, gave evolution serious thought.
Much of that thinking plowed underground in the 1920's when fundamentalism reared its head. It resurfaced as a new generation of biblically-centered Protestants emerged from their anti-cultural cocoons in the 1940's. Biologos, founded in 2007 by geneticist Frances Collins and now headquartered at Michigan's Calvin College, has boosted respect for science – especially after Bible-bound luminaries such as Tim Keller, Os Guiness, Philip Yancy, the late John Stott, Mark Noll, Joel Hunter, Richard Mouw, and Andy Crouch supplied endorsements.
The Veritas Forum has fueled scientific prestige since 1986 by featuring talks from believing geneticists, chemists, biologists, astronomers – as well as philosophers and theologians. Britain's Faraday Institute for Science and Religion does research and offers courses; so does Michigan's Au Sable Institute of Environmental Studies. Almost all echo Webb: "In the very first chapter of Genesis God calls his creation 'good' six times. The Bible tells us the 'Earth is the Lord's,' that the 'mountains and hills bless the Lord,' and that God will redeem all of creation. If anything, the Bible is full of overwhelming praise for the goodness of the Earth and for God's desire to see it flourish."
That's why Mr. Webb is going to Washington.
Calling all HuffPost superfans!
Sign up for membership to become a founding member and help shape HuffPost's next chapter
This post was published on the now-closed HuffPost Contributor platform. Contributors control their own work and posted freely to our site. If you need to flag this entry as abusive,
send us an email
.