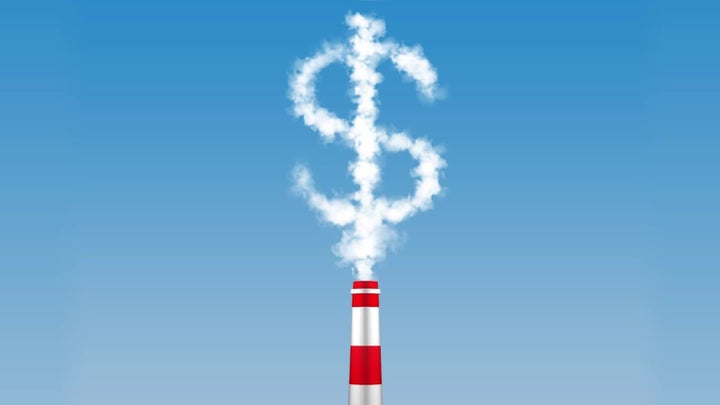 With the country seemingly paralyzed by polarization, two separate announcements in California and Washington, DC last week heralded strange bedfellows coming together to advocate for climate dividends.
In California, environmental and eco-justice groups are lining up behind a new climate bill, SB 775, co-authored by state Senate President Pro Tem Kevin de León and state Sen. Bob Wieckowski, that would reduce the State's greenhouse emissions between 2020 and 2030 by making fossil fuel companies pay for permits and returning the funds back to households through a climate dividend.
Meanwhile, in the nation's capital, the Climate Leadership Council has assembled a bipartisan group of business leaders, oil companies, physicists, and Republican elder statesmen to promote a carbon tax starting at $40/ton that also returns the funds as climate dividends. The Council has brought on board a variety of leaders from theoretical physicist Stephen Hawking to the CEO of WalMart, and corporations such as General Motors and Pepsico. Climate dividends must be pretty special, to get support from climate justice groups and Exxon Mobil in the same week.
On the right, California Republicans are starting to break with their party's national policy of denying climate science and engaging in the issue. Their leaders should look up the Alaska Permanent Fund. It is a model for how SB 775 could work, and Republican Governor Jay Hammond was instrumental in its creation in 1980.
SB 775 also offers moderate Republicans things like a price collar on the permit price, which prevents price spikes. Moderates may also like that the dividends reduce the need for the legislative horse trading and special interest lobbying that has characterized the grab-bag of expenditures in the current system.
Environmental and justice groups may like that SB 775 bans problematic offsets and free allowances to industry, and provides an escalating carbon price that makes fossil fuel companies (some of whom apparently support this also!) pay more, making cleaner alternatives more economical each year.
At the national level, these were not the typical "green business" organizations supporting climate action. It was ExxonMobil, BP, and Shell signaling their support for climate dividends by becoming founding members of the Climate Leadership Council. A few of the Climate Leadership Council's founders described the broad appeal of climate dividends in the New York Times a few months ago, writing, "Environmentalists should like the long-overdue commitment to carbon pricing…Growth advocates should embrace the reduced regulation and increased policy certainty, which would encourage long-term investments, especially in clean technologies. Libertarians should applaud a plan premised on getting the incentives right and government out of the way. Populists should welcome the distributive impact."
Cynics point out that these companies and the billionaires on the list may feel free to talk a big game, knowing that ambitious new programs are unlikely to be passed in the current Congress or signed into law by the current President. Such protests would be put to rest if the same signatories were to come out in support of SB 775 in California, which has a good chance to be enacted this year and setting the stage for future national campaigns.
Climate dividends can also be seen as a stepping stone to basic income, a policy idea recently embraced by tech billionaires such as Mark Zuckerberg and Elon Musk. This idea would help us navigate a brave new world where automation is displacing jobs at an increasing rate, and economic inequality is getting worse every year.
When supporters as diverse as the Bay Area chapter of 350.org and ExxonMobil agree on the need for climate dividends, it is reasonable to ask where lawmakers and Governor Jerry Brown stand on the issue. The current California Cap & Trade system has given the Legislature and the Governor the ability to designate billions for projects such as high-speed rail and transit-oriented housing development projects. But with the left and right converging around dividends and the Governor's climate legacy on the line, maybe it's time to read the tea leaves and go where the people are.
Support HuffPost
The Stakes Have Never Been Higher
Related
Popular in the Community