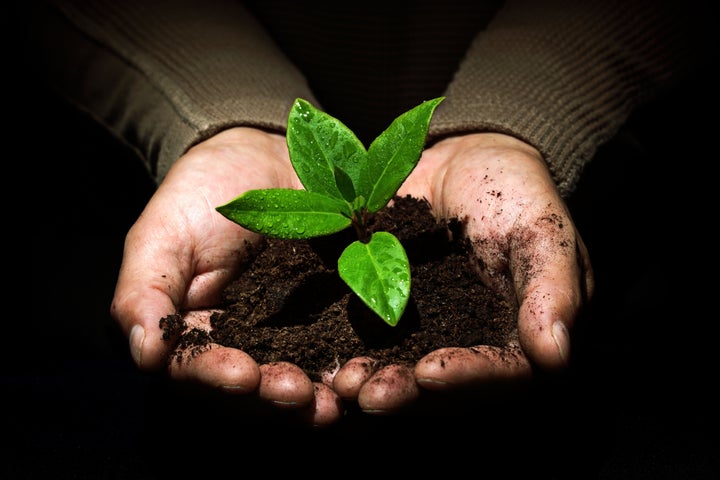 It is crucial that the lawmakers in Washington, D.C., understand that the economy is a wholly owned subsidiary of the environment.
It's clearly time for our nation to begin adapting to a "new normal," as the climate is irrefutably changing. We need climate preparedness and models for a low-carbon American economy.
In 2007, a small group of visionary college and university presidents gathered to form the American College & University Presidents' Climate Commitment (ACUPCC). Five years later they have achieved some remarkable results.
"This commitment represents unprecedented leadership by the higher education sector, which is the first and only major U.S. sector with a significant number of its members to commit to climate neutrality. Higher education leaders are sending a strong signal to society that climate change and other large-scale unsustainable practices pose a real and urgent threat and that colleges and universities are working together not only to model sustainable behavior, but also to provide the knowledge and educated graduates necessary for society to do the same," says Dr. Anthony D. Cortese, president of Second Nature, organizer and supporter of the initiative.
Six hundred and seventy five colleges and universities have signed ACUPCC, representing all 50 states and the District of Columbia and more than one-third of the national student body, or 6 million students. Each year, 6.4 million graduates are coming though colleges and universities that have embraced sustainability and low-carbon economies.
The 599 colleges that submitted greenhouse gas inventories reported CO2 emissions of 28 million metric tons, roughly as much as 2.58 million homes' or 5.2 million passenger vehicles' annual output. Three hundred and twenty six institutions set a target of achieving climate neutrality by 2050 or before, whilst 100 members have pledged neutrality by 2030. The ACUPCC is the third largest buyer of renewable energy credits in America, purchasing more than 1.28 billion kilowatt-hours annually.
Essentially each college or university can be thought of as a large town or small city. And each one has developed a sustainable, low-carbon model. There is every reason to believe that these models can be applied and tailored to our towns and cities across the nation, and they will create long-term white- and blue-collar jobs.
Let's have a look at some of the brilliant and creative innovations that are "Made in America."
Wilson Community College in North Carolina offers a certificate program in home weatherization and features the use of a carbon footprint calculator in a required course.
Georgia Institute of Technology's Center for Biologically Inspired Designs has been using the honeybee dance and information from the hive to create more efficient Internet hosting services that raised revenues by as much as 20 percent and decrease energy costs by 20 percent.
Santa Fe Community College offers a solar energy certificate program whereby students attain skills they need to find jobs in the burgeoning solar and green building sectors.
Cornell University added four new permanent staff positions for continuous maintenance and recommissioning of building energy systems. And student governments initiated a student-fee funded bike sharing program and a lights-off campaign.
Chancellor Marye Anne Fox of University of California San Diego (UCSD) has made sustainability a top campus priority. Nineteen of the 53 academic departments have incorporated sustainability into their classes. Moreover, UCSD researchers are making significant inroads into energy efficiency, alternative fuels, and solar technologies.
At University of Montana a "Forum for Living with Appropriate Technology" is university-owned housing that students have retrofitted as an example of hands-on energy efficiency and sustainable living. UM's "Green Thread" faculty development program works to incorporate sustainability into curriculum and is open to educators from other universities in the Montana Region.
University of Pennsylvania's "Ideas in Action" course allows students to propose projects to senior administrators on the best methods for advancing the university's sustainable goals. Penn is among the largest purchaser of green power among American universities of more than 192,000 megawatts (46 percent of total power used) of wind energy purchased annually.
Pennsylvania's Dickinson College's "Climate Action Plan" is striving for climate neutrality by 2020. It intends on achieving this, in part, through conversion of the central energy plant boiler's to burn Viesel a net-zero carbon bio-fuel made from filtered waste vegetable oil.
Pasadena City College has saved 40 percent on gas usage by "nano-wrapping" its main gas line. It has also reduced water consumption by more than 28 percent by installing ultra-low flow urinals, changes in landscaping with a highly efficient irrigation system.
These are but a few of the hundreds of examples of innovation and efficiency that are taking place across America. All rural and urban communities can easily use these low-carbon models, creating jobs so that our society is climate prepared for the "new normal" in the coming decade(s).
Popular in the Community