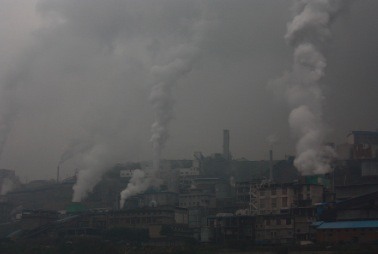 The International Monetary Fund declared that the GDP of China has, as expected but ahead of forecasts, surpassed the GDP of the United States. MarketWatch called it a "major economic earthquake" that will "change almost everything in the longer term."

This news has been predicted since last April, and yet it will take a while for reality to
sink in. NPR travel commentator Rick Steves wrote an opinion piece in the Seattle Times in which he stated an assumption most of us have held our entire lives and take great pride in: "There's no question that, economically, we are firmly established on top of the world."

But so what if we're not number one? Nobel Prize winning economist Joseph E. Stiglitz writes in January's Vanity Fair that economically we might end up better off. And that China probably will not crow about its achievement -- "China (does) not want to stick its head above the parapet." Wanting to be #1 is a distinctly American attitude.

Stiglitz says that the real danger is in losing our influence. In his words, "The bedrock strength of the U.S. has always rested less on hard military power than on 'soft power'; most notably its economic influence." The U.S. has used this soft power to lead international bodies such as the World Bank and the G20 "to pursue the economic interests of its multinationals, including its big banks."

Those driving our economic interests have not addressed climate change with the urgency it deserves. Stiglitz calls out both American and Chinese roles in increasing carbon emissions and other forms of ecological degradation. Until the recent U.S./China climate deal, the U.S. has repeatedly denied the urgency of climate change, refused to sign treaties and retreated from funding global efforts at remediation.

Now that China can claim economic leadership, will it use its influence to lead environmental policy as well?

Harvard Business School (HBS) professor William Kirby believes China will step up. In an article for Working Knowledge, HBS staffer Christian Camerota cites Kirby's staggering statistics for pollution in China: "Between 70 and 90 percent of the country's flora was endangered by 2008, and by 2013, around 80 percent of its major rivers were so debased that they no longer supported aquatic life. The strain (imposed by economic growth) is manifesting as sinking cities, shrinking reefs, wilting crops, and diminishing water supplies."

As Kirby told Camerota, "Pollution is tolerable when it's accompanied by economic growth, and that's why the (Chinese) government has been so successful at doing much of what it wants with the landscape of China to date. But I think between man-made pollution and the degradation of the natural environment, we've reached a tipping point, where the government has an obligation to reverse course."

All indications are that Chinese society will not only support the leadership's environmental efforts but push them to go farther. Across China, in hundreds of protests just in 2014, local residents, including peasants, academics and middle class families have marched against existing polluters and companies that proposed to put human health at risk.

Kirby goes on to explain another reason why Chinese society supports environmental remediation: "Nowhere in the world is the concept of family stronger than in China, and I think they will take that heavy responsibility very seriously. ... A bettered natural environment would ensure healthier citizens and longer-term prosperity."

China's new economic leadership may usher in a new era of climate and environmental effort. In fact, China might end up becoming the global leader we've been hoping for. China might even use its economic power to force the US to match its environmental progress. And wouldn't that be ironic!


Photo courtesy of Leo Fung via Flickr cc.