NEW YORK -- On Sunday, 400,000 people marched the streets of Manhattan to take a stand against climate change.
Said to be the largest-ever demonstration against climate change, the People's Climate March in New York City drew folks of all stripes: grandparents who said they were marching so their grandchildren might grow up on a healthy planet; young people who shouted chants against corporate power; farmers who wanted fracking to stop; a little girl named Ileana, who told The Huffington Post that she was there so orangutans would have a fighting chance at survival.
Though they may have had different reasons for being there and different ways of expressing themselves, there seemed to be a desperation that permeated everyone's cries for a better tomorrow. There was, however, also a pervasive and unmistakable feeling of hope.
(Story continues below.)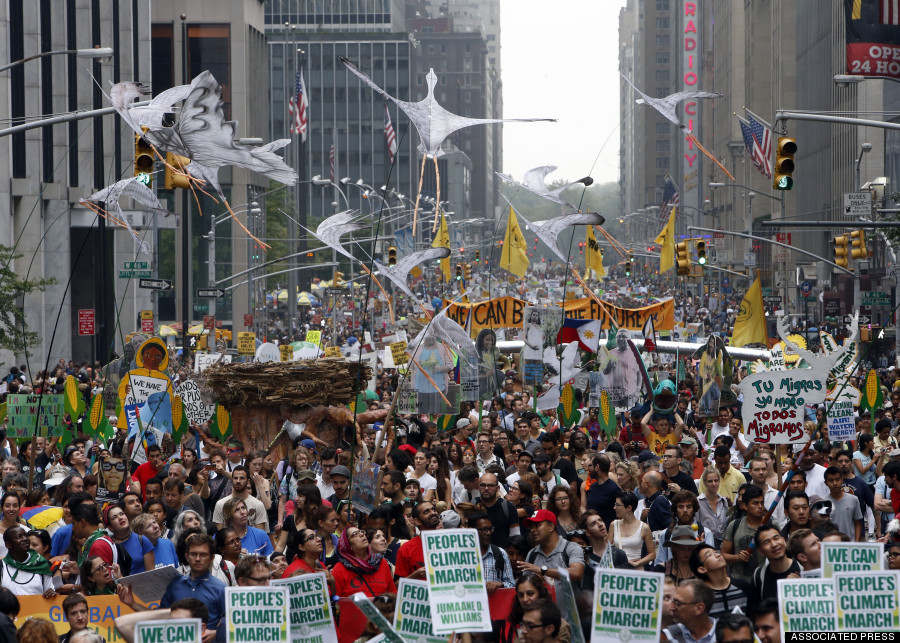 "It's hard to be pessimistic when you're here," Lindsey Allen, executive director of Rainforest Action Network, told HuffPost before the march began Sunday, gesturing at the crowd around her. "People power is really what's going to stop the climate crisis, and it's encouraging to see all these people out on the streets right now, people who are going to go back and be inspired to continue this work. It's inspiring because this is just a snapshot of an awakening that's really spreading around the globe."
Kiran Ponada, a 27-year-old research assistant at City University of New York, told HuffPost that although she's harbored doubts about humanity's chances against climate change, her confidence has been buoyed.
"I think the more people make noise, the greater chance that policymakers will listen and will actually do something," she said. "I've known that the climate change movement has been gaining momentum, and today is really evidence that it has."
Scroll down to see signs from the People's Climate March in New York City, and be inspired yourself.
This blog post is part of the #WhyICare blog series, curated by the editors of HuffPost Generation Change in recognition of the People's Climate March in New York City on September 21, 2014. To see all the other posts in the series, click here.
Join the conversation on Twitter and tell us why you care about the climate crisis with the hashtags #WhyICare and #PCM. For more information about the People's Climate March, click here.
Calling all HuffPost superfans!
Sign up for membership to become a founding member and help shape HuffPost's next chapter