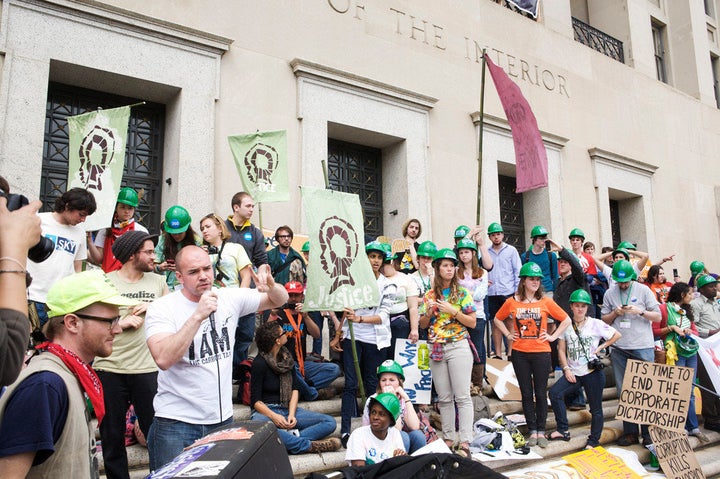 WASHINGTON -- Former Vice President Al Gore and author-turned-climate-activist Bill McKibben were among the big names headlining the Power Shift environmental conference, which ended Monday in D.C. But it was a younger and less widely known figure that seems to have had the biggest impact on the 10,000 student activist attendees.
Tim DeChristopher, the 29-year-old founder of Peaceful Uprising, urged the audience to make "real sacrifices" to advance the cause of climate protection during his keynote speech Saturday night.
The confrontational activist came to Power Shift facing up to 10 years in prison and a $750,000 fine for convictions on two charges stemming from a decision he made in December 2008 to infiltrate a federal oil and gas auction. During the lease sale, staged in the waning days of the Bush administration, DeChristopher racked up $1.8 million in land leases he had no intention of actually paying for. Although the auction was invalidated after new Interior Secretary Ken Salazar found the Bureau of Land Management had not completed an environmental impact assessment on the leases for sale, the Obama Justice Department nevertheless prosecuted DeChristopher for disrupting a federal auction and falsifying federal documents.
Many at the conference took DeChristopher's example to heart. The day before his address, nine students working in coordination with Flora Bernard, the director of Peaceful Uprising, were arrested for disrupting Congressional budget negotiations. And the conference closed Monday with 21 arrested for a sit-in at the Department of the Interior. More protests are planned for tomorrow, the anniversary of the BP oil spill.
"I offered advice and help with legal fees," Bernard told The Huffington Post, explaining her role in the budget vote protests. She says nobody else at Peaceful Uprising knew about the Congressional disturbance "because I didn't want people to think it was something we planned. Because it wasn't."
The hastily organized "people's filibuster," as she called it, interrupted Friday's House vote on the controversial budget compromise, which cuts some $49 million from climate change-related programs. One after another, undergraduates in the public galley stood up to sing for climate protection. To the tune of the "Star Spangled Banner," the protesters began with the familiar-sounding line, "Oh why can't you see?" But the song, which admonishes politicians of all stripes for selling out to the fossil fuel industry, closes with a warning: "If you refuse to hear us now/Then we have to shut you down".
"I stood up to sing because I will be silent no more forever," Sam Rubin, one of the nine students charged with disrupting Congress, said in a post for Peaceful Uprising that features the full lyrics. The students were detained for nearly seven hours after their hastily planned protest and now face up to six months jail and $5,000 in fines. Their arraignment is scheduled for May 5 in D.C.
In DeChristopher's Saturday keynote, he urged attendees to perform additional acts of civil disobedience. "Climate change and all the other injustices that we are experiencing are not being driven solely by the coal industry, solely by lobbyists or solely by the failure of our politicians. They are also happening because of the cowardice of the environmental movement," he said. "We hold the power right here to create our vision of a healthy and just world if we are willing to make the sacrifices to make it happen."
"Let this be the last Power Shift where we leave without fighting back." DeChristopher concluded, "We're done making statements …. From now on our movement needs to take a stand."
Activists soon answered DeChristopher's call. On Sunday, the Energy Action Coalition, which organizes the biennial Power Shift conference, led a flash mob to effectively shut down a nearby BP gas station. On Monday, hundreds of the estimated 3,000 who were marching in EAC's legally sanctioned protests of the Chamber of Commerce and BP lobbyists joined a confrontational march organized by Peaceful Uprising and Rising Tide, another upstart climate organization.
Peaceful Uprising and Rising Tide led an impromptu collection of some 300 marchers to the headquarters of the Interior Department. After protesters rushing inside the building, "50 folks just sat down and began holding the space," said Peaceful Uprising's Bernard. "There were hundreds more outside singing and encouraging the people inside."
Police warned the occupiers that they faced arrest if they refused to move. Twenty-one of them stayed in the entry way of the building for some two hours and were eventually charged with unlawful entry. Their court date is set for May 10.
The groups marched to the Interior building to highlight the role two Interior agencies play in setting the rules for mining and oil companies, Henia Belalia, a spokesperson for the Rising Tide, explained to The Huffington Post. Lax regulation at the corrupt Minerals Management Service, which has been rebranded as the Bureau of Ocean Energy Management, Regulation and Enforcement in the wake of the Deepwater Horizon explosion, helped set the stage for last year's BP oil spill. The other agency, the Office of Surface Mining, recently angered climate activists by opening up over 7,000 acres of federal land in Wyoming's Powder River Basin to coal extraction.
The "march and sit-in are a preview to Rising Tide North America's 'Day of Action Against Extraction'" on Wednesday, according to a statement released in the midst of the Interior standoff. Rising Tide North America plans to "take it to the point of production," encouraging protesters to "shut down a well site, occupy a mine, take over an office, blockade a bank," according to a website set up to promote the event. Peaceful Uprising is helping RTNA " with their Action Against Extraction," Bernard told HuffPost in a follow up email.
Energy Action Coalition also plans to take its "Make BP Pay" flash mob protests nationwide on Wednesday. "We will creatively, nonviolently disrupt business as usual at BP locations on the anniversary of the start of the worst oil disaster in US history," EAC says on its website.
Direct actions like these -- legal or otherwise -- are exactly what DeChristopher has been advocating for. DeChristopher pointed out in his speech that, "without recruiting another person, we could send 30 people onto a mountain top removal site, shut it down temporarily, cost them a lot of money, start to clog up the court systems of West Virginia." Mountaintop removal, which is common in the Appalachians, is arguably the most environmentally destructive way to mine coal, the most carbon intensive form of energy.
"We could send 30 people the day after that, and the day after that, and the day after that, every day for a year." But DeChristopher, who was not immediately available for an interview, added: "Long before we got to the end of that year, Barack Obama would be forced into a choice between either ending the war against Appalachia or bringing in federal troops to continue it. And, for all my disgust and disappointment with Barack Obama, I don't think he would bring in federal troops to defend a mountaintop removal site."
"It is our job as a movement to force him into that position," DeChristopher said. "Until we give him that choice, until we force Obama into that choice between ending the war against the young, ending the war against the living or waging it openly, then it's our fault. Then we condone it."
Popular in the Community