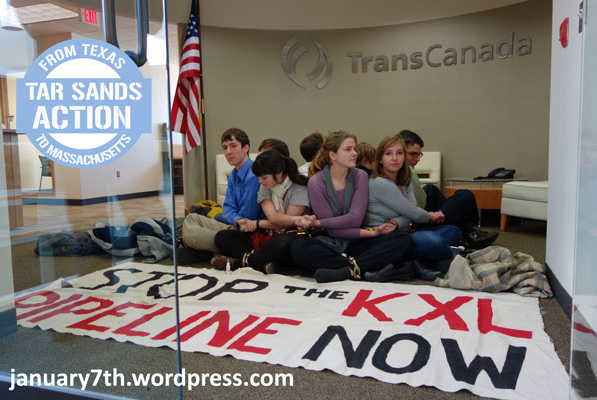 Monday, from Texas to Maine, Americans converged on the offices of TransCanada and its affiliates in protest of the company's proposed Keystone XL pipeline. The protests were coordinated by members of the Texas-based Tar Sands Blockade and other groups.
The centerpiece of this week's actions was a sit-in at TransCanada's office in Houston, Texas, where protesters took over the lobby of the Keystone XL headquarters and staged a die-in. More than 100 demonstrators were present.
In Detroit and Portland, Maine, protesters rallied outside TD and Chase banks, both of which are investors in the pipeline.
In Massachusetts, eight youth activists locked and glued themselves into TransCanada's Westborough office as part of a sit-in. The participants in the action were students and recent graduates from Brandeis, Boston University, Harvard, Tufts, and the University of New Hampshire.
"The activities of corporations like TransCanada threaten the future of my entire generation," Benjamin Trolio, a senior at the University of New Hampshire, explained before the action. "We need our political leaders to do their job by standing up for us and taking action to solve the climate crisis. They can start by drawing a clear line in the sand and stopping the Keystone XL pipeline."
The Keystone XL is the export pipeline proposed by TransCanada to carry tar sands oil from Northern Alberta to the Gulf of Mexico. The proposal has drawn intense criticism for its risk to waterways and local environments, its displacement of homeowners, and its staggering implications for global climate change.
These risks, combined with evidence that the pipeline would kill more jobs than it creates, have united opposition from across the political spectrum -- from leftist Occupiers to Texas Tea Partiers and everything in between. Students, landowners, environmentalists, indigenous peoples, and scientists in particular have made their objections heard loud and clear.

The Keystone XL blockade has been ongoing in Texas for months. Now, with plans in the works to transport tar sands oil through other pipelines in Canada and the United States, including through New England, people across the country are sending a clear message: "Not on our watch."
The gloves are off for the climate movement, and the youth climate movement in particular. As young people (and I include myself here), we're already feeling the impacts of climate change. We also represent generations to come, who are guaranteed to be even harder hit by these impacts. How much harder is still unwritten.
The fossil fuel industry is killing our future, and our window for action is almost gone.
We have been waiting and waiting for our leaders to act, but if we wait any longer, it will be too late. America, led by we, the youth, isn't willing to take that chance. The science is clear: We need to get serious. The politics have made it clear: To get serious, we need to take matters into our own hands. We need to secure our climate legacy.
But we're not going to stop there, because we know it's not enough. Monday's actions and arrests attest to our determination.
"The scientific and economic arguments against the Keystone XL pipeline are clear," said Emily Edgerly, a sophomore at Tufts University who was arrested at the Massachusetts action. "We hope our peaceful civil disobedience today will add momentum to the increasingly powerful global movement to solve the climate crisis."
Trust us -- especially as high school and college students and recent grads in a brutal job market, we'd love to not have an arrest record. Unfortunately, it's become clear that politics and business as usual aren't solving the problem, and nobody else is stepping up.
Until our elected leaders start taking this problem seriously and prioritizing the American people over the fossil fuel industry, we're not going to stop.
You can expect to see more creative non-violent direct action, until our policies match the realities of science and the best interest of America and all of its people. In the coming months, big actions are already organized for Portland, Maine, Washington, D.C., and beyond.
We're going to do everything we possibly can to protect this country that we love, and this planet that we live on.
Calling all HuffPost superfans!
Sign up for membership to become a founding member and help shape HuffPost's next chapter