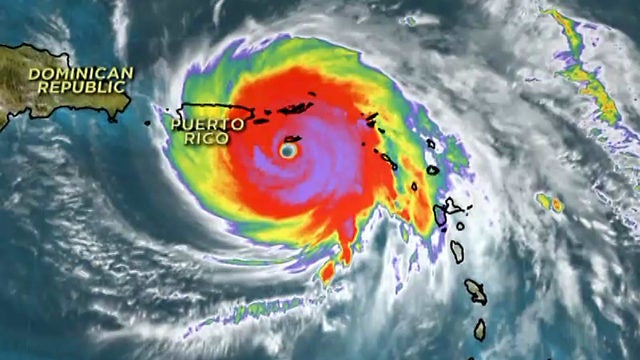 No sooner than the record-breaking hurricane Irma wrought havoc across the Caribbean as the most powerful and persistent Atlantic storm ever, the region braces for yet another monster category 5 hurricane with Maria. Maria, the first major hurricane to make direct landfall on the U.S. territory of Puerto Rico in more than 85 years, has devastated the island. Islands are particularly vulnerable to climate risks and are fast becoming ground zero in our rapidly changing world, reminding us that in the face of unprecedented challenges, we can no longer be islands unto ourselves.
An emblem of this devastation is the fact that the inhabitants of the once idyllic island of Barbuda, along with other islands in the region, are now veritable climate change refugees. For the first time in more than 300 years, Barbuda is totally uninhabited by people. These same displaced people, along with residents of other Caribbean islands, are finding little solace as one of their places of refuge in Puerto Rico, which was spared the worst of hurricane Irma, is now ground zero for hurricane Maria. Amid the regional ruin, rich and poor alike were not spared the devastation, proving that nature's arsenal is just as indiscriminate as ours.
Indeed, Sir Richard Branson, who weathered hurricane Irma in his wine cellar on Necker Island, has marshalled his considerable brand presence to raise awareness, resources and global support for a region he calls home. Even with formidable voices like Branson's sounding the alarm, the world's media cycle and disaster response resources are barely keeping pace with hurricane Harvey and its nuclear rain bomb, which devastated Houston, Irma's aftermath in the Caribbean and across the entire Florida peninsula, and most recently, a horrific earthquake in Mexico, which has claimed more than 200 lives. All the while, the drum beat of war grows ever louder with President Trump's ominous speech at the UN General Assembly, in which he offered to wipe North Korea off the map. Perhaps in a time of great national peril and global need, the U.S. should be less concerned with destroying nations and more concerned with shoring them up.
Puerto Rico's already dilapidated power grid, which failed in 2015 plunging the island into darkness due to underinvestment, will likely take months to restore following island-wide power outages. Indeed, Irma and Maria delivered a particularly vicious one-two punch to the region. Where on the one hand Irma spared Puerto Rico, still leaving more than 1 million residents without power and 60,000 without water, Maria completed the job delivering a knockout blow.
The sum of these terrible events – remembering that hurricane season is not over yet and these tropical storms are not the only threat islands face – begs the question, what can be done to reinforce pan-Caribbean resilience and disaster preparedness? The first step, which heartening scenes of solidarity across the region remind us of, is to remember the connections that bind the islands to one another and to the rest of the world. These grim scenes are very much what climate change looks like and the prospect of national-level resettlement is already upon us, albeit on a much smaller scale.
While property and material effects can be replaced, lives and livelihoods cannot. For a region that largely depends on tourism for its GDP, the world has a special obligation to revisit the Caribbean just as soon as the winds and tides subside. In the meantime, the long road to recovery begins and some unique opportunities to improve regional resilience emerge. Chief among these is the need to deepen insurance penetration across the region, improving the scope of coverage to reflect the growing severity of climate risks. Lloyd's research shows that a 1% increase in insurance penetration translates into a 22% reduction in the tax-payer burden of unfunded financial losses. Another challenge plaguing insurance across the Caribbean basin is that natural catastrophe models used by insurers to determine premium rates lump the Caribbean and the Florida peninsula into one super-region. While both areas are clearly disaster prone, property replacement costs, building codes and labor rates, to name a few categories, are not the same. Calibrating insurance and reinsurance rates not just in the Caribbean, but globally, adjusting for purchasing power can go a long way in improving market adoption and affordability.
Similarly, the creation of a pan-Caribbean risk-sharing pool that can proportionally aggregate financial resources for natural disasters can help shore up the wider region and, in particular, the most vulnerable islands. Paying into this regional reinsurance program can also enable the acquisition and maintenance of the response materiel needed for a wide variety of events, such as a flotilla of response vessels, generators, non-perishable food items, temporary shelters, among others. Another critical area of improvement is the region's energy matrix. All too often Caribbean economies rely on dated, inefficient and polluting energy sources to power the grid. If there is any region in the world that speaks to the case for energy diversification, the Caribbean is it.
The collapse of Venezuela's oil for influence program, Petrocaribe, set the stage for alternatives to take root. Having said that, the U.S. perilously clings to the Jones or Merchant Marine act, which senselessly compounds the price of goods – including fuel oils – shipped to Puerto Rico, while cutting the number of vessels that can sail to the island by more than half. Puerto Rico's comparative resilience to its neighbors and the fact that it is the southernmost U.S. territory and a natural logistics hub – once home to large U.S. military installations – makes it the perfect staging ground to not only coordinate acute response efforts, but to lead long term regional initiatives that improve Caribbean resilience.
As with all cases of climate threats, whether in the Florida Keys, Houston or in San Juan, human habitation is failing to keep pace with the rate of change. Building codes must be updated to reflect more extreme – "out of sample" – weather events. Similarly, we must urgently address the lack of affordable and resilient housing across the region, as well the lack of shelters for vulnerable communities. The pain and destruction left in the wake of hurricanes Irma and Maria are stark reminders that in the face of climate change we can no longer go it alone.
Calling all HuffPost superfans!
Sign up for membership to become a founding member and help shape HuffPost's next chapter
This post was published on the now-closed HuffPost Contributor platform. Contributors control their own work and posted freely to our site. If you need to flag this entry as abusive,
send us an email
.