While global negotiators met in Paris last week to hammer out a climate accord, students with the University of Iowa's Climate Narrative Project had already begun the process of bringing the summit back to campus. Launched in 2014 as a special media arts initiative in the Office of Sustainability, the Climate Narrative Project (CNP) aims to train a new generation of climate storytellers by reaching across academic disciplines and using theatre, film, creative writing and spoken word poetry, yoga, dance and art to grapple with a key post-summit challenge: How can stories reshape the climate narrative and galvanize action?
"Watching the Paris summit from afar, I was particularly intrigued by the 'high ambition coalition' spearheaded by the Marshall Islands, which completely flipped the usual script of developed vs. developing countries," said Jeffrey Ding, a former CNP fellow, who was recently named a Rhodes Scholar. "The Climate Narrative Project is important because it impels students to find similar ways to disrupt and reframe conventional lines of thought on climate issues." Ding, who will graduate with a B.B.A. and B.S. degrees in economics, political science, and Asian languages and literature, turned to theatrical monologues for his project on the role of Iowan farmers in prairie restoration, biomass and soil carbon sequestration initiatives.
After interviewing Syrians in Iowa City and other communities, CNP fellow and creative writing student Alyssa Cokinis explored the realities of climate migration in an original one-act play, "Cut from a Tree." Among other projects, CNP fellow Laura Neuzil, co-president of the UI Environmental Coalition and a member of the UI Student Garden, looked at the role of seeds and agriculture; in analysis of climate impacts on coffee, political science and environmental policy major Andrew Hirst incorporated spoken word poetry. En route to cover the Paris summit for the University of Iowa Center for Global and Regional Environmental Research, CNP fellow and photo journalist KC McGinnis screened excerpts from his forthcoming film on a rural Catholic parish in Iowa and its attempt to incorporate elements from Pope Francis' encyclical on climate.
As his native India dealt with historic flooding in Chennai, CNP fellow Akash Bhalerao performed a yoga lesson with theatrical monologues on reforestation and restoration initiatives in India and Iowa. "The Paris climate summit gave us a great opportunity to act locally by thinking globally and realizing that everything is interconnected and how what we do here can impact a place in another part of the world and vice versa," said Bhalerao. "The Climate Narrative Project also helped be realized the same."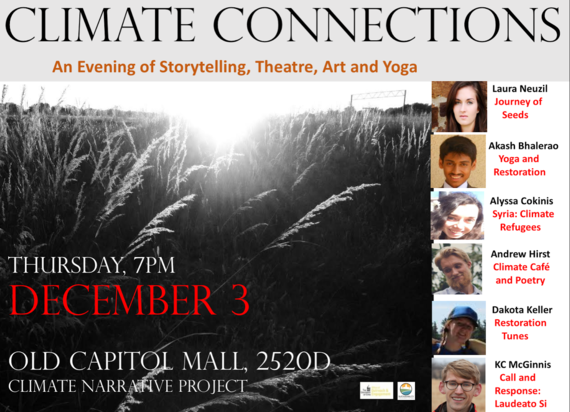 Over the past two years, Climate Narrative fellows have produced a number of short films, theatrical monologues, creative writing pieces and art work on localized themes related to climate change, including the role of water and the Iowa River, soil carbon sequestration and prairie restoration, local food and regenerative agriculture, migration, health and biodiversity and cultural diversity.

In the spring of 2015, fellow Sophia Finster, a marketing student and president of Net Impact, produced a modern dance piece exploring the climate implications of processed vs. unprocessed food.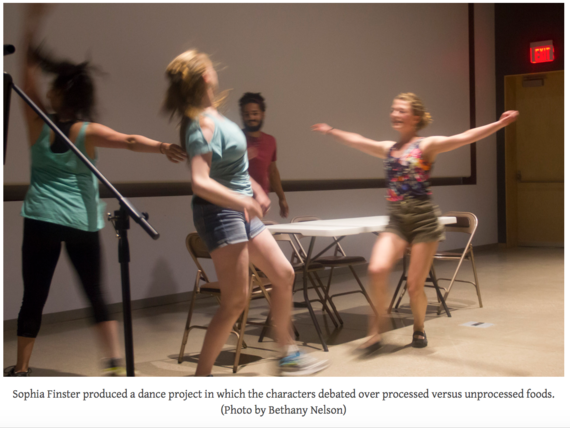 "Being a fellow for the Climate Narrative Project was the first time that I really thought not just about the science behind soil but about how soil has an important role in the climate change discussion," said journalist Nick Fetty, who also covered the summit for CGRER.
This was helpful for me when attending COP21 in Paris because one of the events I covered focused on soil health and specifically carbon sequestration. Having the prior knowledge that I did from my time with the Climate Narrative Project helped me to better understand what the presenters were discussing during the event and also made it easier for me to write about it. I felt that the event was worth covering since a large part of our purpose there was to focus on issues affecting Iowans and to show how the Hawkeye State has a role in global discussion on climate change.
Fetty has also filed stories for Yale's syndicated public radio program "Climate Connections," including a special story on former UI football star and solar advocate Tim Dwight, in a partnership with the Climate Narrative Project.
"My generation is working to break down a lot of silos that exist between institutions, agencies, and offices to tackle environmental problems," said Kelsey Zlevor, a former CNP fellow, who examined the role of the Iowa River and the historic flood of 2008, and is currently a Graduate Fellow in the Sustainable Cities Initiative at the University of Oregon.
You need a multidisciplinary approach to see real changes and there's no better way to do this than by serving as a conduit to unify people around a shared story. This is where the Climate Narrative Project comes in: learning how to creatively engage others in climate literacy brings more people into the fold to move conversation forward, and is a skill more of us are going to need in a quickly-changing world.
Related
Popular in the Community