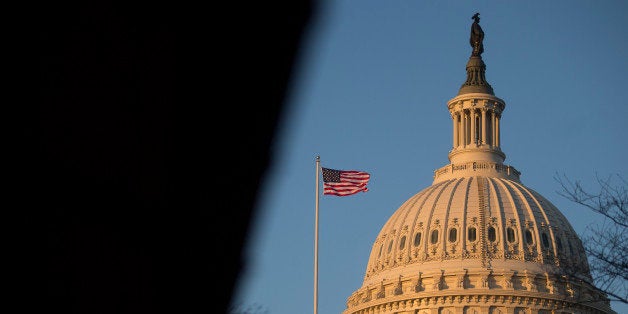 February 14th is the day when Americans celebrate love with cards, flowers and chocolate. At my house, the kids are busy making paper hearts and cranking out scores of cards for their friends. Their handiwork inspired me to create a valentine for members of Congress who need to have "the talk."
Until just a few weeks ago, Republicans in Congress had largely denied or ignored the urgent need to act on climate change. Things have started to shift ever so slightly in the past few weeks: Suddenly #DirtyDenier$ are getting real.
Maybe a climate Cupid shot his arrows through the halls of the Senate, but at the end of last month, 53 GOP senators passed an amendment acknowledging the climate is changing, 15 approved an amendment saying humans have something to do with those changes, and five endorsed one saying human activity "significantly" contributes to climate change.
What do these votes mean? Is the GOP reconsidering its monogamous relationship with fossil fuel companies? Are they asking for an "open relationship" with the Koch brothers? Is the GOP interested in seeing other voters?
It's time for the talk -- the "DTR" conversation that defines the relationship. That's how we'll know if the GOP is ready for that ultimate public declaration of love: the relationship status change on Facebook.
Voters are ready for a commitment. Two thirds of Americans favor the Environmental Protection Agency's plan to address climate change by limiting carbon pollution from power plants, according to a November survey by Harstad Strategic Research.
A New York Times/Stanford poll released last week found that a full 54 percent of Hispanics--that increasingly popular voting bloc--say climate change is extremely or very important to them personally, and 63 favor the federal government taking broad steps to address this crisis.
As Republican leaders try to define their relationship with climate change in advance of the 2016 election, the "it's complicated" status will no longer suffice with the majority of voters.
GOP candidates who want to win in the next cycle have to get serious. It's not enough to recognize that the climate is changing. They need to do something about it. They need to offer an action plan for confronting the biggest public health and environmental threat of our time. They need to put a ring on it.
My wish for this Valentine's Day is for #DirtyDenier$ to truly define their relationship with climate change. And that they begin by ending their love affair with dirty polluters. Here's what I would put on my valentine:
"Roses are red. The climate is hot. #RunningClean is cool, but #DirtyDenier$ are not."
OK, so the makers of Sweethearts candies might not be hiring me anytime soon, and the puns in the blog post may be a bit much. But my heart is in the right place: I truly hope the Republican Party will decide to act on our generations' biggest challenge.
Calling all HuffPost superfans!
Sign up for membership to become a founding member and help shape HuffPost's next chapter