One billion people around the world go hungry every day. In fifteen years time, there will be another billion people on the planet who will need food and water just like everybody else. Climate change compounds this problem, particularly in Africa, where life is especially sensitive to rises in temperatures, extreme weather events and variable rainfall patterns -- all the negative impacts of climate change.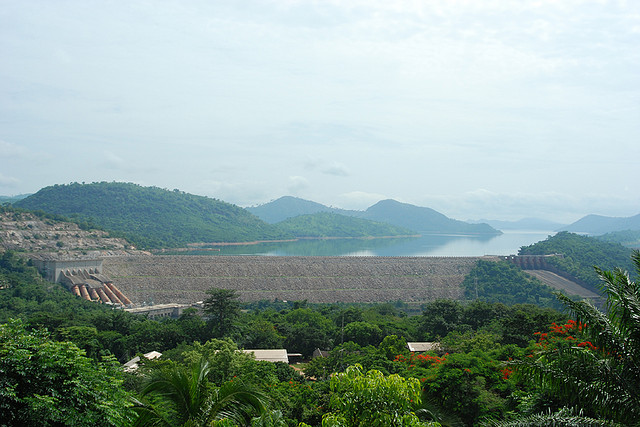 The Volta Basin is home to the massive Akosombo Dam, which created Lake Volta. Climate change is likely to reduce water flows, and diminish energy generation capacity. Photo: Adam McNelson.
Pulling the problem into sharp focus, a new study by the International Water Management Institute (IWMI) and its partners has examined the situation as it stands now, and is it will stand in the future, for West Africa's all important Volta river system. Cutting through several countries including Ghana, Burkina Faso, Benin, Côte d'Ivoire, Mali and Togo, the Volta Basin is the lifeblood of agricultural production in the region, as well as the key source of daily household water for millions. In 2000, the Volta had to supply 19 million people with water; in 2015, the Volta will need to supply up to 34 million people with water. That's 15 million extra people in just 15 short years.
Big Projections and Big Facts
According to climate models, climate change could increase temperatures in the Volta Basin by up to 3.6 degrees Celsius in the next 100 years, and average annual rainfall could drop by about 20 percent. More water will be lost due to evaporation thanks to higher temperatures. With agriculture accounting for almost 40 percent of the basin's economic activity, climate impacts on food and farming will be severe.
Can we believe these projections? In short, yes. The global climate system is indeed complicated and projections will always involve uncertainty but there is consensus amongst the majority of scientists that the world's climate is changing, particularly in West Africa. The Intergovernmental Panel on Climate Change (IPCC) is very careful about the statements it makes on climate change and its impacts; they have developed an entire vocabulary to describe the different levels of certainty they deal with. West Africa is noteworthy as being one of the few regions in the world where the IPCC has been willing to comment on climate changes that are already occurring, stating officially, that since the 1950s, West Africa has experienced trends toward more intense and longer droughts, and significant temperature rises.
What this means for West Africa
The IWMI study, "The Water Resource Implications of Changing Climate in the Volta River Basin," makes some startling calculations. If, as climate models indicate, average annual rainfall drops by 20 percent, water flowing through the Volta region could fall by 24 percent before 2050 and by 45 percent before 2100. This means significantly less water for hydropower and for agriculture, throwing a monkey wrench into countries' economic development plans, not to mention the plans of millions of people who depend on farming for a living.
For decision-makers in the region who have been charged with achieving development goals, the study should wave a giant red flag. If they are to achieve those goals, they must work out how to 'climate-proof' their economies and investments.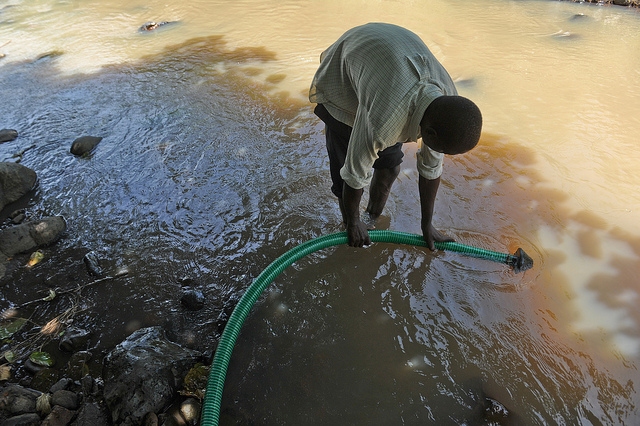 Small-scale solutions like ponds on farms can help save water for dry times. Photo: K. Trautmann (CCAFS).
So what are the solutions for water storage in West Africa? The report's authors recommend flexible and resilient alternatives to large dams. We need to adopt a variety of measures: a combination of tried-and-tested local solutions with state-of-the art agricultural technology. Solutions can be as simple as a cover for a rooftop water tank which will help reduce evaporation when temperatures rise. At the other end of the spectrum, IWMI proposes "recharging" groundwater, as is already practiced in places such as Australia and southern Europe. During the rainy season, when water literally falls from the sky, these systems turn excess water into groundwater by injection or infiltration, which can then be used in drier periods. In this way will we face up to and prepare ourselves for a changing climate.
Complex systems like the Volta Basin need powerful partnerships to diagnose the problem and to help facilitate climate resilience. IWMI combined forces with Germany's Potsdam Institute for Climate Impact Research -- one of the world's top climate research organizations -- and Ghana's Council for Scientific and Industrial Research, an important national research agency. Complex problems like West Africa's water management also need powerful partnerships; between researchers, communities and policy makers.
Our press release notes that "IWMI and other centers involved with the CGIAR's Research Program on Climate Change, Agriculture and Food Security (CCAFS) are drawing attention to the Volta study as leaders from across Africa gather in Ghana for Africa Agriculture Science Week 2013, under the theme 'Africa Feeding Africa.'"
There are many steps ahead for the future of the Volta Basin, but here in Ghana we are taking the first few of them.
REAL LIFE. REAL NEWS. REAL VOICES.
Help us tell more of the stories that matter from voices that too often remain unheard.