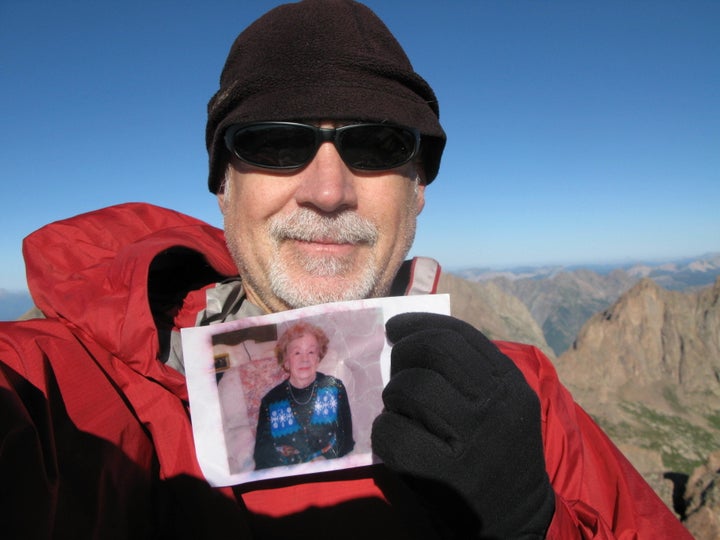 My voice cracked with emotion as I placed the satellite call from the summit of Mt. Everest: "I want to dedicate this summit to my mom and all the Alzheimer's moms out there. We love you, and we miss you..."
And with that, the third summit of "The 7 Summits Climb for Alzheimer's: Memories are Everything" was almost complete. All I had to do was return from the top of the world to the safety of the lower camps in 40-m.p.h. winds at 20 degrees below zero.
Climbing Mt. Everest was easy compared to caring for my mom during her last three years with Alzheimer's. She was our families' memory keeper. She knew every detail about the families of all eight of her brothers and sisters. She organized family gatherings; she was one everyone depended upon. She was the glue that held the family together.
And then one day, everything changed. We knew her memory was lapsing, but like most families, we chalked it up to normal aging. And then over breakfast, discussing her husband, my father, who was in critical condition in the ICU at the local hospital, Mom dropped the most unmistakable piece of evidence thus far.
"Now, who are you?" she asked me, her 49-year-old son. I smiled at her lovingly and explained that she had two sons and I was the youngest and her husband of almost 60 years was near death. She passed all this off with a wave of her hand and a small smile. But deep inside, she must have known something deadly was beginning.
Alzheimer's had already taken the life of one of her sisters and had a firm grasp on another. But we did not know what we did not know. Thus the journey began to keep mom comfortable, safe and in a loving environment.
Over the next three years, mom lost the rest of her short-term memory, struggled to take care of herself and began to lose her long-term memory and her identity. But it was her basic personality that she never lost: her smile, her thoughtfulness, her caring for others and her sense of humor. We could always laugh at something, no matter how small, how silly. She would throw her head back and laugh with enjoyment.
She loved her music, especially her church songs. She lost the ability to concentrate and read, so she leafed through magazines enjoying the pictures. She would always point out any picture of a baby or small child. We made sure she had her music and magazines.
But Alzheimer's takes memories and lives. Mom lived a good life, even with Alzheimer's. She did not know what was happening, as far as I could tell. When I talked to her about what was happening, she would simply nod her head and a few minutes later would ask if she had eaten breakfast yet.
As with many diseases, it can be more difficult on those around an individual rather than for the individual themselves. Alzheimer's is particularly cruel. Near the end, my brother and I made the decision to use a hospice service. Mom passed away within one week.
And that's why I'm working with the Alzheimer's Immunotherapy Program of Pfizer Inc. and Janssen AI on the 7 Summits Campaign. I'm hoping to reach the tallest summits of the world in a year period to raise awareness of the caregiver burden associated with Alzheimer's Disease and $1 million for research and care. Pfizer and Janssen are supporting my climbs, so therefore, all funds I raise will go directly to three organizations I selected: the Alzheimer's Association, the Cure Alzheimer's Fund™ and the National Family Caregivers Association (NFCA).
I pulled the hood of my down suit over my head to keep the harsh winds off my face as I began my descent. My mind drifted to my mom. I heaved with emotion as my mind was flooded with memories of life. This climb, and all the others, are not about climbing but about people. The need to raise Alzheimer's awareness, the urgency to educate, the case to fund research.
This disease has no cure. The treatments focus on symptoms. Finances are destroyed. The caregivers are the silent victims. Every 70 seconds another family begins the same journey we took. This is unacceptable.
So every step I take climbing mountains is a step for Alzheimer's individuals and their families.
I invite you to join in my journey, follow my climbs and hear my stories at www.Climb4AD.com. Please come along.
Popular in the Community