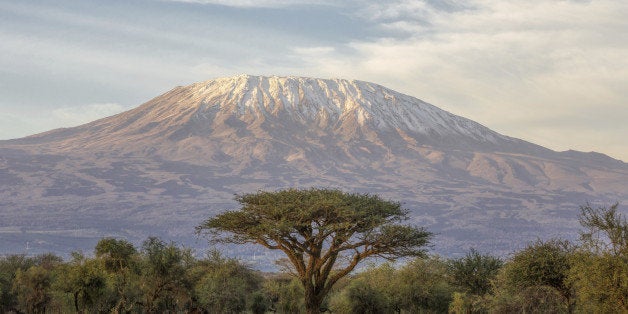 One of my wife's dearest friends, Cidalia Luis-Akbar, is about to do a crazy, amazing thing: In two weeks she and her sister Natalia Luis are climbing Mount Kilimanjaro to raise $500,000 for Children's Hospital in Washington DC, and to mark their own victories over personal struggles. They have never done anything like this before. My wife tells me she's not even sure Cidalia has ever been camping.
Cidalia tells me she was inspired to do the climb by my book, Zombies on Kilimanjaro, which was about my own trek up the mountain with my 20-year-old son Josh. Indeed, climbing Kilimanjaro is a transformational, life-changing experience for pretty much everyone who makes the journey. Remarkably, many individuals like Cidalia and Natalia take the additional step of putting their personal journey in the service of a greater cause. Even celebrities get into the act: Hollywood movie star Jessica Biel climbed Mount Kilimanjaro to raise funds for The Children's Safe Drinking Water Program, and a British group of comedians (including X-Factor judge Cheryl Cole) raised money to help Africans combat malaria through a charity called Comic Relief.
I wanted to find out more about what motivated Cidalia and Natalia to do the climb as a way to raise money, and Cidalia agreed to answer my questions:
Question: Cidalia, what motivated you to make this trip up Kilimanjaro more than a personal journey?
Cidalia: My sister Natalia and I went out to the Santa Catalina mountains in Arizona for a few days to recuperate from all of the difficulties and turmoil of the past few years and to have some sisterly bonding time. We decided to go on a hike, my first ever. Natalia and I were talking about your book Zombies on Kilimanjaro and how impactful your journey with your son was. After about two hours of walking (perhaps the high altitude and lack of oxygen aided in our decision) the idea of us climbing Mt. Kilimanjaro began to germinate. We were asking ourselves, how do we make a difference and leave the world a better place for our children? By the time we returned from our hike we had decided to climb Kilimanjaro and to bring Childrens National Medical Center along on our journey.
Our goal is to bring the Dr. Bear flag to the summit, to show the world, how committed we are at Childrens National Medical Center to help children, all children in our community, country and the world; and to raise $500k for the Institute of Fetal and Transitional Medicine, to develop a holistic "fetal monitoring system" that will allow our doctors to identify distress signals in utero, and facilitate new standards for the highest caliber delivery and neonatal care.
Question: Why this particular charity? Why Children's Hospital?
Cidalia: Twelve years ago, after five in-utero surgeries, I lost my first son Joseph, unfortunately, our CNMC did not have the facilities to help us, so my husband and I went out of network to CHOP in Philadelphia for care. We went without obtaining permission from our insurance network, and came back to Washington without our son, with broken hearts, and with a huge medical bill. Hence my desire to raise 500k for a fetal monitoring system. Six more losses and cancer would tragically follow. However, we never lost hope, and in November of 2009, Sophia came into our lives. Today, the world is a better place because she exists.
Question: Are you and Natalia a bit anxious about leaving your children behind with your husbands while you take on this challenging climb?
Cidalia: Of course, we would love to have our children and husbands join us. However, with the Ebola outbreak and the long travel, we thought it better that they cheer us on from home.
Question: Lots of people don't make it to the top due to altitude sickness. I remember from my own climb my Ultimate Kilimanjaro guide's wise advice not to be obsessed with getting to the summit, but to just enjoy being on the mountain every step of the way. Do you think having set up this journey as a charity fundraiser it might be harder to turn back if a guide says that you must?
Cidalia: For Natalia and I, the journey is the most rewarding part of our work. We would love to make it to summit and proudly wave the Dr. Bear flag, and shout out to the world the hopes and dreams of the children back at the hospital. However, our health and safety is very important, if we are unable to summit, we will still be very proud of our efforts and know that we gave it our best.
Question: Please tell our readers, how can they make a donation and support you and Children's Hospital on this adventure?
Cidalia: This is about giving from your heart for the sake of giving. If you do, know that your donation will make a powerful difference and that we are extremely grateful. Please use the following link to make a tax-deductible online contribution and to watch our video. Please share in our mission to bring CNMC to everyone in the community, and please pass our information on to all of your contacts and networks: chidrensnational.donordrive.com
Please support us, we can't move the mountain, but we will certainly endeavor to climb it, and proudly share the journey with you.
Cidalia and Natalia, I wish you a great adventure, and success in meeting your target of raising $500,000 for Children's Hospital.
Support HuffPost
The Stakes Have Never Been Higher
Related
Popular in the Community