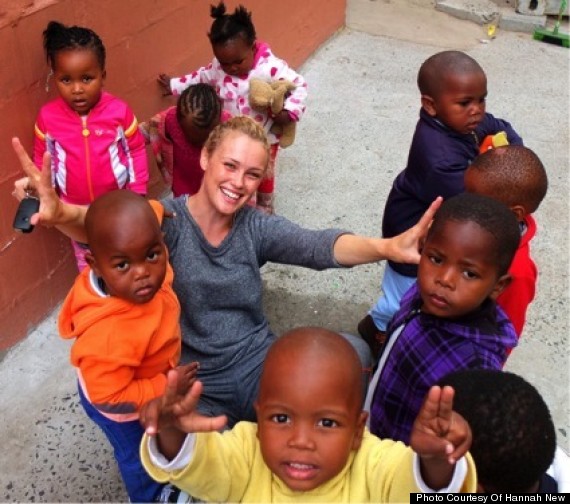 "Education is the great engine to personal development. It is through education that a daughter of a peasant can become a doctor, that the son of a mine worker can become the head of the mine, that the child of a farm worker can become the president of a great nation." Nelson Mandela
In the western world we so often take for granted how privileged we are to have access to pre-school. The formative years of a child are from conception to seven years, when 85 percent of your brain develops. If insufficiently stimulated during this period a child's learning potential can be seriously inhibited, along with their social and motor functioning. How can a child compete and flourish in a world where they have had no access to this head start?
Pre-school is a place where children can develop a strong foundation for future learning, giving them an essential foothold on the skills and development that can pull themselves out of poverty. Education to a child in a township can seem like a massive mountain that they have to struggle up without any guidance at the most crucial beginning stages and it is for this reason that my close friend Jules and I, two privileged girls from the UK, want to face the biggest mountain in Africa and conquer it and in the process raise funds for this fantastic project.
Around six months before coming to South Africa, I remember having a strong feeling that I wanted to go there. I wasn't sure why or how, but something told me that I would end up there at some point. It felt like something that would happen in the distant future, after I had worked and saved enough money to afford the time off. So I put it on the backburner and forgot about it.
After graduating from drama school I was fortunate enough to book a couple of jobs and things started to gain momentum. I had then moved to LA to ply my trade when the casting for the pirate series 'Black Sails' came up. I had zero expectation of booking the job, I simply regarded it as an opportunity to hone my audition technique and have a stab at what can only be described as a 'ball-breaker' role. To my surprise and delight I booked the job and was told that I would have to move to South Africa in a month, and suddenly it all made sense.
This wonderful opportunity would not only take me on a personal journey, fulfilling my dream of becoming an actor but more importantly, it would take me to places that would open my eyes and broaden my perspectives, allowing me to become part of worlds and cultures, both imaginary and real. What I did not realise, however, was the way in which this move to South Africa would implicate me in becoming involved in other people's dreams. Consequently, I met people that enriched my life and helped me to see the bigger picture.
On my arrival into Cape Town I was immensely excited. I had always travelled and worked abroad, but for some reason I knew this was going to be a wholly different experience. As I drove to the apartment in the center of town my excitement dissipated and shock began to seep in. As I stared out to my right on the journey from the airport all there was for as far as the eye could see were sprawling, ramshackle tin sheds that seemed to spread right into the edge of the city. Although I had seen townships in other parts of the world, there was something about the scale of this place that left me dumbfounded. I later learnt that these tiny boxes made of corrugated-iron, plastic sheeting and scraps of wood, which precariously sat on top of one another, were home to over 2 million people.
From the little that I knew about South African history I was aware of the fact that under Apartheid, black people had been moved out of the urban areas to purpose built ghettos in rural areas. What I had not anticipated is that, since the fall of Apartheid 20 years ago, these neighborhoods had not diminished but rather grown exponentially. What became achingly clear is that the economic fallout of such an oppressive regime powered on, creating a form of economic inequality that deeply moved and upset me.
The next day we drove to the studios on the same road. I realised that I had not even seen 10 percent of what the township comprised of. During the twenty-five minute journey the sprawl of tin shacks behind a fence of concrete posts did not cease, until bizarrely and suddenly a bald clearing opened up between the shacks. I saw children playing on what looked like a littered sand dune and I asked my driver why. Suddenly, there was a gap. "There was a fire on New Years Day" he replied. I fell silent for a second astounded that, for a fire to have devastated such a large area only the week before, there was hardly a trace of the former shacks that would have been packed tightly in that space.
"Was anyone hurt?" I asked.
The image of those children re-appropriating a space of such tragedy into a new playground became a symbol of hope to me. As strange, tragic and uncomfortable as that image was, I knew it meant something to me and would change the way I viewed where I was and how I could be part of this place.
A few days later I met up with a friend of a friend and I mentioned what I saw and how deeply it had affected me. He mentioned that he had a friend who had been collaborating with a non-profit organization that provided pre-school education for orphans and vulnerable children in Khayelitsha (the name of this city of shacks). It had been some time since I had worked with children (as I had volunteered in a children's home in Bolivia before university) but I knew that the skills I learnt then would come back to me and I was dying to get back in the classroom on my days off from shooting to teach English through play, art and drama.
The first day I stepped into Intyatyambo Community Project (which means blossoming flower in isiXhosa, the dominant language spoken by black people in the Western Cape) I was met by a sea of smiles and hugs and chants of "uJuicy, uJuicy! uJuicy!" This welcome was both heart-warming and confusing, but my confusion was soon allayed by Jules, the school's project manager, who explained that "uJuicy" was the kids nickname for her and any other blonde white woman who came to see them. I soon realised, however, why they chanted this word with such love and compassion and it is because that is what Jules/uJuicy has showered them with for the past seven years.
Whilst on holiday in 2007, Jules met Nomawethu and Lindi, the schools co-founders, who told her about what they were trying to do in the township and after travelling to see the project for herself, she packed up her life in England and has dedicated herself to ICP ever since.
In the seven years that Jules has worked with ICP they have faced many hardships, including regular riots and insecurity, a violent attempted robbery by gunmen (whom Jules, Nomawethu and Lindi fought off with bricks and stones).
Despite these horrendous challenges there have also been many triumphs. The school has evolved from the tin shack where twenty orphans were educated and cared for full time, to three shipping containers that became the classrooms for eighty children, to a brand new, two story building which will now educate a hundred children. The school has also trained four teachers and is the only pre- school in the area to have trained teachers working full-time.
Although the new school is complete and filled with children, there are still many unseen costs that we are going to have to battle with in the first year of the schools' operation. The aim of this Kilimanjaro fundraising climb is to provide the means with which the school can invest in the people and equipment needed to continue to be productive, cover running costs and become self-sustainable. Only a small percentage of the people who attempt Kilimanjaro actually summit, which we feel is symbolic of the small percentage of children from townships that have access to essential pre-school education, but we are determined to improve these statistics. We want to summit that mountain so that the very special kids we work with can be part a generation that, with early education, can change their lives and in turn help their families and communities climb out of poverty.
The trip is 100% self-funded so every penny goes directly to the school. Please help us in climbing to success by donating.
Popular in the Community