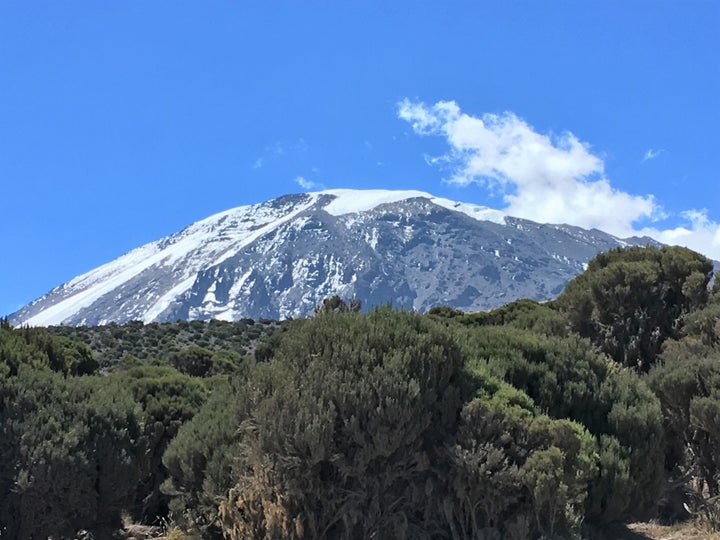 "Pole, pole," cautions the guide as we begin our trek to Mount Kilimanjaro. "You must go 'slowly, slowly' to reach the top." It's a phrase that gets repeated multiple times daily: "pole pole" (poh-lay poh-lay). Our group of nine, a mix of Australians and Americans plods up the trail. The pole pole speed set by the guide is glacial, indirectly paying homage to the massive glaciers hugging the distant peak. Given the demographics of our group, with an average age of almost 50, the tempo was apt.
Rising up from the Tanzanian plains, Mount Kilimanjaro is the tallest point in Africa and the highest freestanding mountain in the world at 19,341 feet (5,895 meters). The mountain is not for the faint of heart, and I held our group in high regard for even contemplating the summit. But after 30 minutes of torturously slow forward motion, I break off with the youngest hiker, a strapping young medical student from Cannes, Australia. We power ahead at what I consider to be a normal clip and arrive at the camp 45 minutes before the rest of the group clocks in at 2 hours and 40 minutes. The initial hike was estimated at three hours.
"Young men are the most likely hikers to not reach the summit," admonished a 36-year old mother of two as we spooned the delicious pumpkin soup in our mess tent.
On Kilimanjaro, pole, pole rules the roost."Young men are the most likely hikers to not reach the summit," admonished a 36-year old mother of two as we spooned the delicious pumpkin soup in our mess tent. At first glance it may seem paradoxical, but perhaps the most stereotypical physically fit demographic is also full of verve and bravado. Young men are most likely to ascend too rapidly and succumb to altitude sickness.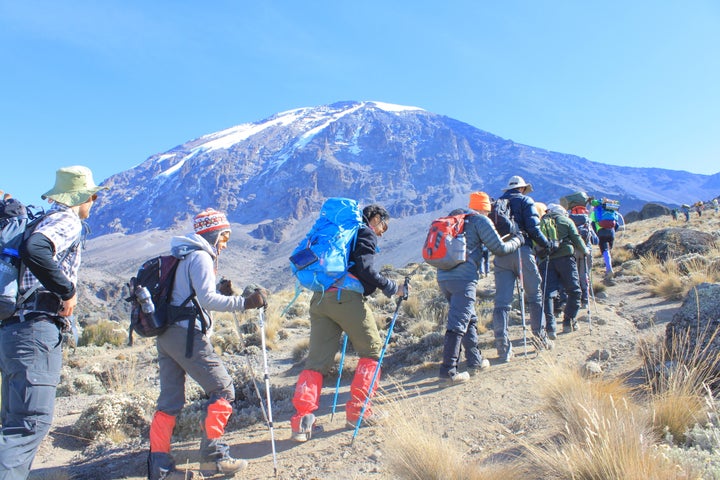 I heard her, but I also knew how my body responded at altitude, having done the Salkantay trek to Machu Picchu, the hike to Everest base camp, and other journeys around the world. I enjoy getting my heart rate up, testing my limits, and pushing the pace uphill.
"Hike pole pole with the group for the second day," implored the lead guide, "You are strong, but please, pole pole. We want all to summit." I could feel my impatience brewing inside, but I acquiesced to his request. While we were all challenged by the looming monolith, a greater challenge for me was to trudge along as if my feet were shackled.
When I feel any degree of 'upset' in a situation, I ask myself, "What is my lesson to absorb from a spiritual context? How can I use this situation as a growth opportunity?" Impatience was at the heart of this issue. I wanted to be challenged by the mountain, exercise my heart, and accomplish the daily hike quicker so I could kick off my hiking boots and relax at the next camp with some hot chocolate and historical fiction. The group's tortoise-like pace tortured the hare. I recognized corresponding frustration in more youthful moments when I perceived being held back, like when my parents wouldn't let four 20-year-old friends borrow a car to go to the Woodstock 25th anniversary concert weekend. Digging even deeper, I realized the flip side of the coin was also true – times when I had held others back elicited feelings of guilt and shame, like when I painstakingly first learned Microsoft Access to run complex data calculations at work. I could relate to my judgments of myself on both sides.
That evening, I identified the judgments I was holding against others and myself in the current and past situations, for example, judging others as slow, unmotivated, unworthy, and out of shape. I compassionately forgave myself, before pulling my three-season sleeping bag hood snugly over my head. I vowed change.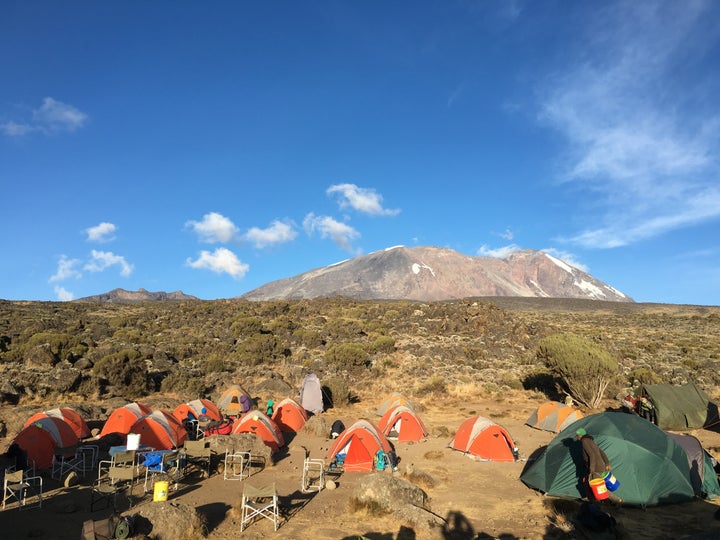 On Day 2, I stayed with the group; sort of. Instead of being way out front, I noticeably hung back and conversed with a broad shouldered guide named Richard. The other hikers were curious and also emotionally distant – Day 1 I had sped ahead and Day 2 I was dragging behind. Was I part of the group or not? Even in my compliance there was still some defiance, as though if I couldn't go ahead, I still resisted hiking in single-file style.
Yet, I knew there was an opportunity here as a leader, especially being one of the strongest hikers. I could lead by example and encourage the other hikers for whom the hike was challenging. So after a short water break, I plopped myself smack in the middle. It was slow going, but I was determined to stress test my forbearance.
Even in my compliance there was still some defiance, and I still resisted hiking single-file.
Shortly thereafter, an interesting conversation struck up with Martin, who works with local Australian sheep farmers to promote, educate, and encourage new technology adoption. It quickly turned into a multi-hiker talk about conservation, the taste of grass-fed vs. grain-fed beef, and Eastern vs. Western medical health benefits. We made slow and steady progress on the trail. More importantly, I was part of the team, not someone sulking at the back or disappearing over the next ridge.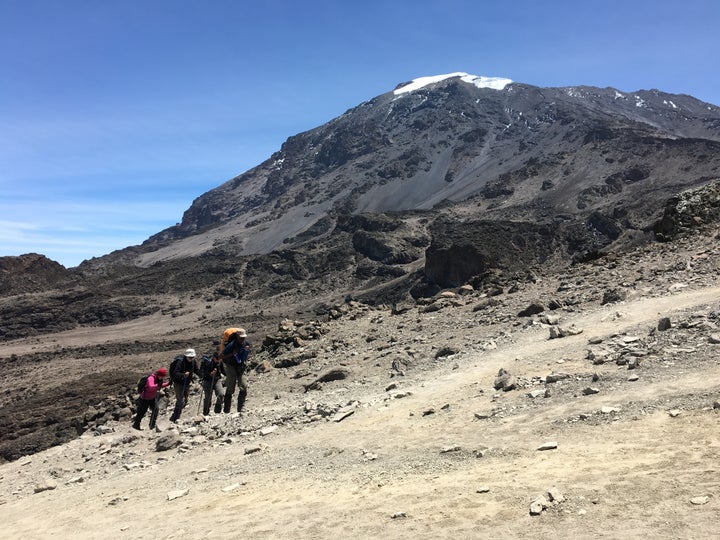 I saw my outer experience on the trail as a reflection of my inner reality. People hadn't embraced me because I had not embraced the group. Once I made an internal commitment to the team, everything shifted. I took responsibility for my emotional state and identified how I was judging and hence withholding myself from the world. As I made peace with the upset inside and let go of the judgments, my outer reality shifted as well. I was more accepted, and hiking with the group brought conversation, camaraderie, and friendship. Coming to terms with my own judgments was critical to moving past the initial pangs of impatience I suffered.
At one point, after a lunch of chicken, two muffins, a tiny plantain, and a mango-flavored drink box, the lead guide let myself and the medical school student hike ahead to the next camp. I blissfully bounded ahead. I noticed a shift in myself, however: instead of impressing myself with my hustle to the camp, I kept gazing expectantly up the trail for signs of their arrival. I had the awareness that I missed them. When they appeared an hour later, I ran over and congratulated them on their achievement with a zestful high five!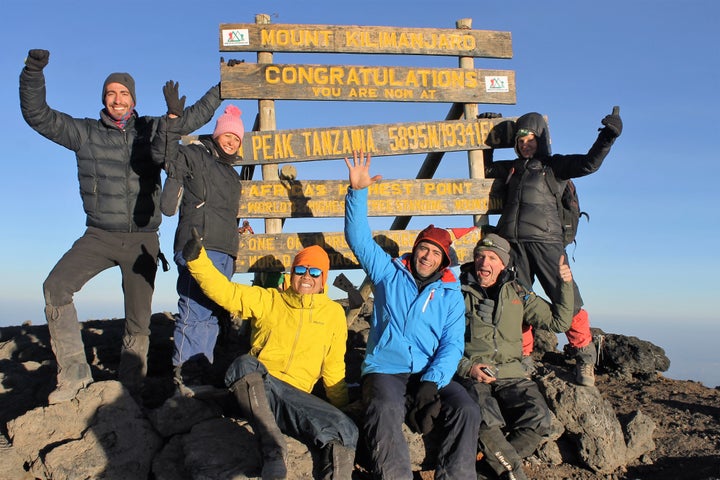 Summiting Mount Kilimanjaro was exhilarating, but mentally and physically exhausting. On Day 6, we started our 6-hour summit ascent at midnight. Staying with the team and supporting one another were essential. The bond we had built earlier helped us to bend but not break. We summited Kilimanjaro together, pole pole!
How might you slow down to be more effective in your life?
Louis Amoroso coaches successful individuals to transition to higher levels of success in their professional and personal lives. He uses travel as a medium to accelerate change and transformation. Louis has an MBA from Duke University and a Masters in Spiritual Psychology from the University of Santa Monica. He lives in Chicago, and can be reached at www.TravelLight.world.