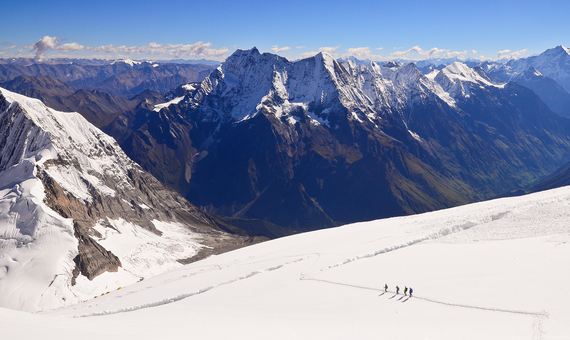 My body was sapped of every ounce of energy. We had just finished climbing a steep thousand foot icy wall. I was standing at about 24,000 feet, the highest I had ever been in my life. The air was thin, requiring superhuman effort for each step. We still had another 600 feet of climbing to complete before we got to Camp 4, the camp from which we were going to attempt to summit Mt. Manaslu, the eighth highest mountain in the world.
A couple teammates and our Sherpa guide followed closely behind. The terrain up until now had been relentlessly steep. However, what lay ahead seemed manageable, a gradual snow slope at about a 25 degree angle. With every step we moved higher, up into thinner air. Despite the respite in terrain, I was starting to struggle with my breath.
Every two steps I stopped to catch my breath and let my pounding heart recover. After an hour, we reached an almost flat section with the summit camp in sight. Unfortunately, this perfectly forgeable flat section was covered with blue ice, where a Japanese mountaineer had died a couple of days prior after slipping and taking a fatal fall.
Mingma, our Sherpa guide, shouted from behind, "Careful here guys... blue ice tends to be slippery. Make sure you get good purchase on the ice from your crampons." Suddenly, I was overcome with a powerful adrenaline rush. I awakened from my oxygen-deprived stupor and zipped through the ice section with haste.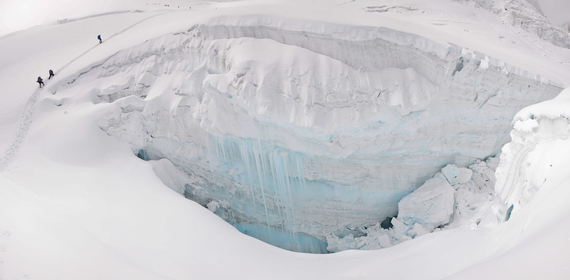 Something I've observed about myself during all my climbs is that the moment I'm about to tackle a difficult situation, I am fueled by an adrenaline boost that helps me push past the exhaustion, fear and pain, and I am grateful for it, even though it leaves me with a depleted crash once I reach the other side.
After reaching Camp 4, I settled in my tent. Since we'd started the summit push, I'd been sharing a tent with our team's Sherpa guides. It's comforting sharing tents with Sherpa people. They have learned to speak fluent Hindi by following Bollywood movies and songs, and have amazing stories and experiences to share.
In a few hours' time, I was going to embark on an amazing journey - to climb the first 8,000 meter mountain of my life. I was a bit nervous, but at the same time very confident that if weather held up, I would definitely make it to the top with the support of my Sherpa.
At 7,500 meters (24,600 feet), I was feeling great, both physically and mentally. I had decided to not use supplementary oxygen at Camp 4, making the decision to instead start using oxygen as I started my climb to summit. No point using oxygen when at rest. I was eating with ease and consuming the proper amount of fluids. I knew I was in the best shape of my life, and that all these years of training were finally paying off.
I was even able to speak with my mother and wife for the first time during the entire expedition, which had been several weeks. Feeling emotional, I called a good friend, who had summited Everest, to calm my nerves. He gave me great tips on how to manage the summit night, and asked me to focus on coming back down safely. After wrapping up the phone calls and finishing my dinner, I went to sleep right away, which was surprising. I had always heard that most people are not typically able to eat food, or even sleep, at these altitudes.
About thirty minutes past midnight, I woke up to noises in the tent. The Sherpa were awake and boiling water. For the next 20 minutes I lay in my sleeping bag marveling at how far I had come, and reminding myself that I had to go back home safely in one piece.
Finally a Sherpa handed me a cup of black tea, asking me to start getting ready. He said, "The other team members are ready and will be leaving anytime soon. Please get ready quickly." I took a deep breath, sipped on my tea, and realized it was finally that moment for which I had waited so many years -- my first 8,000-meter summit journey.
Until then, follow my journey to Everest here.
Related