My husband and I met rock climbing, which quickly became the mutual activity that nurtured the growth of our relationship. Between long trips under the desert sun and cuddling in the tent to wait out a storm, we knew that climbing adventures would always be the glue that bound us together. That unhindered, nomadic lifestyle of a climber was what we thought would be ours 'til the end. That was, of course, until our daughter was born.
Along with other parenting fantasies, our ideas of how we could conveniently pursue our passion for climbing while parenting were soon met with the inconvenient reality of being responsible for a fragile little being whose demands for naps and continual snacking easily won out over our own vertical desires. And so, we had a choice: quit climbing or make drastic changes. We couldn't imagine a life without climbing, so we opted for the latter.
Instead of all-day adventures on daunting granite domes or single-pitch belays along popular routes on loud, crowded cliff sides, we became boulderers. To us, this means exerting ourselves in shorter bursts in an attempt to climb the hardest we can on boulders in between spikes of being needed by our precious little offspring. Though the exchange of multi-pitch routes to 20 foot boulders seemed sane to us, to many non-climbers, it just sounded "crazy."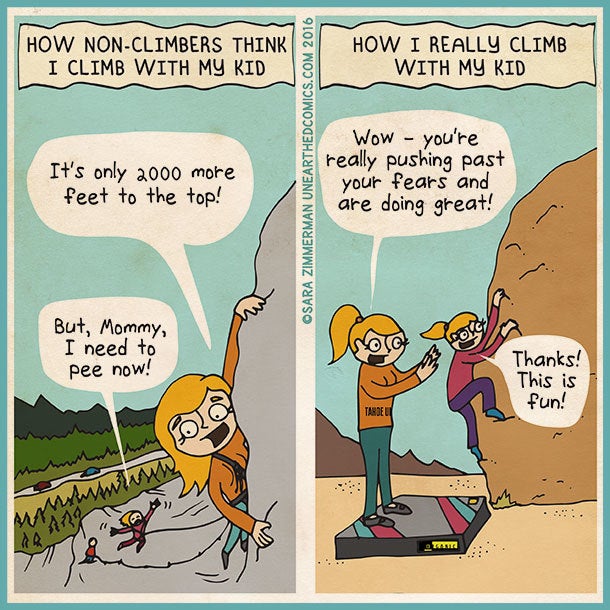 Crazy or not, we have fun while playing it safe. And, just like any sport, bouldering as a family takes willingness and effort. Some of the things we love about bouldering with our daughter are:
we get to enjoy the outdoors together.
short attempts climbing on the rock means we can accommodate our daughter's needs in between.
short commitments also means it becomes easy to bail in case of hunger or tantrums.
we get to hang out with other people, often other families, at many bouldering areas, so our daughter gets to play with kids from around the world who enjoy a similar lifestyle.
we are able to show our child how working through something really difficult is doable, and that, with commitment, we often can overcome even the most challenging things.
we get to show her how great it feels to be able to do something we didn't think we could do (the power of self-satisfaction).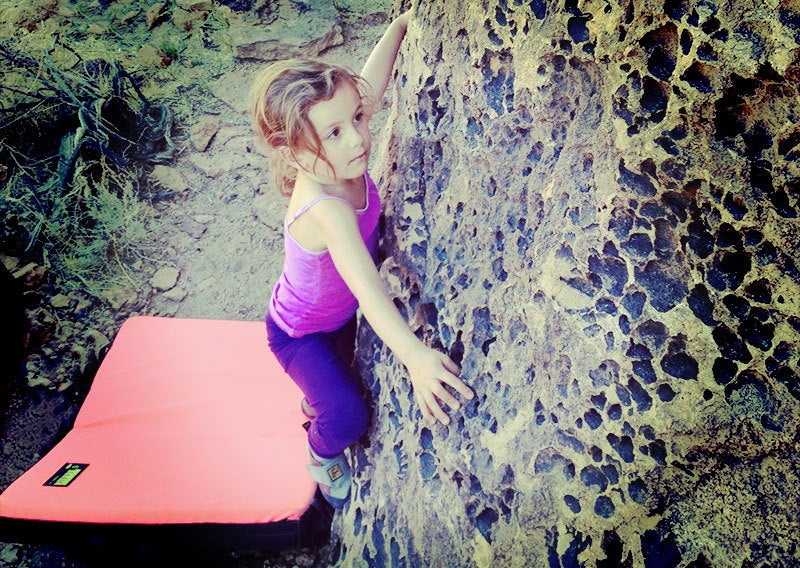 But, it is not always easy. So, instead of resisting the uncomfortable realities of having to cut climbing sessions short or skip it all together when things don't coalesce as planned, we do the best we can to accommodate our daughter's needs while aiming to have fun together.
Some of the ways we do this are:
making a game out of climbing, working with her move by move to keep her focused on movement and an "I Can Do It" attitude.
bringing a lot of snacks and a bag of drawing and sand toys.
having patience through tantrums and breakdowns, which sometimes means cutting climbing sessions short and just accepting that as part of parenting.
scheduling other activities on longer trips to mix it up such as hiking, swimming, seeing new views, making s'mores, and playing games.
bringing enough clothes and hats to minimize complaining about temperature.
sometimes letting her choose where we go and giving her a lot of attention in between climbing attempts.
getting her own boulder pad either to use to climb with or so that she has her own area to relax on.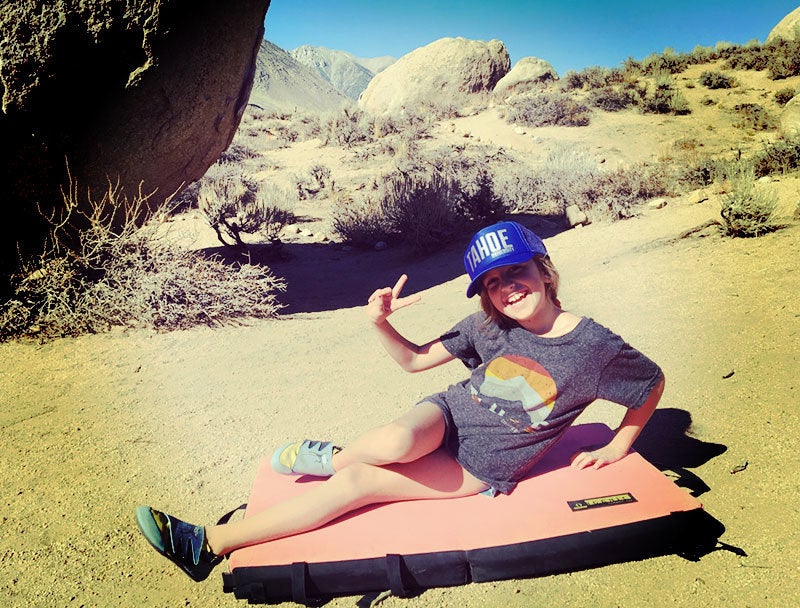 She's now eight years old which makes these things easier in so many ways. We no longer have to deal with perfectly timing climbing sessions around nap times, fitting a diaper bag amongst our overly-filled climbing sacks, monitoring her every movement so she is safe and out of harm's way as she practices how to walk, or carrying her AND our boulder pads on a lengthy approach. However, we are still faced with challenges of doing what we can to keep her comfortable in freezing temperatures, or occupied with sweet rewards during long approaches, or keeping her interested when we're on a trip and she just doesn't want to do anything at all.
Some parents say that all of the years of hassle aren't worth it and that giving up feels like the best choice. And, after dealing with baby puke while primitive camping in subfreezing temperatures, I too almost gave up. And, as enticing as giving up sounded when I was burned out, tired from both climbing and parenting, I'm glad I didn't. Though it was tough to push through the frustrating times, it makes it all worth it seeing my daughter grin from ear to ear at the top of a small boulder and yelling "I did it." Being able to provide her an opportunity for that feeling of accomplishment as we all play together outside is the best feeling in the world.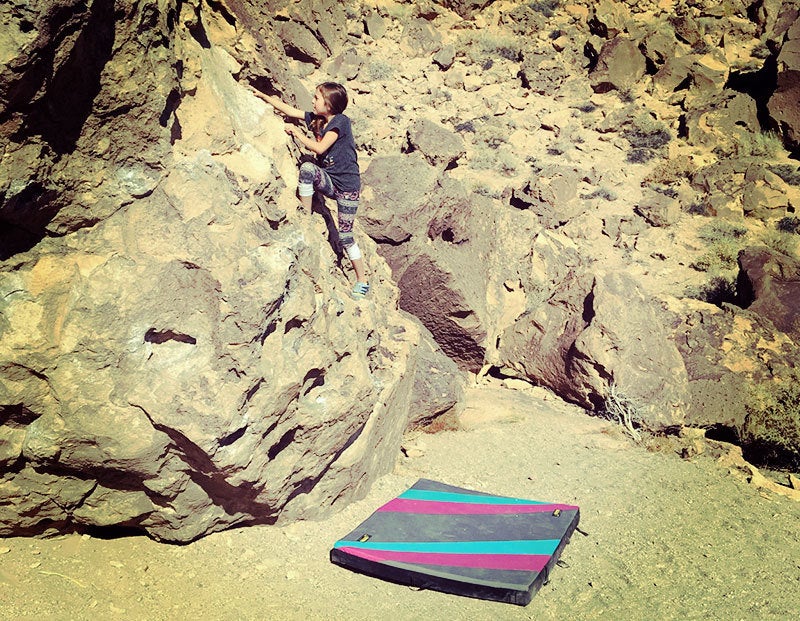 Want to get your kid climbing? Play it safe. Talk to your local climbing gym and/or guiding services to learn more about how to be safe on the rock with your child while respecting the environment.
Calling all HuffPost superfans!
Sign up for membership to become a founding member and help shape HuffPost's next chapter
This post was published on the now-closed HuffPost Contributor platform. Contributors control their own work and posted freely to our site. If you need to flag this entry as abusive,
send us an email
.