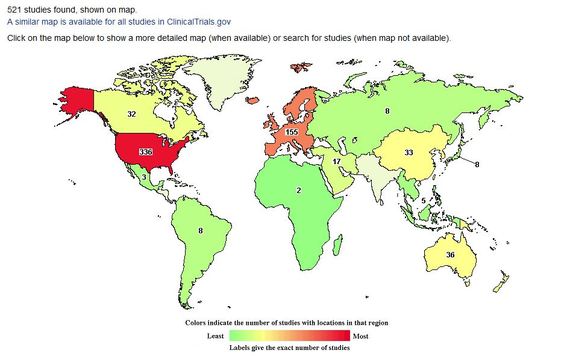 A map of clinical trials for melanoma around the world. For 336 studies in the USA, 155 in Western Europe and 33 in China, there are only 8 in Russia. Source: ClinicalTrials.gov.
Let me tell you about a hobby that I have. What do I do when I have a minute to spare? Well, I stalk doctors. Researchers, too. Compliance managers. Assistance staff. Anyone I can get hold of, basically. A soft cajoler. A smiling harasser. Sounds fun? I know.
The sad truth is that I help find clinical trials for seriously ill patients from Russia. I'm filling a gap that ought to be catered for by the state healthcare system. I help a colleague help patients on their way to treatment - and life, in many cases. If you win an Olympic medal for Russia, the government gives you the keys to a new Mercedes and $52,000 to $120,000 in cash (a present that the taxpayers, effectively, pay for). If you get cancer, as could happen to anybody, the government turns its back on you. Does it sympathize only with those of its citizens who are healthy, I wonder?
It is a lonely battle. You'll have to plot and scheme to find ways to get expensive medications from abroad. Take Keytruda, a new drug highly effective against various tumors, including melanoma. A vial sells for $2,520, which is 6 median monthly salaries of a taxpayer in Russia as of January 2016 (27,500 rubles, or $420, after tax). The bad news is that the medication will only last a couple of weeks. You'll have to try and get the drug and/or treatment under a state quota, explaining over and over again in different offices what is clear as daylight - that you have cancer and are therefore entitled to state-funded care.
Adding to the problem, newer and better drugs are often registered with several years' delay, and as such are not even available to patients in Russia. Enrollment in clinical trials often becomes a way to connect the patients with the best doctors, medications and medical care.
Clinical trials have taken me to regions I'd never even dreamed of. They got me in contact with Italy, Spain, Germany, Switzerland, Belgium, Norway. They got me to speak Italian and write Spanish (I never studied either). They got me exchanging up to 400 e-mails per case. They got me talking to suave Italian doctors, calling on behalf of frantic patients because sometimes, even though you've taken care of everything, the patient still can lose his way in a clinic 3,000 km away from you. They got me fuming when a patient forgot the biopsy results at a clinic abroad. They got me talking to a female patient who said matter-of-factly that her liver was so enlarged she was mistaken for pregnant.
Clinical trials have taught me to persevere. Diplomatic and quiet by nature, in my regular life I find it difficult to insist or even ask for something. With clinical trials, you almost always have to stand your ground. Doctors, trials administrators - everyone is busy. E-mails go unanswered, phone calls aren't taken, the patient's condition is not getting any better, and valuable time slips away. You have to be a bit of a bulldog and refuse to be shaken off or sidetracked.
Don't be afraid of gatecrashing. Don't just knock on doors - knock them down if you have to. Keep every contact for the future, and then use it. Call the clinic every day until someone responds.
At the end of the day, it is invariably fascinating to see how the conversation moves from online to offline, and an exchange of messages in the virtual world secures real medications for a real person. It is very satisfying to join hands across the globe, even if the story does not have a happy ending. Like that of the lady with the formerly enlarged liver. She underwent treatment in Italy, which worked very well at the start. Unfortunately, she passed away, but the Italian program awarded her almost a year of life with her two young kids.
For the next few weeks, I picked up a new hobby - making lists of contact persons at major pharmaceutical companies and healthcare providers. Sounds exciting? I know. Here's to a fun summer season.
Gulnara Yunusova, Advita Fund USA volunteer