"Eclipsed" made history this year as Broadway's first all-female production --written, directed and acted by black women. The play, a story of five mothers and daughters fighting for survival during the Second Liberian Civil War, quickly drew crowds as it not only recounted an important history of resilience, but reminded audiences today that violence against women is hardly a thing of the past.
Another member of the "Eclipsed" team made history too -- Clint Ramos, one of the few men on the creative side, who was tasked with bringing the play's set and costume design to life. After winning a Tony at this year's ceremony for his work on "Eclipsed," he became the first person of color to win in the costume design category for a play, and the fourth Filipino to have ever won the coveted Broadway award.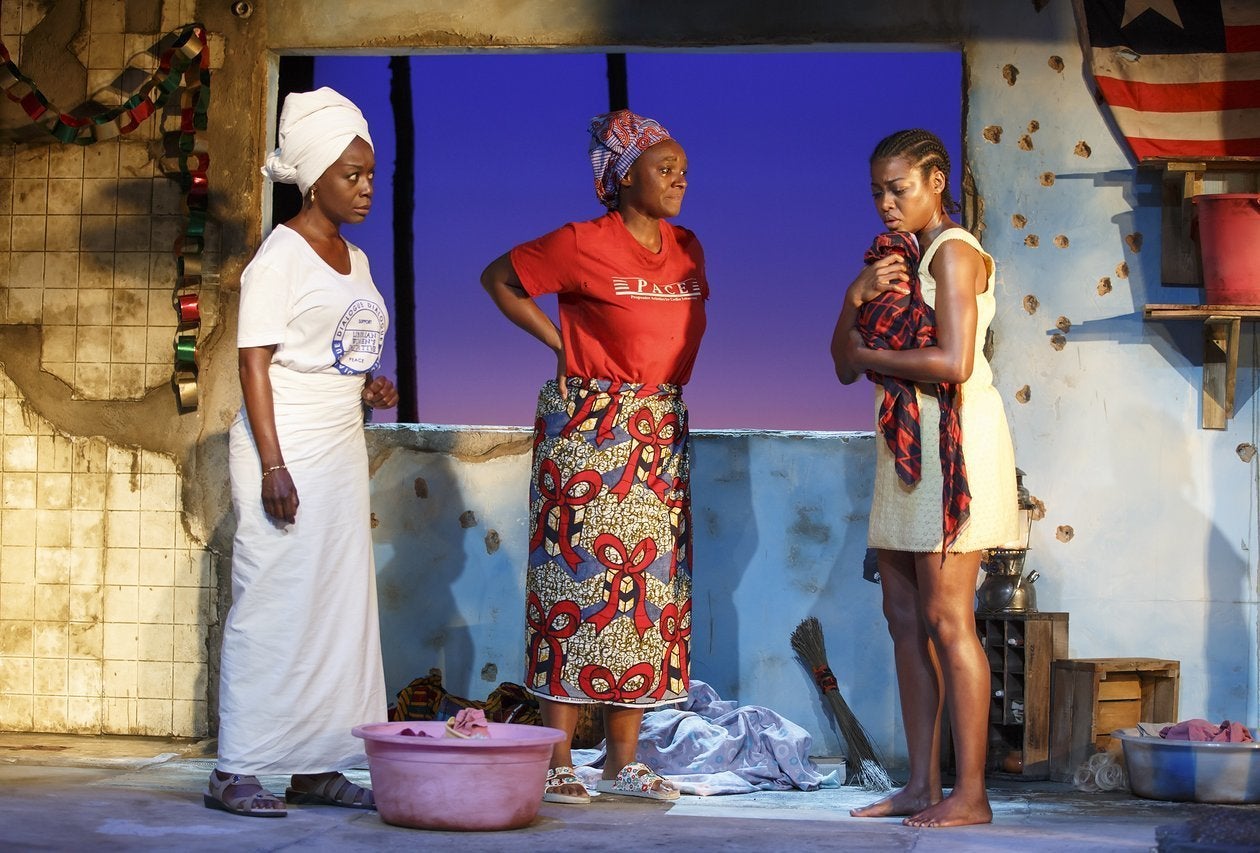 Although Ramos himself never appears on stage, his work is unmissable throughout the production. He crafted both the scenery and the clothing, painting a picture of Liberia onto the stages of New York City. He worked to transform five iconic actors of color -- Lupita Nyong'o, Pascale Armand, Akosua Busia, Zainab Jah and Saycon Sengbloh -- into women held captive as "wives," who refer to each other as numbers rather than names. He worked to transform John Golden Theatre into a rebel camp, where the characters, forced into either sexual servitude or militant brutality, braved their days.
"Eclipsed" ended its run on Broadway on June 19, only to announce that a version of the production will head to San Francisco's Curran Theater in 2017. (The west coast show will provide free tickets to 10,000 girls ages 16 to 24, as part of an initiative to bring under-served young women into the theater world.) Ahead of its transfer, Ramos spoke to The Huffington Post about his vision for "Eclipsed," the importance of diversity on Broadway, and what it felt like to represent the Philippines.
Check out Ramos' descriptions of individual characters in the photo captions below: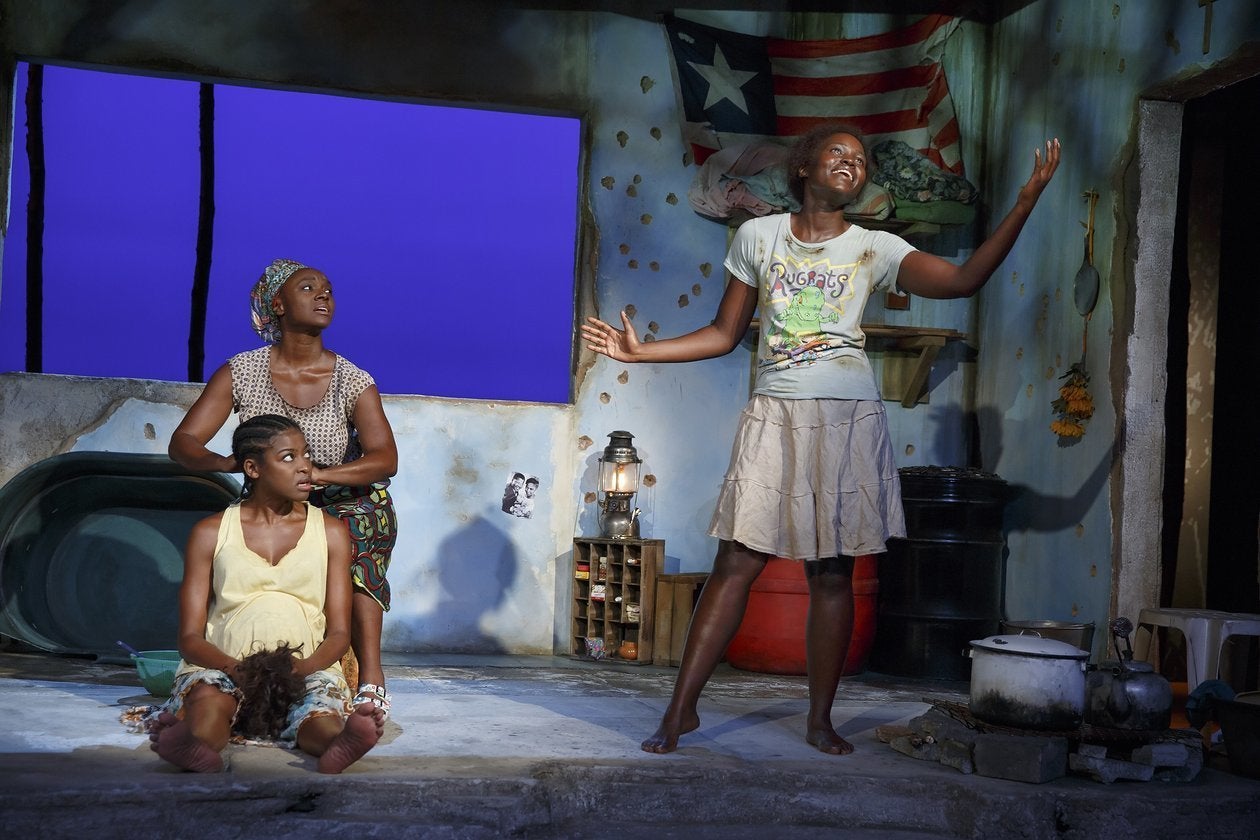 On distinguishing the characters of "Eclipsed" through their clothes:
"That is sort of an incidental result of really just diving into the characters. It started with preliminary research and in-depth conversations with director Danai [Gurira] and Liesl [Tommy, the writer]. We really looked at the documentaries and the photographs of that war. But also Danai had actually gone to Liberia to interview these women. They're older now, but the characters are based on real people. So we had this pretty solid idea of who they were -- or what they ought to have looked like.
"I've had a long-standing relationship with Liesl and I'm actually able to have discussions with her about casting. She throws out ideas of actors with me and we sort of go back and forth on what their physical types are. When you really sort of parse the play, Danai has written it [...] in a very Greek, classical way. And with those plays, the characters are really defined. But the way we defined our characters ... it's already in the writing, it's in the research. So all we really needed to do was pay attention. For me, that was the only way, in a documentary fashion, to honor them, by replicating what's in the research."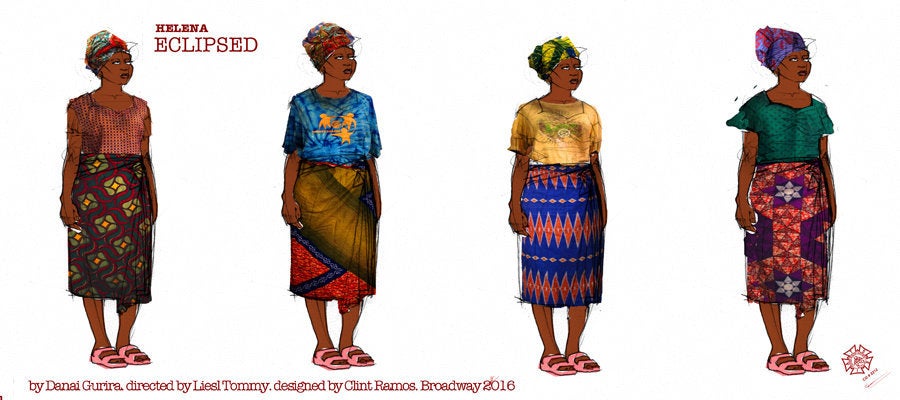 On the ways women's hair (and wigs and wraps) shape their identity:
"I do a lot of shows with people and women of color. One can never underestimate how hair is tied to women of color's identities. And with this particular piece, we really needed to get it accurate. I work with one of the most brilliant wig designers in American theater. Her name is Cookie Jordan. She and I and the actors really took the conversation seriously.
"If you see hair braided on stage, it's a wig. I cannot state the importance of it, how we went through so many iterations. For example, with Maima's wig, I had this idea -- with her fashion sense -- that she is hair-obsessed. They talk about it in the play. Bessie says, 'My hair has never looked so good as when [Wife] Number Two did it.' So all of her braids are on point, her extensions are on point. That sort of shows when she braids Lupita's hair, as a tight, upward braid too.
"And Lupita's hair at the beginning was a huge discussion. We had to calibrate and recalibrate what the exact look was. Because we wanted it to be accurate historically and physically, but we also didn't want it to distract because Lupita is wearing it. The reward for us is when she doesn't get an entrance applause. Because she's unrecognizable enough."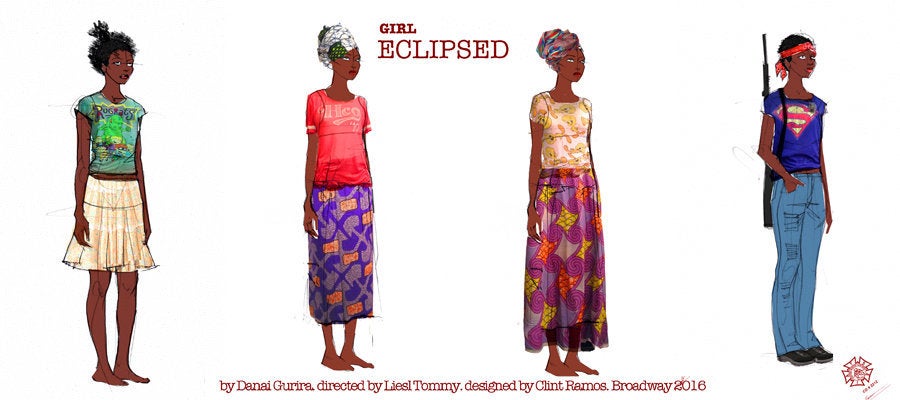 On the universal emotions tied to clothes:
"One of the bigger challenges was to really make [the play] reach across the presidium and reach the audience. In a more direct way, make these women more familiar to an American audience.
"For example, the idea that we see a dress, one that gets seen and handled many times [as a prop], actually be worn on stage, is great. Like that yellow dress -- the dress Bessie wears when she's no longer pregnant. [Editor's Note: It's actually an altered Juicy Couture dress bought at Housing Works that is first seen on stage in a pile of loot the soldiers have brought back for the women at the camp.] Its meaning transfers throughout the story from, Oh, it could be the dress of Rita's daughter, who's missing, because you see Rita hold on to it for a moment. But then you see Bessie actually pick that dress and you see her wear it. Its meaning transfers.
"It was interesting to curate that loot, to see how much of it would be familiar and how much of it would be traditional. And by curating that, you're showing a history, a swath of who the victims were. There are businesswomen's clothing and men's clothing and children's clothing, with blood on them. It's storytelling."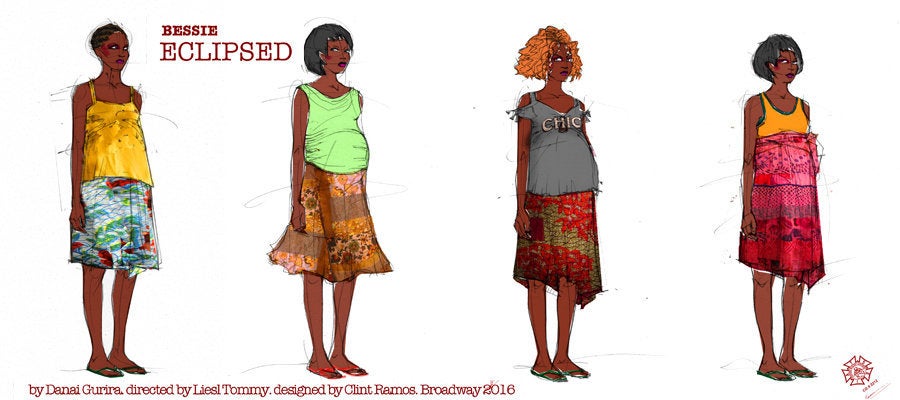 On reminding the audience that this story -- the story of violence against women -- is still happening today:
"Somewhere in the middle of the run [of the play], we started to do these dedications, where women would come up after the performance and they would read one of the names of the Boko Haram girls -- one or two names. And we would ask the audience to repeat the names. And the hashtag was #KnowHerName.
"The former UN ambassador came and said the youngest [Boko Haram] victim was three months old. It makes you want to throw up. And the oldest was 87 years old. Violence against women is an epidemic and the problem is that we don't treat it that way. We think of these girls as a unit, who disappeared in this other nation with a machismo culture. But no. [Violence against women] happens everywhere. It's infuriating."
On the pressures that came with helping to tell such a profound story:
"I don't want to speak for the ladies, but in conversations with them, I think most of them knew that it was such a powerful piece. But they came to understand it as so much bigger -- the response was so much bigger. It was unbelievable. And for the performers, they had to work around that. It really took a toll on the actors. All of these actors come from the African diaspora, so it's so personal. As much as they are all professional and highly trained actors, I think this particular piece was hard for them to automate. It's hard to distance themselves from the characters and what happened and what's happening in this world. They felt that pressure, they felt that responsibility, and in my opinion, they rose to it. They represented wonderfully. But it was a lot."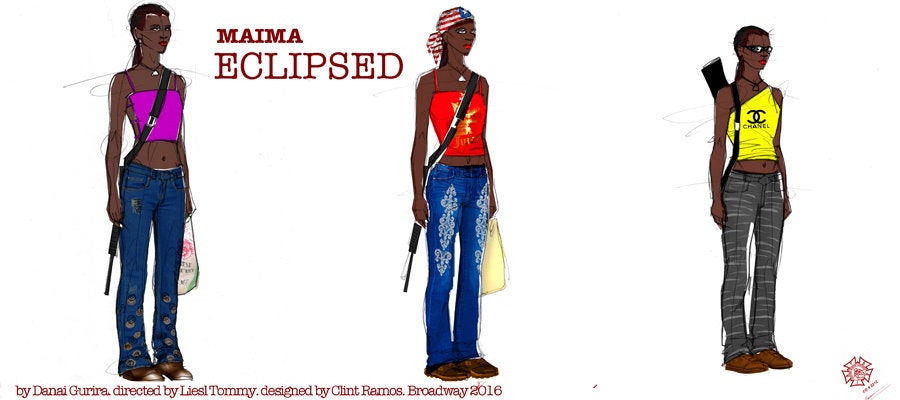 On being the fourth Filipino person to have won a Tony ― and the first person of color to win in the costume category for a play:
"When I got the nomination, Lea Salonga, who was the first Filipino to win a Tony, tweeted about it and it sort of became bananas. I didn't know I was the fourth. I thought there was just Lea and Bobby Lopez. And then I realized Jhett Tolentino, a producer, had already won. When it hit the Philippines, they took it very seriously. And all of a sudden it became a symbol of pride for the country. I have to say, it wasn't fun, because there's so much pressure. Masses in churches were doing offerings for this. My mother was texting me telling me that there was a mass offering in the town that I come from. It felt like the nomination wasn't enough, I had to win.
"And I really did not think I was going to win. I thought Tom Scutt, the English designer who had been nominated for 'King Charles III,' would win. I saw that show and thought it was beautiful and detailed and lush. The costumes were phenomenal. I suppose I'm happy that the voters saw the other side of costuming. Usually those kind of shoes get rewarded; the sort of lavish, intricate works of fashion. It was refreshing, and made me happy, that a design like this could be rewarded."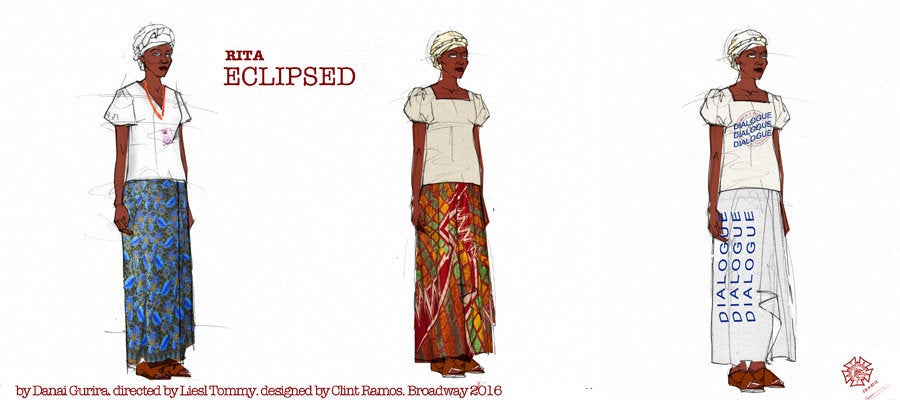 On this year's Tonys diversity:
"Even at the ceremony, it was wonderful. My category was the first to be called ― and of course, I had so many people to thank but when I looked out at the audience there was Oprah and I blanked. But also when I looked out, it really was a sea of diversity. It was so great to see the faces out there ― it looked like the A train, but really well-dressed.
"I hope it's not an aberration. I hope it's a vision of the future. I still think there needs to be a little ― no, a lot more work done on diversity and representation for people who work off stage and backstage. I think, of the creatives who got nominations,only six were of color. Of the designers, only two were of color. Paul Tazewell, of 'Hamilton,' was the other. We talked a lot about what it all really means. For us, it is a big responsibility, because we are not in a position of entitlement. And we cannot take it lightly. We need to show younger artists of color that there is a life in the theater for them. There is a place for them. When I was coming up, I had to seek them out, because I wanted to make sure a person who liked me could have a place in the American theater.
"There is an argument that we need to foster more writers of color so that there's more work for people of color. Yes, that's true, absolutely. But we also need to rework the ways we think of staffing and casting shows. Why couldn't there be a multicultural check-off? Why couldn't, for instance, 'Three Sisters' ― a classic [written by Anton Checkov] ― be three sisters from different places? When I see non-traditional casting, or color-conscious casting, it's the first thing I notice but it's the last thing I think about when I walk out of a show. Because I know that these actors of color are actors and they're storytellers and they inhabit their characters, and I just walk out of there with a story.
"We have to make sure that kids know that there are options. And it really starts with producers and gatekeepers of color."
On the importance of early access to the arts:
"We all started out as performers [at a younger age]. When you join a drama club you become enmeshed in a theatrical life, and not only is it awesome in terms of being able to perform and all that kind of stuff, it's also a great liberal arts education. You get to go to places you'd never dream of. I'd get to immerse myself in specific cultures and periods of times and places that I would hardly have ever decided to visit if I wasn't in theater. Even if that dream of, Oh, maybe I can be an actor, comes to an end, you still want to be a part of the theater. I wanted to be a part of a community. I liked the catharsis that comes from working in the theater.
This interview has been edited and condensed for clarity.
Support HuffPost
The Stakes Have Never Been Higher
Related
Before You Go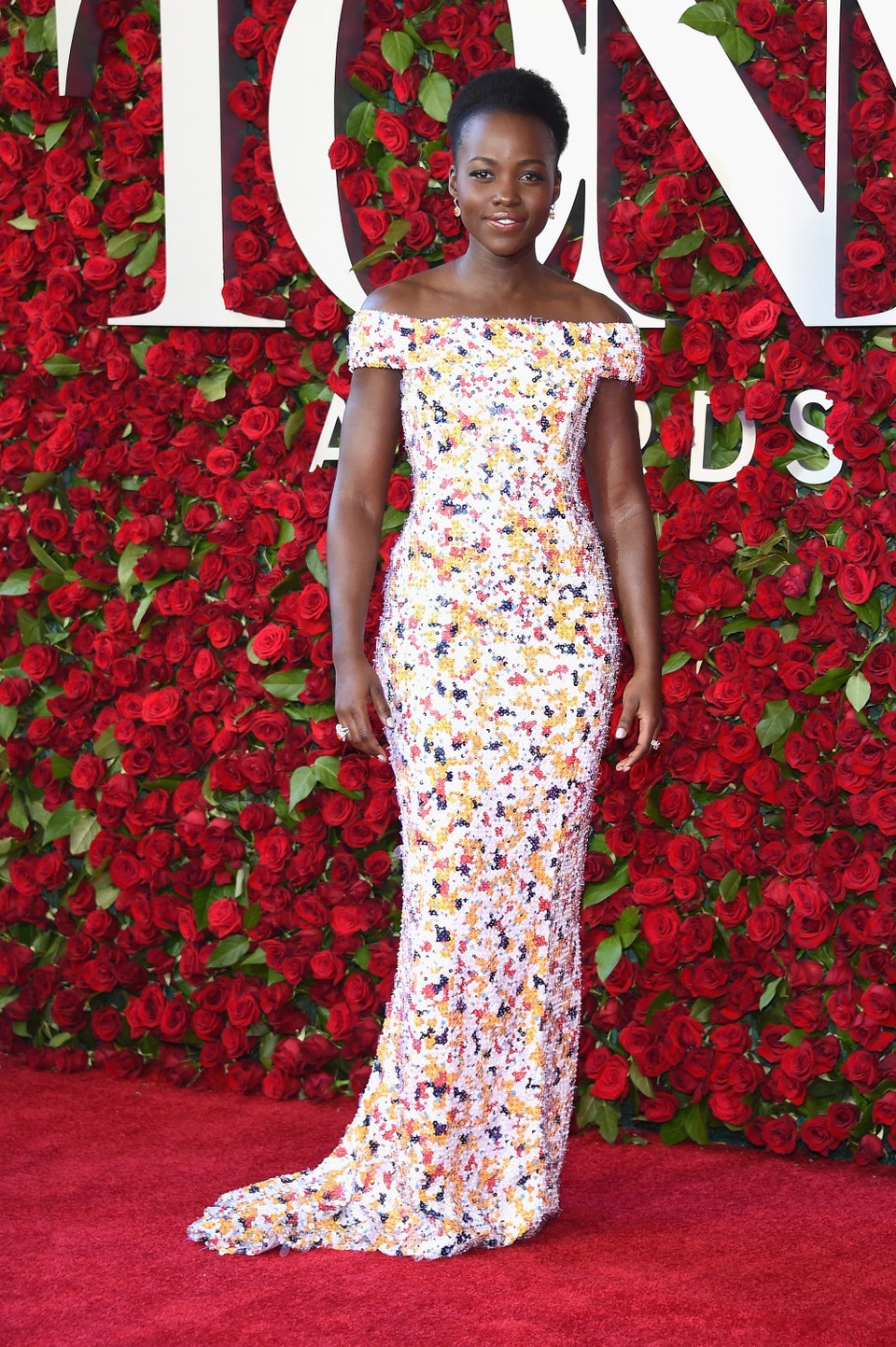 2016 Tony Awards Red Carpet
Popular in the Community