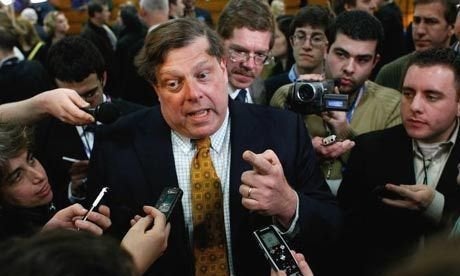 The Wall Street Journal reports (password req.):
Two hard-charging political operatives are teaming up to create a bipartisan consulting organization to advise corporations in crisis -- as they work to burnish their own reputations as well.

Former Clinton strategist Mark Penn, chairman and CEO of public-relations firm Burson-Marsteller, is hiring former Bush adviser Karen Hughes as a vice chairman, the principals say. The political combatants, known for their partisan efforts, decided to combine forces to offer a one-stop crisis-communication and public-affairs shop to corporations caught in front-page headlines or faced with a changing Washington.
[odd couple]
Associated Press
Mark Penn, right, former Clinton strategist, is hiring former Bush adviser Karen Hughes in pursuit of bipartisan success at Burson-Marsteller.

It's a comeback effort of sorts for both players. Mr. Penn, 54, who served as chief strategist and pollster for Sen. Hillary Clinton's presidential bid, has been blamed in recent months for her failed candidacy. Ms. Hughes, 51, who came to Washington with President George W. Bush as his communications director, left her State Department position several months ago after making little progress on her mission to improve the U.S. image around the world.

"Mark and I share a vision that communications people should be strategic advisers ... and an understanding of the realities of the political process," Ms. Hughes said. "And we also share the same lawyer."

The deal was brokered by Robert Barnett, a Washington superlawyer who earlier represented each of them on their books. Mr. Barnett is increasingly a broker between strange bedfellows. He is currently negotiating between the campaigns of Sen. Clinton and likely Democratic nominee Barack Obama over relieving her campaign debt, determining her convention role, and making joint appearances.
REAL LIFE. REAL NEWS. REAL VOICES.
Help us tell more of the stories that matter from voices that too often remain unheard.